Office of Advancement
//
//
Swimming Pool Renovation
The Vision for PLU Swimming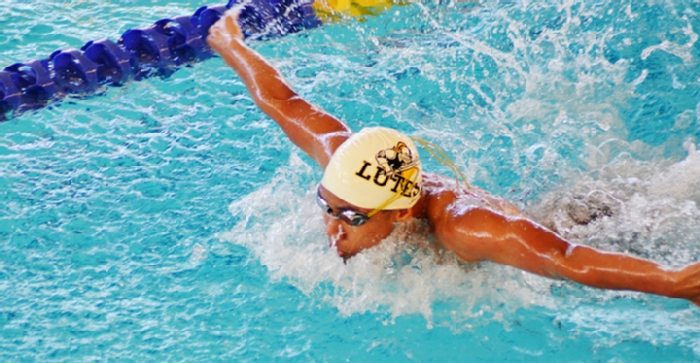 The PLU pool is the center for swim lessons that teach more than 300 community members annually, ROTC water skills and survival training, Bellarmine Prep SCUBA training, Pierce County Fire Department and Red Cross training, as well as year-round use for PLU classes, PLU Swim Team training and competition, and intramural activities. Clearly, the PLU pool is a highly-utilized resource for the community, and therefore proper maintenance and improvements are necessary to keep the facility functioning at full capacity.
PLU is striving to create a first class swimming facility that will:
Improve the existing swim facility for our current students
Provide an aquatics venue to support community members and local high schools
Help attract potential student athletes
Planned improvements for the swimming pool include:
Renovate "wet area" in the men's and women's locker rooms (Completed)
Create improved office space for the Aquatics Director and coaches
Create a more welcoming entrance and foyer
Expand the pool to 8 lanes
Expand the existing building to include a new multifunction space
Integrate the pool building with the campus landscape increasing campus visibility
New Lockers
New Roof and Windows (Completed)
New paint
Priority One was the renovation of the wet area for the locker rooms. This portion of the project is now complete, thanks to support from our faithful donors!
Priority Two will be further improvements to the swimming facilities including renovated office space, lane expansion and an improved entryway with a courtyard of engraved bricks to commemorate past PLU swimmers.
Your gift of any size to the PLU pool complex will uplift Swimming as a key component of the Department of Athletics and demonstrate your support for community outreach.
Help us reach our goal: We need your support to make the swimming complex a reality. To learn more or for help making your gift, please contact Barbara Hesner at 253-535-7260 or hesner@plu.edu.