Welcome to the Irene Creso Herbarium
The Irene Creso Herbarium serves primarily as a teaching resource for biology classes at Pacific Lutheran University, and is an untapped goldmine of taxonomic and distribution gems chiefly from Pierce, Chelan, Kitsap, and other western Washington counties.
In addition to a good representation of vascular plants, there are cabinets full of carefully labeled and dried mosses, liverworts, lichen and fungi. Of particular note is a moss collection from Mt. Rainier. The vascular plant collection also includes personal collections from former PLU faculty and friends, from a Lutheran summer camp in Chelan Co, as well as from Wenatchee and Kittitas in eastern WA. Another collection, compiled by recently retired PLU botany professor John Main and others, reflects a thorough baseline inventory of plants of Manchester State Park on the north Kitsap Penninsula.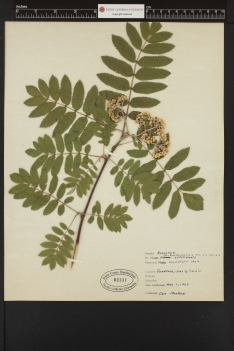 Other collections reflect former personal research projects (western Washington Poaceae), travels abroad (Malaysia), and collections made closer to home (Arizona, for example). There is a nice collection of Washington coast red and brown algae, beautifully mounted and labeled as well. We also have a sizeable number of vascular plant duplicates from the UPS herbarium collection, reflecting Irene's good connections in the botanical community.
To browse the contents of the Irene Creso Herbarium, follow the directions under the "Database" tab below.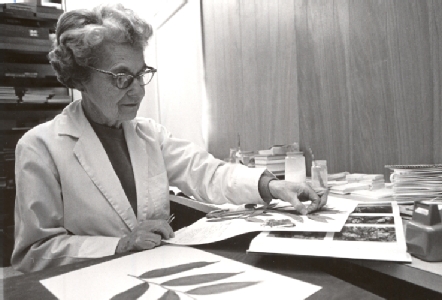 This teaching collection was organized into a herbarium in 1965 under the guidance of Irene Creso, a biology professor at PLU who came from University of Puget Sound, where she was the herbarium curator at the Slater Museum for ten years.  Many of the specimens were collected, identified, annotated and beautifully mounted by Irene, and upon her retirement she turned her energies to expansion and curation of the PLU herbarium collections to reflect the diversity of western Washington flora.  In addition to her work in the Herbarium, the most obvious fruit of her post-retirement labors is her illustrated key, Vascular Plants of Western Washington, published in 1984.
Irene Creso started teaching at PLU in 1950. Although she officially retired from teaching biology at PLU in 1975, she continued putting her energy into a herbarium for PLU students. The herbarium contained some 6,000 sheets of dried plant roots, leaves, and flowers from the Northwest. Creso spent 30 years and nearly 20,000 hours gathering these plant species for the herbarium. Dr. Jens Knudsen, a former student of Creso's and a future biology professor at PLU, asked Creso why she continued her work at PLU long after her retirement. Knudsen recalls, "When we asked her, 'why?' she replied, 'Well there is nothing in my contract that says I can't work for free!'"
The contents of the Irene Creso Herbarium have been documented and uploaded to an online database, the Consortium of Pacific Northwest Herbaria.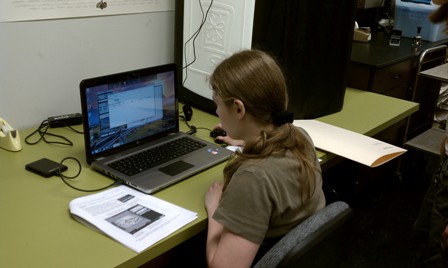 If you wish to browse the contents of the PLU herbarium:
Click on the button below. You will be directed to the home page of the Consortium, where you will see "Search the Database" on the right hand side of the page.
If you click on the image directly beneath those words, you will be taken to a page where you may enter in the criteria to perform a search of the entire database.
By scrolling down and clicking the box to the left of PLU (Pacific Lutheran University), under the heading "Select Herbaria to Search," you will narrow the search to only find specimens from the Irene Creso Herbarium.
In order to perform the search, you must enter some sort of criteria into the boxes near the top left side of the page. For example, you might type "Rosaceae" into the box to the right of "Family."
Click the large "Search >>" button in the top right corner of the page.
Although the Irene Creso Herbarium collection is full of potentially fabulous finds, it's like looking into grandma's attic: just what is here? Irene, student workers and volunteers kept a card file, but it has not been updated since the 1980s, although new specimens have trickled in over the years since Irene's death in 2000. Recently, the Herbarium was offered generous assistance through the Pacific Northwest Consortia of Herbaria to digitize and catalog the collection with an online database (see "Database" tab). With a record of every specimen and each label, this treasure is far more useful and accessible to botany students, the PLU community, and the public via the Consortia Portal.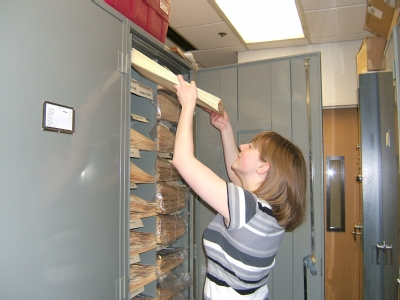 In addition to our excitement over having the existing collection cataloged and databased, a bonus of going through the collection in preparation for this task was that we discovered gaps in the collection. We will be making "wishlists" of species we want to collect, and will also be able to assess where in Pierce County we need to visit and survey. We are particularly interested in developing our collections of western Washington prairie and riparian/wetland species. Online access to our current and future expanded holdings will serve as a boon for our students, but also as a resource to government agencies, conservation groups, and individuals interested in better understanding the flora of Pierce County and western Washington.