School of Business
Apply to be an Ambassador
PLU School of Business Ambassadors (SoBA) is a highly selective group of undergraduate students who work with the Dean and Undergraduate Programs Coordinator to promote the school's programs, activities, and services. Ambassadors present at information sessions, coordinate recruitment activities for prospective students, represent the School of Business at special events, and help promote student engagement within the PLU community and the School of Business. Most importantly, SoBAs share their love for the PLU School of Business.
The 2015 School of Business Ambassadors application is now available.
2014 PLU SoBA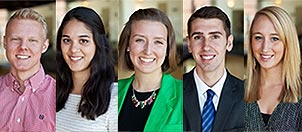 What are the components of the application?
The essay, transcript and résumé are to be submitted by the student electronically to Julie Paulsen, Assistant to the Dean at paulsejb@plu.edu.
Please use the email subject: School of Business Ambassadors Application.
What is the deadline for the application?
The complete application packet is to be submitted no later than 5:00 pm on April 15, 2015