The art of balance
Joining a dozen clubs or no clubs at all won't do you much good. You don't have to gorge on clubs to get a taste of PLU extracurricular activities, but do select a couple for your plate.
Decide: Do you want to develop current interest or branch out into something new?
Choose a club category and see which clubs wow you.
Do a bit of research. Seek clubs that put on activities you'd like to do and have an atmosphere ideal for your style.
Narrow your choices down to 2-3 clubs.
Remember: You are in a club to learn, meet new folks, and have fun. Don't worry about whether you will be a good or bad club member.
Sign-up!
Surprising your inner cynic
Spare thoughts on why one should join a club from Summer Clubhouse Intern Phuong-Lien Nguyen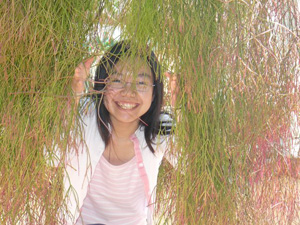 So, is your head spinning yet from all of the club choices offered at PLU? Even the sheer number of club categories may seem daunting, leading a lot of students to think they have walked right up to a fork in the road. Either they will pull the ol' buffet table routine and sign up for almost every club they spot or back off, boggled by the choices and opting out of club participation altogether. These two paths may confront you, too, but it doesn't mean you have to choose either.
In fact, please don't! Signing up with no commitment guarantees random club e-mail build-up in your inbox, not newfound superhuman strength to become an active member in a dozen clubs at once. On the flip side, not joining any club isolates you from the rest of this fun community and hampers your chances to enrich your PLU experience.
You don't have to gorge on these clubs to get a taste of PLU extracurricular activities. Think about where your interests lie and decide whether you want to develop them or venture into new territory. The club listing offered on this web site provides a rough guide to start you off on your search. Once you've spotted a club category you like, make it a goal to narrow your club choices down to two or three that you will join. Do you prefer to be in a laid back club or one that does an activity each weekend? Which sounds more fun to you—trying out local ethnic restaurants or going cave spelunking? Check out club web sites, attend an event hosted by the club of interest or contact active members to learn what they tend to do and under what kind of atmosphere they tend to operate. Once you've found those two or three clubs that click with your style, give the club a holler and sign up!
Fretting about whether or not you'll be a "good" club member is fruitless, and should not be a reason to stop you from autographing a club's new member's list. While at PLU, you will see phenomenal events put up by student clubs and between those moments of awe, you may think, 'How can I measure up to this? I don't know how to organize a panel discussion or throw a dance or get people to sign up to join a fundraiser charity walk!" Before you zip back to your corner, heed this message. Phenomenal events are the result of many people of different talents and skill levels working together to pull off a great finish. No one expects you, as the new club member, to know or do everything. You are in a club to learn, meet new folks, and have fun. The knowledgeable club leaders you see before you? Yeah, it took them a couple years to get there and they likely don't know everything either. But, being active in clubs has introduced them to students and folks in the Student Involvement and Leadership Office, Clubs & Orgs Office, Diversity Center, ASPLU and other PLU teams who are always there to help club members—including you.
At other times, you may think that you have nothing in common with the other club members and what they do. A college experience is about stretching your personal boundaries, be they spiritual, social, political or cultural, and seeing how your perspective on life melds or contrasts with others. Think about it this way. Where else during your lifetime will you be able to immerse yourself into worlds completely different from the one you've grown up with and have others welcome you to know more of theirs? When can you again learn a cultural dance, have a thoughtful debate, talk in Chinese or train for a triathlon alongside your college buddies?
Clubs give you the springboard to jump into something new. Surprise your inner cynic. Join a club and test the waters.