Four Step Process
Successful programs are not born, but carefully crafted, thought out, and revised along the way. If your group is going to be successful at recruitment and outreach, good programming is a necessity. The key to successful programming involves four basic steps: development, planning and logistics, promotion and follow up.
By following these four steps, your programs will take on new meaning—the will cease to be just about the program and more about the group process. As your group learns to self-revise and self-evaluate, your process will become more streamlined. The more your group follows these steps, over the years, the more your groups programs will be sustainable and long-lasting.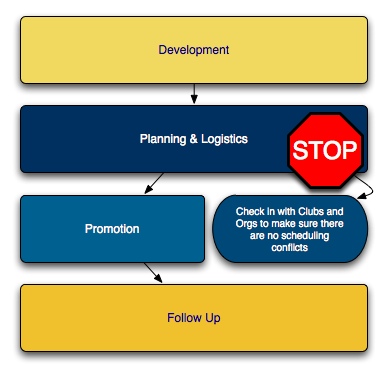 This is the time for your group to brainstorm, dream a little, and forget about logistics or realities. It is also an important time to ask questions:
What do we want to do?
Why are we doing this?What need is being addressed?
Who are you serving? Who are you inviting?
Who can you collaborate with?
How can you grow your organization-involve volunteers, etc?
Club Collaboration
We encourage all clubs to collaborate on their projects with other clubs or organizations that may contribute to their topic. This will provide everyone with the ability to split the labor and costs, and also to create more rounded programming that in the end will be a richer experience for your audience.
Career Connections
One opportunity for collaboration is with the Career Connections office. Many clubs are focused on how they can build skills in an academic setting that will transfer into a career setting. By contacting Career Connections, they can give relevant presentations for your group, or connect you to alumni that know about your field.
At the end of the development stage, consider your budget/how you are going to finance the program. Once you have these two things in hand, you're ready to begin planning.
Now's the time to hone in your ideas and accept realities:
Submit an Event Planning Form at least 3 weeks before the date of the event.
Secure the date and location on the University Calendar by filling out an event request on 25Live at least 3 days before an event. Make sure you register the event to the Student Involvement Calendar.
If you need to apply for appropriations, make sure that you're able to prepare a proposal and attend a meeting before your program happens.
Check in with Clubs and Orgs to make sure all of your t's are crossed and i's dotted.
Reserve Space, Multimedia, and Catering
You can make reservations for space, multimedia, or order catering for event
through Event Services. Be sure to have a complete event plan and your club information (such as account numbers and contact) ready.
Event Services >
Reserve Vehicle
You can make reservations for vehicle through Campus Safety.  Club officers are entitled to use a PLU vehicle if the club is currently active. Any driver must obtain PLU Driver Certificate in order to operate PLU vehicle. Vehicle expenses will be charged against your PLU club account.
PLU Driver Certificate >
Promotion is the second most important part of your programming process, right after setting down the logistics. Without print and sometimes even web advertising, your program will be attended by the same people who are interested in your group—not by those you are trying to reach. The best way to promote your program is to think in terms of three weeks.
Three weeks before the event: start spreading the words on your event by word of mouth and through a club email. Have people put out feelers, to see who plans on coming. At this stage in the game, it isn't to late to revise things based on perceived attendance and what people's reactions are to your program. Submit Event Planning Form and reserve your space.
Two weeks before the event: hit the campus with flyers and posters. The Impact boards are a good place to advertise as there is one in every building and residence hall. One need not have the poster produced by Impact, but all posters not produced by Impact must be stamped approved by SIL. For more information on posting guidelines, visit the posting policies page. Another good idea is to create a daily flyer ad. These are simple to make and affordable.
Learn more about posting policies >
One week before the event: it's time to table. You need to formally set this up through Conferences and Events, and you should contact them before this week to make sure there is space available. In addition to tabling, set up a web presence either on your club's website or on Facebook. Sending out another club email is also a smart idea.
The day before the event you should make sure that you're planning is coming together and that logistics are panning out. By this day, if you've promoted your program right, word of mouth should be able to carry you over to the program.
Few groups realize that the program is not the end of the programming process. After your event is finished, if you want to be successful in the future, you will follow up your program with both formalized and informal evaluations, to provide your group with good information for the rest of the year and future year's groups.
In immediate follow up, you should clean up the space you have used to return to its original state and tear down any advertising. At the next club meeting, you should review with your group what worked and what did not, leave notes to pass on for future event planning purposes, identify any difficulties that occurred with the process and action steps for improvement in the future, send Thank You notes to key players in the planning, send Thank You notes to people who may have stepped up in a moment of need, and thank your group and planning team.
FBI Warning for Public Showing
The FBI Warning at the beginning of a video says, "Federal law provides severe civil and criminal penalties for unauthorized reproduction, distribution or exhibition of copyrighted motion pictures." This text appears on movies released for home use and is based in copyright law. In essence, the FBI warning is saying that you can't show the video outside your home. Nearly all of the movies you borrow from the Library, rent or buy are intended for home use and cannot be shown in a public setting.
Many student groups think, "Our event's free, so we should be able to just show the video." The issue is not whether you charge admission, but whether you show the video in a public setting. The definition of a public showing of a movie, according to copyright law, is to "display it at a place open to the public or at any place where a substantial number of persons outside of a normal circle of a family and its social acquaintances is gathered." Advertising your event or holding it in an open space like the Ingram or the Cave would constitute a public showing.
Obtain Permission to Show a Movie
It is fairly simple to obtain permission to show a popular, mainstream movie, but make sure you do it early in your planning process. It takes times and, in most cases, money. The price for showing a movie can be up to $100 or more, depending on the size of the group and the movie popularity. For rare or international films, the process can be complicated because the copyright holder may not be immediately apparent.
Contact the movie distributor and obtain permission to show the film. Many titles are available from the sources like SWAN Motion Pictures Inc., Copyright Clearance Center, Criterion Pictures USA, Kino International, and New Yorker Films. When you contact the distributor, be prepared to provide the following information: name and contact of your organization, where and to whom you will show the film, how your organization will pay for the rights to show the movie, whether or not you need a copy of the film.
If your club cannot cover the cost to obtain permission to show a film, consider going to the ASPLU Appropriations Board and apply for funds.
Films with Public Performance Rights
PLU Library owns a small number of films that were purchased with Public Performance Rights, which can be shown as to public as long as you do not charge admission. Often those films are documentaries purchased from independent distributors and have not had a major release in movie theaters. Although many of these films are excellent, you may have never heard of them.
The Odds and Ends of Club Management
Club Email and Website
Your club can obtain an ePass account for your organization, which will give you many benefits including a dedicated email, website, and the ability to login to the PLU Calendar of Events to submit club programs. Any club that is registered and active can apply listing current officers by following these steps:
Complete the Request ePass Account For Club/Organization form.
Have club advisor review the request form and sign it.
Submit the form to the Help Desk located on the first floor of the library.
Student clubs may also have a webpage hosted on PLU's website. You can use it to provide information about your club to your members and others, like prospective students looking for ways to get involved at PLU. Create/Remove/Check Status of your web page on the PLU online toolkit on the Library and Computing web site. For additional information about setting up your web site please see the Library and Computing help page.
Notes: Club e-Pass account passwords expire annually. All club email inquiries and password resets can be directed to the Help Desk at ext.7525.
Make Copies
Copy cards can be secured through the library to be used for small jobs. For larger jobs, place orders with the university Copy Center and have them charged to your club account. Small orders usually take one business-day while offset printing may require 1-2 weeks.
Copy Center Request >
Purchase Balloons
Helium filled balloons for your event can be purchased through the PLU bookstore.  You can purchase the balloons ahead of time and have them delivered for $3.00 fee. Price: Foil Mylar balloon $3.00/each, Latex balloon $0.75/each.
Schedule Bulk Mailings
PLU Mail Services can assist student clubs in coordinating and scheduling of bulk or vended mailings which includes:
Work with the printing and design staff to determine the proper classification of postage according to requested due date.
Schedule the drop date according to requested due date with selected vended services.
Provide estimates from selected vended services.
Stage completed projects for pick-up and delivery to vended services.
Ensure that project has been mailed on the date required.
Plan Trip and Set Itinerary
When traveling for club or organization purpose, your organization must submit a travel itinerary to club advisor and SIL. The itinerary must include name of people traveling, drivers and trip leaders (one per vehicle), contact information for trip planner (email and phone number), address of destinations, purpose of the trip, date and time of departure from PLU campus, date and time of return to PLU campus, estimated time of arrival at destinations, and estimated time of departure from destinations.
Auto Insurance for PLU Travel
Personally owned vehicles are not insured for business travel because of State Laws. Carpools are not approved transportation. Mileage reimbursement is available for individuals using their personal vehicle for sponsored business. PLU travel emergency assistance is available, however.
Learn more >
Rental Cars: When traveling abroad, always purchase comprehensive auto insurance from foreign rental car companies. This includes Canada and Mexico. When traveling domestically, you do not need to purchase insurance for rental cars in the US sponsored work activities. Always report damage or accidents so we can protect you from liability and control costs.
Emergency Assistance
If you are having car trouble such as auto accident or breakdown,  Parkland Towing 253-535-0572 and Fife Towing 1-800-224-9528 offer discounts to PLU students and employees.
PLU travel insurance offers 24-hour emergency service to PLU employees and students who have emergencies requiring medical, personal, or legal assistance when 100 miles or more from campus/home on pre-approved travel related to business and curriculum of PLU campus. Students and employees may use the emergency service 24-hour-a-day, 7-days-a-week, 365-days-a-year. To obtain assistance inside the US & Canada, call the AIG Assist 24-hour Worldwide Call Center 1-800-401-2678.
Learn more >
Auto Accident
In case of an accident involving a PLU vehicle,
Call the police to the scene of accident and make sure they record a report for PLU.
Get from the other drivers: full name, driver's license number, personal phone number and address, insurance company and contact information.
Provide this information to other drivers: PLU Finance and Administrations Office, Tacoma WA 98447, 253-535-7441; PLU auto insurance provider 1-800-832-7839, Police # TC2J-CAP-230T5861.
Call Campus Safety253-535-7441 immediately to report the accident. Notify your department afterward.