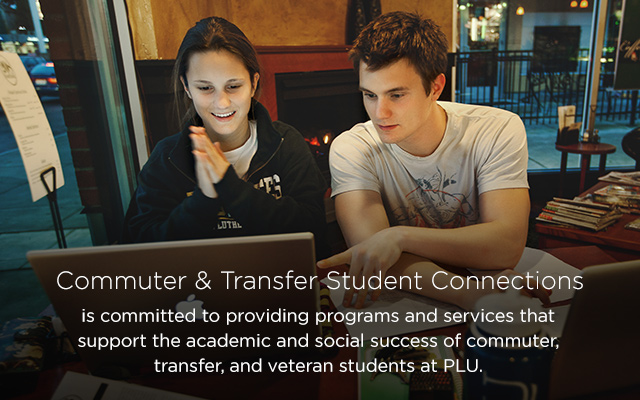 Commuter Students are often used to describe students who lives off campus with their family, the term also includes all students who live off campus near or far. Commuter Students at PLU travel to campus from as near as across the street from campus and as far as Seattle. These students commute by car, walking, biking, bus, and carpooling.
63.1% of all PLU students live off campus.
21.3% of first-year students are commuter students.
72% of transfer students are commuter students.
Transfer Students refers to any student bringing post high school college credit to PLU. Students transfer to PLU from 2-year, 4-year, technical, and international colleges.
18.9% of PLU students are transfer students.
236 new transfer students in Fall 2013.
61 transfer students in Spring 2014.
18% of transfer students live on campus.
18% of PLU students are 25+ years old
Veteran Students are students who have served or are currently serving in the Army, Navy, Air Force, Marine Corps, and/or Coast Guard. There are more than 125 veteran students attending at PLU.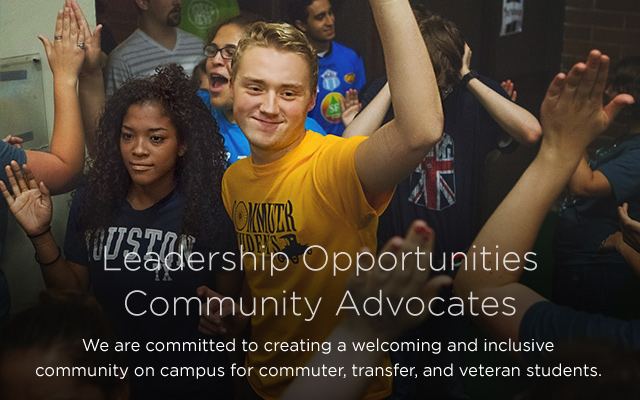 The team of CAVE and Kreidler Community Advocates are committed to creating a welcoming and inclusive community on campus for commuter, transfer, and veteran students. They serve the community through a variety of responsibilities including engaging with students one-on-one, program development, and staffing the lounge spaces. This position offers students the opportunity to enhance their leadership skills, promote engagement and leadership among their peers, collaborate with multiple campus partner, and advocate for commuter, transfer, and veteran student needs.
Each Community Advocate works 8-10 regularly scheduled shift hours per week to staff the Kreidler Lounge and/or The CAVE between 8:00am – 6:00pm.