The Kreidler Lounge is a place on campus that upper class, transfer, veteran, and non-traditional students can be a part of a community, rest between classes, study, and enjoy lunch.  
Lounge Resources
Community Advocates: As upper class students who are also commuters, transfers, and veterans, Community Advocates are a great resource on how to navigate student life and knowledgeable about campus resources. 
Programs: Geared towards career readiness, academic support, and community building
Kitchen: students have full access to the kitchen in the lounge. There is a refrigerator, microwave, oven, stove, and dishes for students to use at their convenience.  
Computer: Students have access to 2 computers in the space
Couches: Some of the comfiest couches on campus, students are welcome to get comfortable and rest between class
Games: Board games and pool table!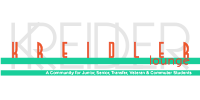 Location
The first floor lounge of Kreidler Hall.
Hours
Mon -Fri:  7:45am-10:00pm
Community Assistants present: 8:00am – 5:00pm