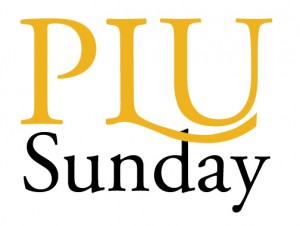 Please join other congregations of Region 1 on April 3, 2016, by uplifting Lutheran Higher Education during your worship service.
PLU Sunday Registration
Register and request a PLU Sunday Resource Kit by contacting Laura Rose in the Office of Advancement at 253-535-7178 or laura.rose@plu.edu.
Prior to PLU Sunday
PLU Sunday Promotions: Consider giving announcements, either verbally or in print, prior to PLU Sunday to promote the date. Announcement suggestions are shown below:
On Sunday, April 3rd (or the date of your choosing), we will participate in PLU Sunday, lifting up higher education at Pacific Lutheran University. Wear your PLU apparel or the school colors of black and gold to show your Lute spirit! If you are a PLU alumnus or have a relationship to the university, i.e. a son or daughter studied there or is there now, please let Pastor (Name) know so you can be recognized on PLU Sunday. 
On PLU Sunday, may we suggest the following announcement:
Today is PLU Sunday!!! Celebrate and lift up higher education at Pacific Lutheran University by checking out the information available in the _______________ (narthex, fellowship hall, or other special place). Go Lutes! 
Sermon Suggestions
John 20:19-31
There are a number of ways a pastor can go with a text like John 20: 19-31. One direction would be to lift up the gift of Lutheran higher education. Part of its value is that it prepares students to ask the discerning question, just like Thomas. It does this by:

encouraging critical questioning of current knowledge, values, and beliefs

valuing freedom for expression and protection of learning

rooting itself firmly in the liberating foundation of the liberal arts

promoting the importance of learning and research as a communal enterprise

recognizing the intrinsic value of the whole creation

encouraging each person to discernment of their vocation in the world

service to the advancement of life, health, and wholeness
Hymn Suggestions
The Risen Christ (ELW 390)
Earth and all stars (ELW 731)
God of the sparrow (ELW 740)
How small our span of life (ELW 636)
We walk by faith (ELW 635)
Prayer Suggestions
Schools
O God, the source of all goodness: We give you thanks for the gift of reason and the opportunity for education. Bless our schools [especially Pacific Lutheran University], that they may be places of learning and safety where teachers challenge the minds and nurture the hearts of students. Grant that teachers and students may work together in mutual respect and find joy in the challenges of academic life; through Jesus Christ, our Savior and Lord. (ELW, p.78)
Schools
Eternal God, bless all schools, colleges, and universities [especially Pacific Lutheran University]. that they may be lively places for sound learning, new discovery, and the pursuit of wisdom; and grant that those who teach and those who learn may find you to be the source of all truth; through Jesus Christ, our Savior and Lord. (ELW, p.78)
Teachers
God of wisdom, your Son came among us as a teacher. Send your blessing on all who are engaged in the work of education: give them clearness of vision and freshness of thought, and enable them so to train the hearts and minds of their students that they may grow in wisdom and be prepared to face the challenges of life; through Jesus Christ our Lord.   (ELW, p.78)