General Information About Note Taking
The DSS office hires up to 80 students per semester to take notes for those with language, learning and/or physical disabilities.  Students interested in applying for a note taker position, need to wait for an announcement to be made by their professor, expressing the need for a note taker in that particular class.  Until an announcement is made, the position is not considered open, and the DSS office will not be hiring.  Once an announcement is made, please come to the DSS office where interested parties will be hired on a first come, first served basis.  In order to maintain employment note takers must complete required paperwork, take an online certificate and respond in a timely manner to all correspondence from DSS Staff.
To Be Hired As A Note Taker
Complete paperwork for DSS Office (AUC 300), and review the On-Campus Student Employee Handbook (ask DSS for copy)
Complete I-9 paperwork in the Student Employment Office, RAMS 112 (you cannot get paid without the I-9)
Complete online training within 2 weeks of hire date and submit training certificate to DSS office.
Click here to access the training.  It is important to click on the Slide Show tab and view From Beginning.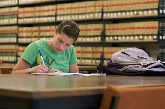 Reminder for Note Takers
Always turn in your notes promptly. Respond to all correspondence from the DSS office. Electronically file your time sheet on time. If you have any questions – contact the DSS Office ASAP.
Taking Notes
Attend all classes and take accurate and readable notes.
Please use pen instead of pencil to insure better copying.
Be sure to include the name of the class and the date of the lecture on each set of notes.
If you will be unable to attend a class or cannot turn in notes in a timely manner, please make arrangements with someone in the class to take notes for you.
If for any reason you cannot continue taking notes or withdraw from the class, you must let the Disability Support Services (DSS) staff know immediately.
Consistent lack of notes or complaints from the student may result in termination of employment.
You must keep confidential the name of the student for whom you take notes.
If you have any questions or comments, please call or stop by the DSS Office, AUC 300, x7206.
Turning in Notes
Notes should be taken to a multi-function copier at the library for scanning. Please contact library personnel or our office if you need assistance with scanning and emailing.
Notes should be scanned and emailed immediately after class or within 24 hours after class.  Failure to turn in your notes regularly may result in the termination of your employment with the DSS Office.
Be sure to include the course number (i.e. STAT 101 01), the professor's name and the date of the lecture on each set of notes and in the subject line of emails from the scanner
Notes taken as a paid note taker are not to be shared with any student except the person(s) you were hired to support. Failure to follow this policy may result in immediate termination of your employment with the DSS office.
Getting Paid for Your Notes
Time sheets need to be completed in Banner Web and submitted by 10:00 am on the due date.
Log on to Banner Web, Click on Employee Services, Click on Time Sheet
Make sure the correct department and job are selected as well as the correct pay period, and then click on Select.
On this screen you will see the position, the department, the pay period, and the time and date by which you must finish entering your time for the month and submit the time sheet to be approved.  The first week of the pay period will be displayed.  Click on Enter Hours under the appropriate date.  (If you want to enter times worked for a week other than the first week of the pay period, click on next for the successive weeks.)
Enter the actual in/out times each time you come and go—you have to enter the colon and zeroes after the number (e.g. 9:00).  You must enter your time in 15-minute intervals—do not round to half-hours or hours.  If you work longer than 5 hours, you should take a lunch break, so you will have four time entries, not just two.  After entering your in/out times, click save.
Click Time Sheet to go back to another date.
If you would like to send a comment to your approver (usually this will be your supervisor) concerning your time entry, please click on Comments on the Time Sheet page.
Enter your time regularly. Do not wait until the deadline day to enter your times.
At the end of the pay period, click on Submit for Approval.  The time sheet will now be available for your approver.  At the top of the time sheet is a heading that says "Submit by Date."  It lets you know the deadline for submitting your time sheet for approval.
You may view your current time sheet and the time sheet from the last pay period.
Note: Do not use the back button on your browser. Use the back button provided in Banner.
You can track your hours on a paper time sheet until Banner has been activated for your job.
If the time sheet deadline occurs before your job is activated, turn your paper time sheet in to AUC 300 by 9:00am on the deadline day.
Time Sheet Due Dates
Time sheets turned in after 10:00am on the due date will not be processed until the next pay period.
Banner time sheet deadline is 10:00am on the due date to submit online. Paper time sheet deadline is 9:00am to turn into the DSS office for verification and signature, then we will turn into the Payroll office by the 10:00am deadline.
Paychecks are picked up in the Business Office, ADMN 110
Direct Deposit
Direct Deposit automatically deposits your pay into your checking or savings account.  You do not need to worry about taking time to deposit your check or making special arrangements for your paycheck when you are out of town or sick.  With Direct Deposit, your pay will be available when your bank opens for business on payday.  Direct Deposit at this time is available only for the regular monthly payday.  If there is an extra check run, that pay will be in the form of a check, not Direct Deposit. For more information and to enroll for Direct Deposit, please visit the Payroll website.