What is Preparedness?
Preparedness is a state of readiness to respond to a disaster, crisis, or any other type of emergency incident. It includes planning and education. PLU conducts training for its responders and exercises its response plans and training through drills and other types of exercises. Please refer to the calendar on this website for upcoming opportunities.
Get a Kit.
Make a Plan.
Be Informed.
There are three simple steps that students should take to prepare for an emergency when living on campus or in off-campus housing:
1. Purchase or prepare a personal emergency kit.
2. Develop a communication plan for reaching family members in the event that normal communication channels are disabled.
3. Know what to expect and what to do at PLU during various types of emergencies.
Following are a few guidelines to consider in taking these three steps. Please also refer to the PLU Prepare in a Year brochure in the Quick Links to the right.
Get An Emergency Kit
Emergency kits can be easily made from items at home, check out the quick links above for an emergency kit supplies checklist as a guideline.
Emergency kits can also be bought through many retailers, and you can compare prices and items you need to get the best fit!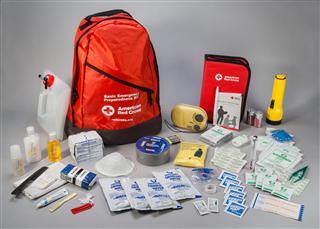 Make a Communication Plan
Local telephones, cell phones, and e-mail may not work during an emergency. However, it is often possible to call outside the local affected area. Your family should make a plan to call an out-of-state friend or family phone number, so each person can report they are safe. Here is a template your family can use to keep track of this information.
Look For Web, Phone, and Media Alerts
PLU Alert! may be used to notify students and employees of unfolding emergency incidents via text and voice message to cell phones, PLU work phones, and PLU email addresses that are on record with the university. For more information, click here.
Parents and students may also find updated crisis or emergency information on the PLU Web site, www.plu.edu, and by calling the incident hotline, 1-877-322-0872.
Weather closure information is available three ways: 1) online at www.plu.edu and at www.flashalert.net, 2) by calling 1-877-322-0872, and 3) by following local broadcast information.
For more information about notification services please click here.
Know What to Do During Fire, Violence, or Gas Leak
Learn how to save your life during a fire, threat of violence, gas leak and many other incidents by reviewing the emergency procedures.