Dining at PLU
PLU has one main cafeteria, called the Commons, located in the University Center. Breakfast, lunch and dinner is served in this area, but there are also other places on campus to grab a quick bite or some coffee. There is a coffee stand with some snacks in Hauge Administration building (Admin), Morken building and Columbia Center on lower campus.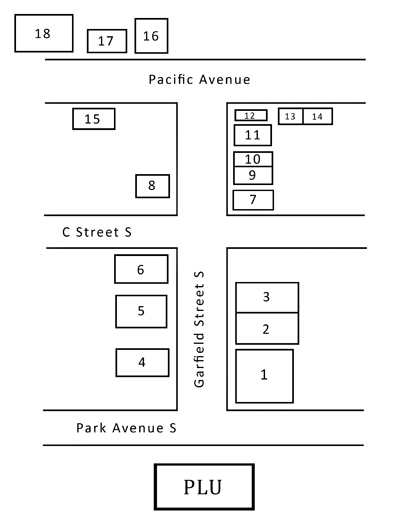 Off-Campus Dining
Many students choose to go off-campus on weekends or on special occasions to have dinner.  You can find several restaurants on Garfield street, right off PLU's campus, with different cuisines.
Marzano's: Italian food in a semi-casual setting. It may be a little pricey for students.
Tea Leaf: Szechuan Chinese food at its best. Casual dining.
Cafe Moon: Café, sandwiches and desserts, etc.
Madea's Cajun cafe: Southern American food.
Reyna's Fine Mexican Cuisine: Authentic Mexican food in a casual setting.
Northern Pacific Coffee Company (NPCC): Espresso, ice cream, sandwiches and salads. A casual study-hangout spot with a book swap and open mic nights.
–
Garfield Book Company at PLU: General interest books as well as textbooks, school supplies, gifts, software, clothing, cards and convenience store items.
208 Garfield: Soup, salad, sandwich. Serves espresso drinks, wine & beer.
Farrelli's Wood Fire Gourmet Pizza: High quality apple wood fire pizza in an environment that evokes a neighborhood feel.
Pita Pit: Meat, veggie, and breakfast pitas.
–
Uni Teriyaki: Korean Style teriyaki restaurant.
Jade Pacific: Pan Asian cuisine
Baskin Robbins: Ice cream and desserts.
Lieu's: Chinese food
Walgreens: Retail drug store, and all the living stuff such as toothpaste, shampoo can be found in here. It sells snacks too.