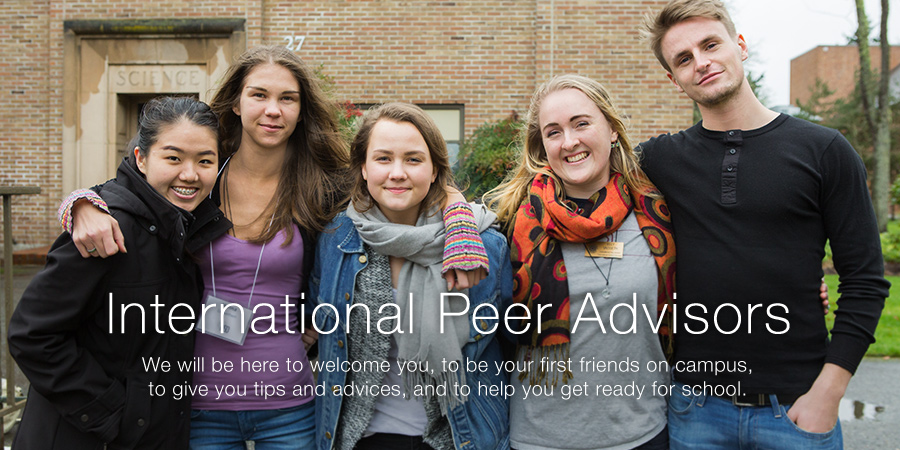 International Peer Advisors (IPAs) are current PLU students. They were just like you, coming here as international students or American students working hard to become a part of community within the university.
With experience and enthusiasm, all the IPAs are looking forward to meeting you and assisting you through the first week at PLU. They will be here to welcome you, to be your first friend on campus, to give you the best advice for new students, and to help you get ready for school.
They, as a team, are working hard to prepare a big welcome for you to our university!
Scott Ryan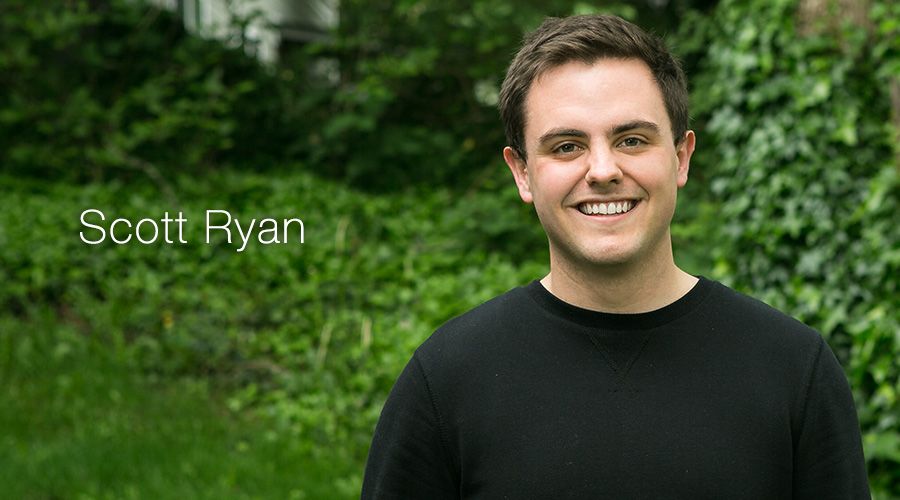 Email: ryansd@plu.edu
Year: Senior
Major: Business Finance
Country: U.S.A. / Canada (Dual)
Campus Involvement: Handball team, Outdoor Rec, ISS
What I Like Most About PLU: All of the friends I've made.
One Piece of Advice: Go on as many Outdoor Rec trips as possible!
Alexandra Dreher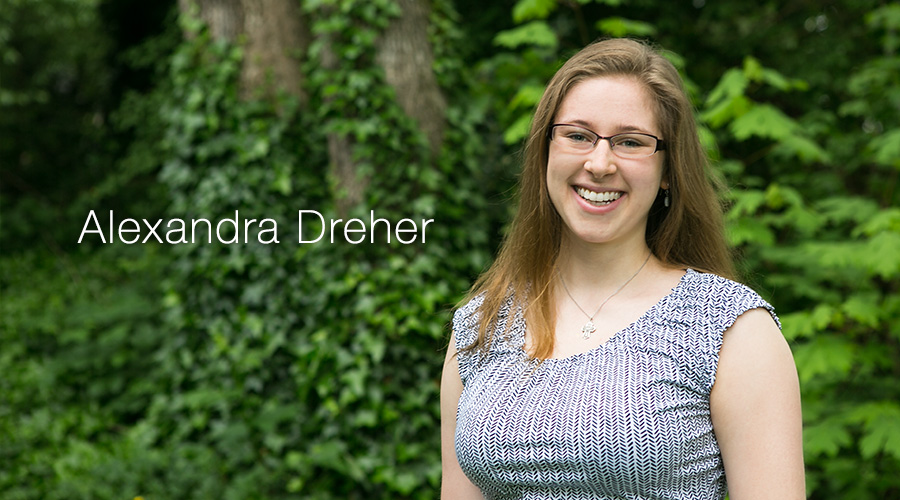 Email: dreherae@plu.edu
Year: Junior
Major: Music – Vocal Performance and German
Country: U.S.A.
Campus Involvement: PLU Choir, Opera, Global Campus Connection
What I Like Most About PLU: The sense of community.
One Piece of Advice: Embrace the journey.
Yannet "Yanni" Gudeta Urgessa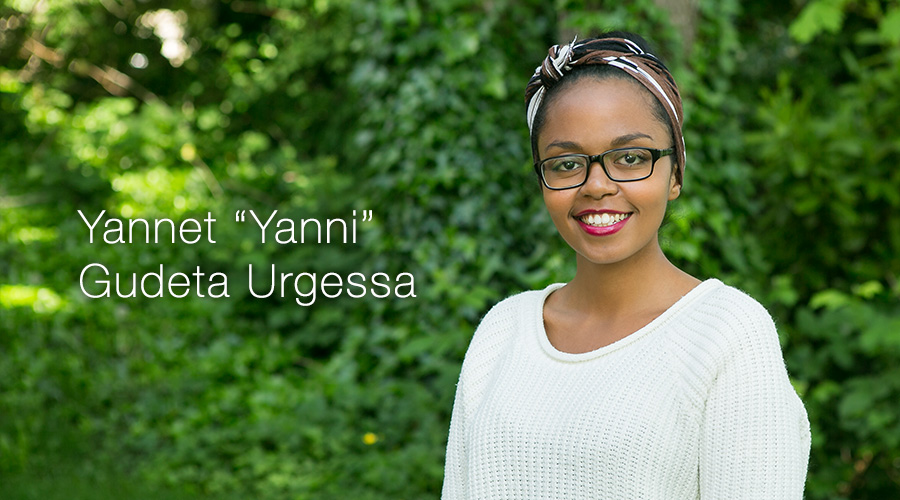 Email: urgessyg@plu.edu
Year: Senior
Major: Sociology, with a minor in Biology
Country: Norway
Campus Involvement: Lute Nation, LASR Radio, Diversity Center and Hong International Hall
What I Like Most About PLU: The opportunity PLU has given me to meet so many influential people.
One Piece of Advice: To break away from your comfort zone and try something new. Also to be open minded to learn from peers and professors and other faculty members.
Yannik Ilgert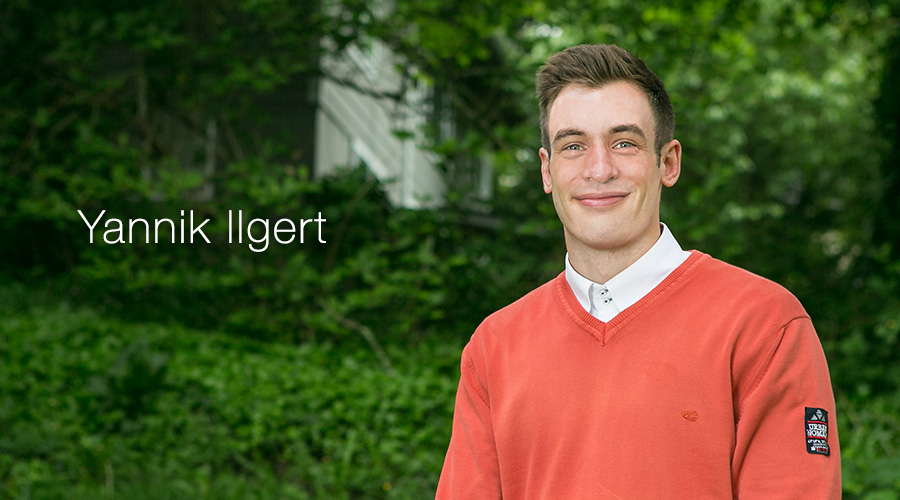 Email: ilgertya@plu.edu
Year: Senior
Major: International Business
Country: Germany
Campus involvement: ISS Intern
What I Like Most About PLU: PLU offers a great environment to grow. A diversity filled learning environment animates every individual on campus to strive for their greatest potential. I appreciate PLU for its community, involvement, and commitment towards success.
One piece of advice: Make friendships for your life. Engage in activities. Be open minded. Be yourself. Learn.
Frances Steelquist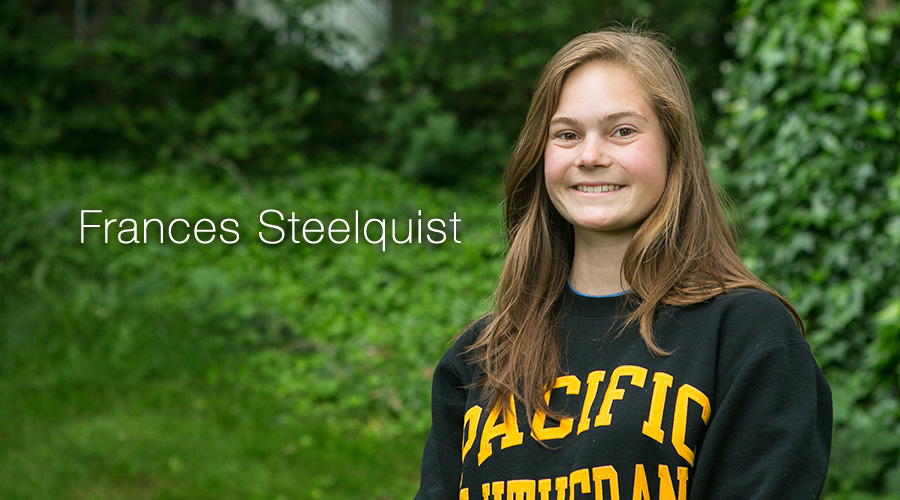 Email: steelqfm@plu.edu
Year: Sophomore
Major: Kinesiology – Exercise Science
Country: U.S.A.
Campus Involvement: Outdoor Recreation, Music Ensembles
What I Like Most About PLU: The support within PLU's different communities. Us students are continuously given opportunities by the faculty to try new things and push limits – that makes for an awesome environment.
One Piece of Advice: You are the agent of your education – own it! You don't have to pursue everything or be friends with everyone, but whatever you do is yours and you have the power to make it good.
Kindra Galán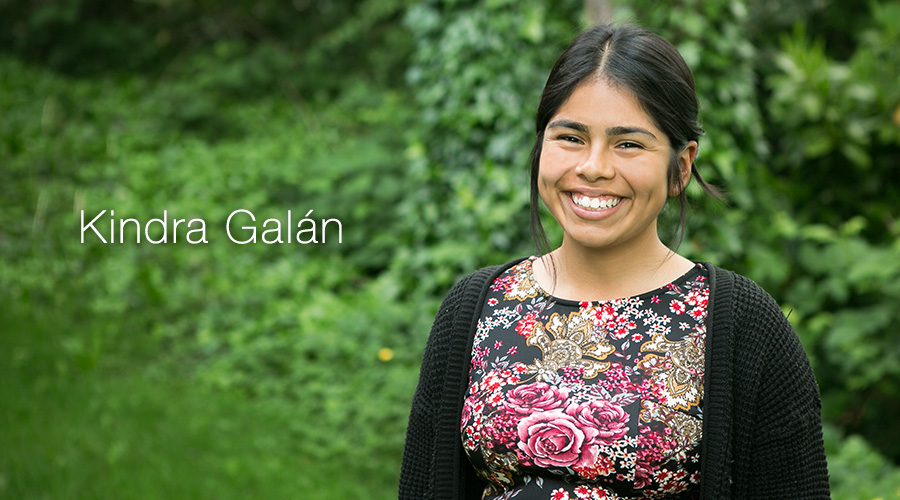 Email: galanka@plu.edu
Year: Senior
Major: Environmental Studies and Scandinavian Studies with Minors in Hispanic Studies and Religion
Country: Guatemalan/Mexican American
Campus Involvement: I am an Admission Ambassador, which means I am a tour guide for the Office of Admission. I am also involved with Latino Unidos, PR Manager for Scandinavian Club, Global Campus Connection, and a Front Desk Worker at South Hall.
What I Like Most About PLU: This is a hard question because there is a lot things I like about PLU! I enjoy how diverse PLU is. You meet all kinds of people that teach new things every day! We have people from all different places around the world. I also enjoy how everyone around campus is super friendly! There is a lot of opportunities here at PLU whether it is in the classroom or outside and that's why I like PLU a lot!
One Piece of Advice: GET INVOLVED! It doesn't matter if you're here a semester or three years, you should definitely get involved as much as you can. Getting involved gives you the opportunity to meet people you wouldn't expect to meet. You meet people and make memories that last a lifetime! I met some of my closest friends by getting involved and trying new things that I wouldn't have expected to. You'll have fun, I promise!
MEET THE ADMISSION INTERNS
Pape Samba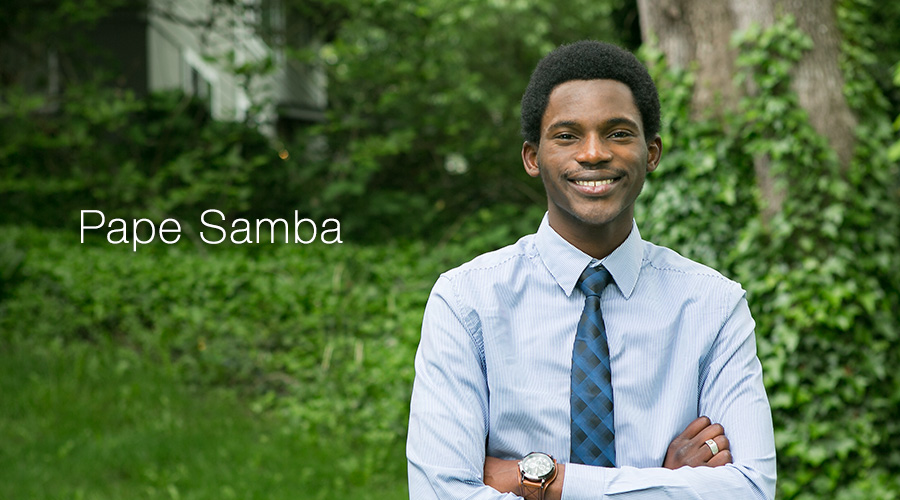 Email: sambapm@plu.edu
Year: Senior
Major: Business Administration with a concentration in Finance
Country: Senegal
Campus involvement: Intern in the Office of Admission, and Mary Lund-Davis Student Investment Fund
What I Like Most About PLU: People are usually very nice, friendly, and care about you. A lesson, I have learned during visit days, which made me even more interested about the university. Moreover, internship opportunities available for students are endless, thus giving you the job training you need for your future professional career.
One Piece of Advice: Be friendly and make friends! University is all about experiences and encounters, so make connections for the future. One of the best ways is to get involved in clubs and organizations. However, with all these wonderful activities on campus, you should not also forget about your goals.
Joel Goh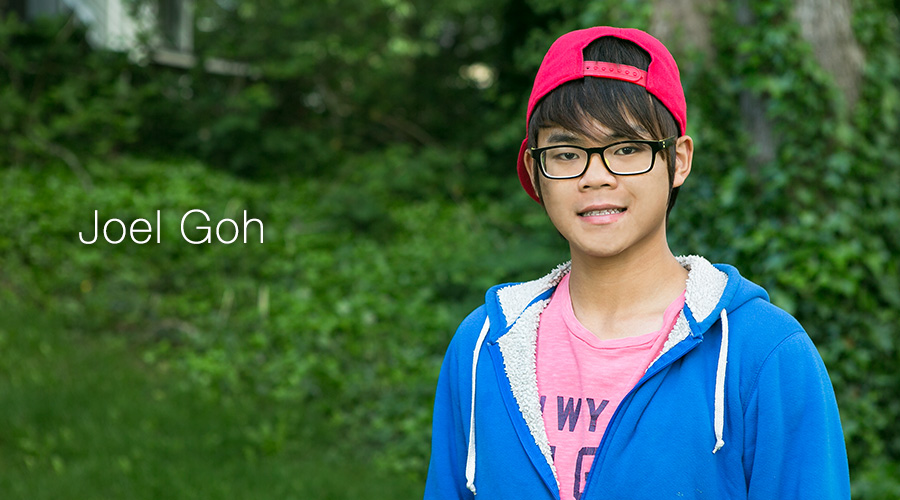 Email: gohjy@plu.edu
Year: Senior
Major: Communication with a concentration in Public Relations and Advertising
Country: Malaysia
Campus Involvement: Intern in the Office of Admission and ASPLU Special Events Programmer
What I Like Most About PLU: PLU IS AMAZING! What else can I say? The campus is so beautiful, people here are nice and friendly, class sizes are small, instructors are great and there are so many ways to be a part of the Lute community! If I had to choose what I like most, it would definitely be the small class sizes. I mean, this was my main deciding factor for choosing PLU! Smaller class sizes often offer more teacher-student interaction, less distractions, a lot more opportunities to clarify things and you get to know your professors better. Not many universities can boast about their efficient small class sizes like PLU.
One Piece of Advice: Make as many friends as you possibly can with your time at PLU! Good relationships go a long way in life and university is possibly the best time for increased networking. If something happens to you or you just need someone to talk to, you will always have your close friends right around the corner. Lastly, just enjoy the whole university experience at PLU.
Hikari Loana Kaja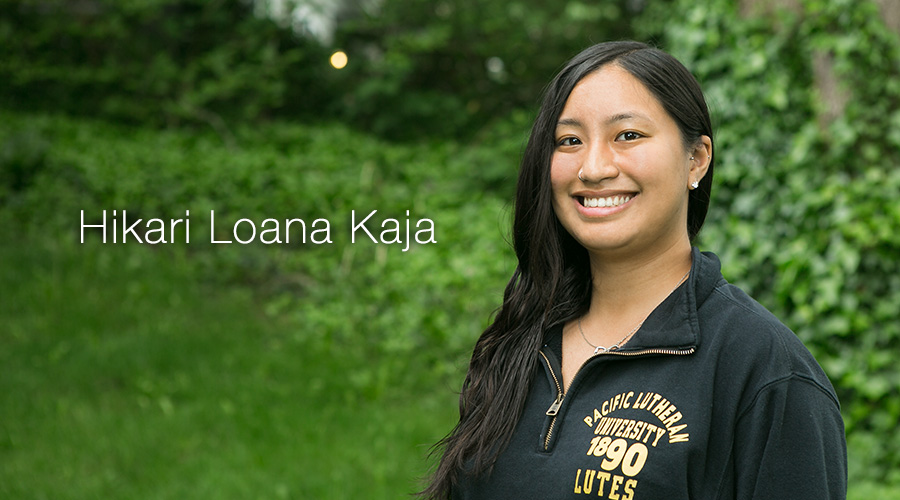 Email: kajahl@plu.edu
Year: Senior
Major: Psychology, with a minor in Music
Country: Japan
Campus Involvement: Intern in the Office of Admission, Concert Band, Saxophone Quartet
What I Like Most About PLU: I like the openness and the diversity of the campus. Since PLU celebrates diversity, it's been an experience for me to meet people from different backgrounds. The Global Student Club has introduced me to people from different countries, and I've learned a lot of new things from them. I also enjoy studying in small classes; it's really nice to be in a class where the professor knows me by name. The professors at PLU have office hours where they can answer any questions that students may have, and I have definitely found that to be helpful.
One Piece of Advice: Try to join the clubs that you're interested in, but don't over-commit yourself. I was really overwhelmed at first because there are so many opportunities for students to join different clubs and organizations. Remember that you do need time to work on homework and reading for classes, and most important of all you need sleep.
Madeleine Brekke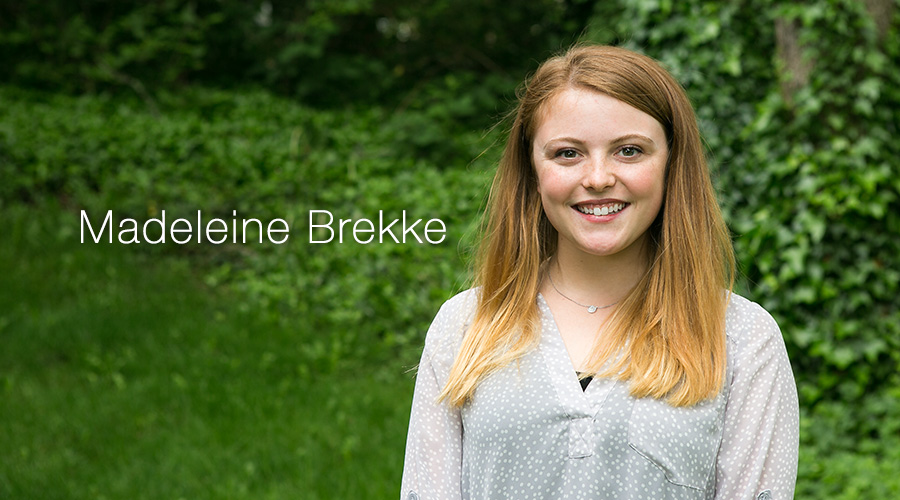 Email: brekkemo@plu.edu
Year: Graduate student
Major: Master of Science in Marketing Research
Country: Norway
Campus Involvement: President of Scandinavian Student Club, Vice President of Psi Chi, International Student Intern in the Office of Admission, PLU Handball Team
What I Like Most About PLU: The school is small enough to know most everyone yet still large enough to meet new people every day. I love being able to walk across campus and be surrounded by friends wherever I go.
One Piece of Advice: Make it a goal to talk to at least one new person every day, especially during the first few weeks. The relationships I made during orientation week and the first days of class are still relationships I cherish today. One thing you will learn about Americans is that they love to talk to strangers! Use this to your advantage!