Clickers (Audience Response Systems)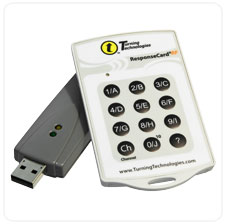 Instructional Technologies has several hundred Turning Technologies clickers available for checkout with a clicker receiver for classes or meetings. These clickers can be used with:
TurningPoint Anywhere – Stand-alone software to use clickers and display results.
TurningPoint – A PowerPoint plugin to integrate clicker questions and results displays into a presentation.
Results Manager – Stand-alone software to organize and synchronize data collected during clicker use sessions.
Sakai Turning Technologies Tool – Integration for Sakai allowing students to register their clickers in Sakai for use in your class so assessment data can be collected and synchronized with the Sakai Gradebook.
If you're planning to use clickers routinely in your class, it's probably best to consider purchasing clickers for your department or having students purchase them at the Bookstore.
Installing Turning Technologies Software on Your Computer
Most classroom computers have the Turning Technologies software already installed. If you're using a PLU computer, you can request installation of the software by making a Help Desk Request at http://helpdesk.plu.edu. Use the request type "Software -> Install / Update".
You can also download TurningTechnology software from the download page at http://www.turningtechnologies.com/responsesystemsupport/downloads/ for installing it on your own computer.
Adding the Turning Technologies Tool to Your Sakai Course
You can add the Sakai Turning Technologies tool to your Sakai course site via "Site Info -> Edit Tools".
Reserve and Checkout Clickers from Instructional Technologies
To make a reservation for clickers by making a Help Desk Request at http://helpdesk.plu.edu. Use the request type "Classrooms / Labs / Meeting Spaces -> Clickers".
Clicker News & Updates
Turning Technologies Resources