Ryan Dirks
Bachelor of Science - Exercise Science, 2001
Orthopedic and Sports Medicine Physician Assistant and Surgical First Assistant
MultiCare Orthopedics and Sports Medicine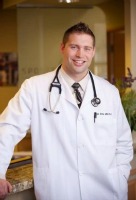 Ryan Dirks graduated from the Arizona School of Health Sciences Master of Science Physician Assistant Studies Program in 2007. As a board certified physician assistant Ryan is a licensed healthcare provider who practices medicine under the supervision of a medical doctor. Clinically, he diagnoses and treats an array of injuries and illness that occur in athletes, workers, and other individuals with musculoskeletal problems. He also specializes in the diagnosis and management of sports concussion. In the operating room Ryan functions as an Orthopedic Surgical First Assistant, operating side by side the orthopedic surgeon performing less invasive procedures such as knee and shoulder arthroscopy to more invasive surgery such as Total Joint Replacement.
After graduating from PLU I continued to train and compete in the Hammer Throw (track and field) event. In 2004 I was fortunate enough to qualify for the USA Olympic Trials, and US Track and Field National Championships in 2005. Training and competing at this level allowed me to experience competition at an entire new level as well as train and interact with athletes of all different backgrounds. As a Sports Medicine PA, I feel I have much better insight into the mind-set of athletes as well as the importance of injury prevention because of this. My first Job out of PA school was working at Sports and Activity Medicine, a family practice focusing on physical fitness and wellness as the centerpiece of physical, mental, emotional, and spiritual health. We specialized in sports medicine as well as preventive cardiology.
My time at PLU was full of growth and richness in many different ways. Professionally I was able to study and take classes in many different areas and departments. I took classes in physical education, biology, physics, and nursing. In fact it was while taking Pathophysiology in the school of nursing as an "elective", that the professor one day pulled me aside and said I think you should consider the PA profession! It intrigued me, caught my attention, and after several years of trying to figure out exactly what a PA was and did, I decided to follow that path.
Multifaceted * Rich * Valued