Mallory Mann
Bachelor of Arts in Physical Education, 2006
Bowling Green State University, Ohio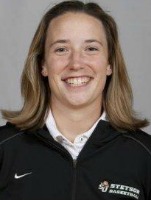 Mallory Mann is currently a doctoral student and graduate assistant in American Culture Studies, School of Cultural and Critical Studies, Bowling Green State University. She holds an M.S., Sport Studies (concentration in sport behavior & performance) from Miami (OH) University, Kinesiology & Health (KNH) Department (2009).
After graduating from PLU, I was accepted to a nationally recognized sport psychology program (Miami University) and worked as a graduate assistant women's basketball coach. After earning my master's degree (2009), I was hired as an assistant coach at Stetson University (Florida) where, in my second year, we orchestrated the second largest single season turnaround in the NCAA. In all, I coached basketball at the college level for five years (4 at the Division I level; 1 at Division III); and, during my nine years of combined playing and coaching experience, I participated on four conference championship teams and made four NCAA appearances.
As a second year doctoral student, I am a member of the Bowling Green State University Sport Performance Team, which consults in areas including: nutrition, counseling, and sport psychology. I am also part of an interdisciplinary research team. Outside of my work at BGSU, I am one of four interns with the Alliance of Women Coaches, a national organization committed to helping improve the sport landscape for women coaches.
PLU, particularly the courses and professors in the (former) School of Physical Education, did more than simply prepare me for future career paths; they taught me to question "truths", to discover MY best self, and to commit to a life of learning. The standard of excellence professors exhibited and expected is what makes PLU different and special. Yet, it was the community that existed among peers and between the faculty and students that impacted me most – my colleagues and I experienced many successful moments and created a lot of fun because we learned, through our coursework, the importance of celebrating and supporting one another in our individual and collective pursuits!
Challenging * Rewarding * Life-changing