How To Search And Apply For Jobs On the Career Connections Opportunities Board
Introduction:
Whether you are looking for an on-campus job, an off-campus job, an internship, or volunteer opportunity, the Career Connections Opportunities Board is a great place to start your search. Here are the steps on how to start searching using this tool.
Step 1: Log In
The launch button can be found on multiple sites, and all take you to the same place. Check out the Career Connections, Academic Internship, or Student Employment pages for the launch button. Click this, then use your ePass information to log in.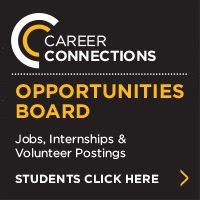 Step 2: Select a Job Type
Now that you're logged in, hover over the "Jobs/Internship/Volunteer Search" tab, and select the desired search. (Please note that if you have work study, you can use your work study award for most jobs under the "On Campus" category. If you have work study AND are a Washington State Resident, you can search for off-campus jobs as well by selecting "State Work Study")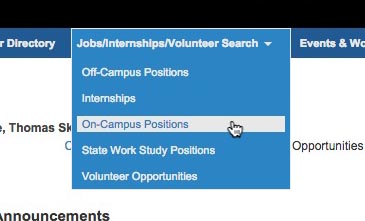 Step 3: Search through the postings
Start searching through the various job postings. This shows which employer (or department) is hiring, and the blue text shows which job they are hiring for. Once you find a job that you want to learn more about, click the job title.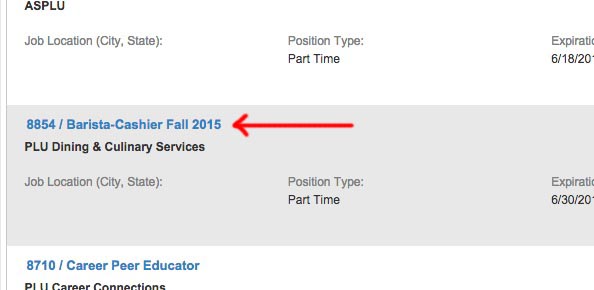 Step 4: Read the job posting
Read through the job posting. It contains information about what the employer is looking for. If you feel that you are the right person for this job, click the "Apply Now" button at the top of the page. (PLEASE NOTE: Not all postings have an Apply Now button. Look in the "How To Apply" section for full information on how to apply for the specific position)

Step 5: Fill out the application
After clicking the Apply Now button, answer the 6 questions on the application. These 6 questions are the same for every application, so if you are applying for multiple jobs, there are some fields that you can just copy/paste (like Hours of Availability). Once you've thoroughly answered the questions, click the Save button. Clicking Save will send your application to the employer for review.
Step 6: Wait for employer contact
Now, you are waiting to hear back from the employer. If a significant amount of time goes by, it is appropriate to send an e-mail to the person who posted the position, and let them know that you are still interested. You can also apply for other jobs as well.
Step 7: Got the job or not
If you end up landing the job, congrats! Head over to the "So… You've Been Hired" web page and follow the instructions. If you didn't end up getting this one, don't get discouraged, and keep applying for other jobs. If you need assistance, call 253-535-7459 and ask to set up an appointment with a Career Counselor. They will be able to help with your application materials and job search process.
Good Luck!