Eighteenth Annual High School Orchestra Invitational, Saturday October 18, 11:30 am-7 pm, Lagerquist Hall
High school orchestras from throughout the region will perform on the Largerquist stage and receive comments from our guest clinician. The PLU Symphony Orchestra will also play a special 3 pm performance. This event is free and open to the public. No Tickets Needed. Visit http://www.plu.edu/symphony/for-school-orchestras/plu-orchestra-invitational for more information.
Orchestra Series I: Tuesday October 14, 8 pm, Lagerquist Hall
This concert is dedicated to the memory of the late William Doppmann. Featured will be the premiere of one of his last orchestral works, Elegy for solo clarinet and orchestra, as well as the premiere of a work by Professor Emeritus Jerry Kracht, setting poetry by William Walton and dedicated to Doppmann. Clarinet soloist will be Craig Rine. Baritone soloist will be Charles Robert Stephens. Oksana Ezhokina is the piano soloist. Members of the Choir of the West (Richard Nance, conductor) will join the PLUSO and guest conductor, Jerry Kracht for these two works. The concert will conclude with Beethoven's Third Symphony, conducted by Professor Jeffrey Bell-Hanson.
Orchestra Series II: Tuesday November 19, 8 pm Lagerquist Hall
Two works will be featured, Brahms' Variations on a Theme by Haydn, and Sibelius' Karelia Suite. Jeffrey Bell-Hanson, conductor.
Call For Tickets Or Information: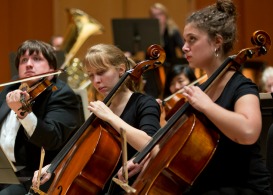 Tickets for USO events are sold on a first come – first serve basis. Tickets can be purchased at the door while quantities last. Concert Information call: (253) 535-7411 during business hours. You can also find information about tickets and about all PLU music events by e-mailing the PLU Music Department, or by calling 253-535-7602.
PLU's popular Christmas Concert, "Journey of Light," begins December 4 at Benaroya Hall in Seattle. Concerts in Lagerquist will be held on December 6 in Lagerquist Hall, 7 also in Lagerquist in the afternoon and 9 at Arlene Schnitzer Hall in Portland. The concert will be return to Lagerquist Hall on December 12. Contact the Music Department for more info, 253-535-7602.
This annual favorite features the Choir of the West, the University Chorale and members of the University Symphony Orchestra. Get your tickets early! Richard Nance, Lauren Whitham and Jeffrey Bell-Hanson, conductors. See the Music Department Events page for more information.
Second Annual PLU Honor Orchestra for Strings Concert, Sunday, January 25, 5:00 pm, Lagerquist Hall
Guest conductor, Larry Livingston, will lead some of the region's finest high school string players in a concert of literature for string orchestra, prepared during two days of intensive rehearsal at PLU. Also featured will be members of PLU's String Studies Faculty, including the Regency String Quartet. Visit http://www.plu.edu/symphony/for-school-orchestras/honor-strings/ for more information or to nominate your students.
Orchestra Series IV: Student Showcase,Tuesday March 17, 8 pm, Lagerquist Hall
Three PLU student musicians will be chosen by a panel of three guest judges in November. Their prize will be an opportunity to perform with the University Symphony or other PLU ensembles in Lagerquist Hall. Winners and selections may be seen on the Student Showcase page of this site as they become available. Winners from last season are listed currently. In addition, a new student composition for orchestra will be premiered. Jeffrey Bell-Hanson, conductor.

Orchestra Series V: KammerMusikeren, Tuesday April 7, 8 pm, Lagerquist Hall
KammerMusikere, the chamber orchestra of the PLUSO, will present a program of intimate orchestral music making.
Orchestra Series VI: Tuesday May 12, 8 pm, Lagerquist Hall
The PLUSO will perform major works from the orchestral repertoire, plus a premiere of a new PLU-inspired work by Gregory Youtz weaving together themes and instrumental colors that have become part of the PLU soundscape. Jeffrey Bell-Hanson, Conductor
Watch this box in future seasons for tour performances by the USO or KammerMusikeren!