A decade ago, Craig Cornwall came to Pacific Lutheran University to teach printmaking, design and drawing in the Department of Art & Design.
"As I look back on those 10 years, I wonder how they went so quickly," Cornwall said. "The time I have had working with students and faculty has been extremely rewarding."
Cornwall taught classes at PLU since 2006, covering everything from drawing and 2-D design to color theory and printmaking. Cornwall always loved teaching and watching his students grow. He isn't saying goodbye to art, though. Cornwall is leaving campus to return to his art studio and pick up the projects he's never had the time to do.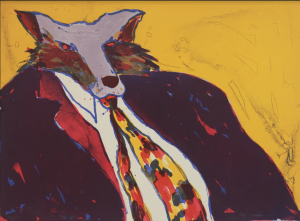 In the past 25 years, Cornwall collaborated with artists around the world to produce limited edition fine art and studio prints. He's recognized internationally for developing Stones Crayons, a line of lithographic drawing materials. He is also a member of the Mid America Print Council and the Southern Graphics Conference International two organizations that promote awareness and appreciation for original prints, books, hand-made paper and drawings.
This February, Cornwall will showcase his work in a University Gallery exhibition titled "Impressions." The title of the show was chosen for its dual meaning: it is a term that refers to individual fine art prints, but also may refer to a mental image.
Cornwall's prints and much of the work in his exhibition are the impressions of the artist. After more than four decades of work, the imagery is diverse in style and approach, reflecting his ever-changing viewpoint. Visitors will see work ranging from large abstract drawings to portraits of the seven deadly sins.
Looking forward, Cornwall plans on continuing his practice, traveling and creating art — he might even get some chickens for his house.
"Pacific Lutheran University has blessed my life," he said. "I hope I have contributed to the students who have passed through my classes in some meaningful way."