5 Reasons to Pursue a Graduate Degree at Pacific Lutheran University

October 5, 2021
Pacific Lutheran University master's programs are designed to combine practice and theory to prepare students to take the next step in their careers.
So, if you are asking yourself — where should I go to grad school? — you're not alone.
We know that you have a lot of options when it comes to choosing a graduate school program, but today, we're here to showcase just a few of the reasons you should choose one of Pacific Lutheran University's graduate programs.
Tip: Which graduate program is right for you? Explore our educational guides to learn more about PLU's programs.
1. At PLU, we're committed to excellence.
At PLU, we are dedicated to giving you the skills needed to secure a meaningful, lifelong career in your field of choice. We succeed by living out both our vision and mission:
Our vision? Pacific Lutheran University's graduate students will be highly skilled, knowledgeable, ethical professionals and leaders for their businesses, organizations, and communities.
Our mission? Pacific Lutheran University's graduate programs strive to deliver intellectually challenging, collaborative learning experiences in specialized fields that assist students to reach their personal and professional goals.
2. We have incredible student outcomes.
At PLU, we are proud to say that 90 percent of our undergraduate students are either employed or in graduate school within six months of graduation. Our graduate students leave PLU with the sought-after skill sets needed to succeed in their chosen fields.
You can take a look at our graduate program learning outcomes here!
3. We provide an intimate teaching environment.
With a 13:1 student-ratio in the average classroom, we make sure that our graduate students have the individual attention they each need in order to get the most out of their coursework.
Our faculty are proud to engage with our students — giving them networking opportunities and challenging them to reach their full potential.
4. We're proud to offer a mentorship program.
​​Relationships are the core of the PLU experience. By the time they graduate, PLU students have a team of mentors they can call on for support. For graduate students, mentorship is built into various program cohort models. Here are just a couple of examples of mentorship and career development opportunities at PLU.
For Master of Fine Arts students, they have access to The Rainier Writing Workshop — a community of talented, mature, and independent writers, working in an atmosphere in which each writer's work deepens and flourishes. The Rainier Writing Workshop has now produced a critical mass of graduates, many of whom have published books of poetry, nonfiction, and fiction. These books were often the creative theses that the graduates completed in their final year in the program. For others, the creative thesis is a foundational iteration of work that will be developed into publication-worthy manuscripts.
Students obtaining a master's degree in marketing analytics get fantastic in-demand training that leads to great paying positions. For those wanting to have a fulfilling career that allows so many different options in business, nonprofits and government, as well as the potential to personalize your own path and become an expert. That expert status leads to exciting careers in a data driven age.
5. We encourage hands-on, experiential learning.
At PLU, we are of the mind that not all learning should happen in a classroom. While classroom time and courses are important, we provide students the opportunity to engage in experiential learning opportunities.
For instance, MBA students participate in a 10-day, embedded International Experience. As members of a global community we value the benefit our students gain from stepping out of the United States and exploring other countries.
For the Marriage and Family Therapy program, students have access to The Couple and Family Therapy Center. This on-campus clinic allows you to train as a student therapist with a faculty member as your supervisor. The clinic is equipped with one-way mirrors, every session is recorded, and the faculty supervisor guides you through your first cases.
In the master's degree in Kinesiology, coursework focuses on building an evidence-based practice through rigorous coursework applied to real-world situations. All students complete an applied project as part of the program.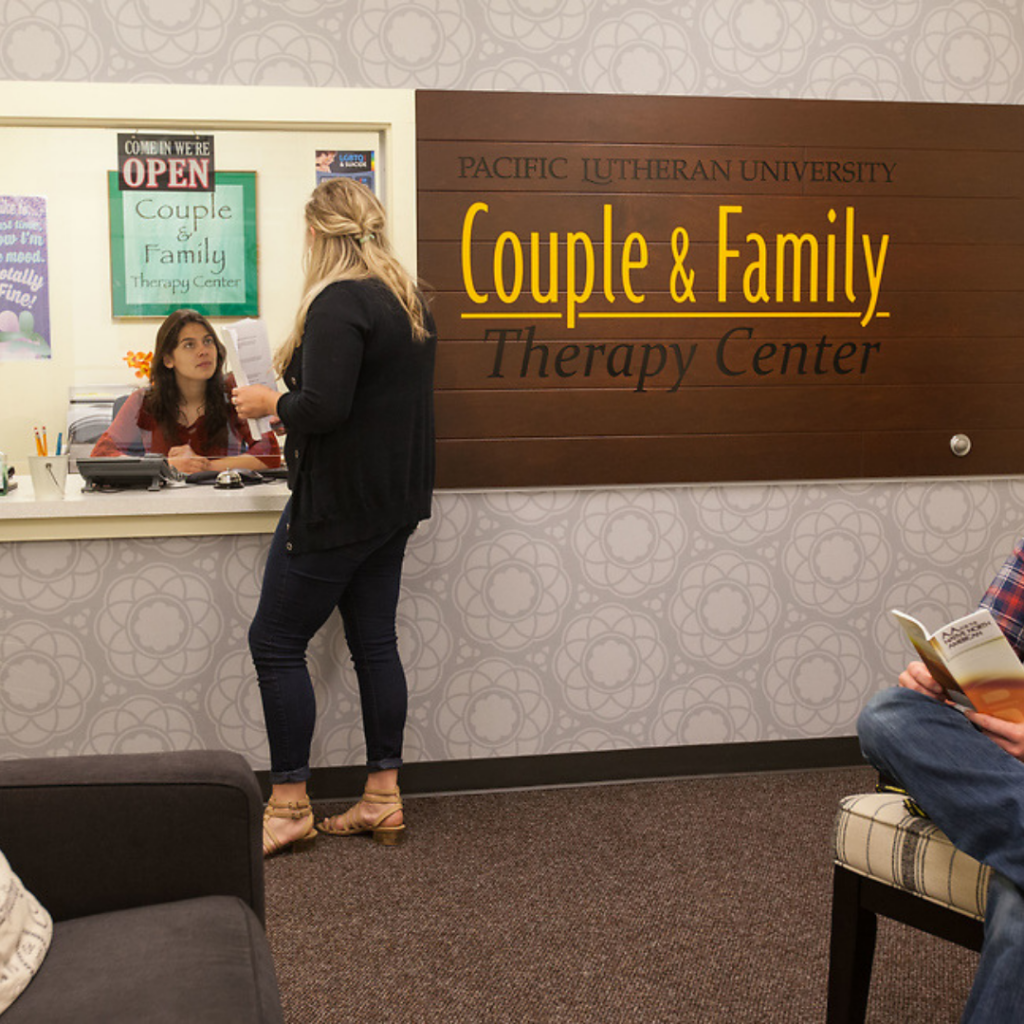 Want to learn more about Pacific Lutheran University's graduate programs? Connect with us today!
Pacific Lutheran University seeks to educate students for lives of thoughtful inquiry, service, leadership and care — for other people, for their communities, and for the world.
PLU purposefully integrates the liberal arts, professional studies and civic engagement in the beautiful Pacific Northwest. With distinctive international programs and close student-faculty research opportunities, PLU helps its 3,100 students from all faiths and backgrounds discern their life's vocation through coursework, mentorship, and internships at world-class Puget Sound-area businesses and institutions.
Ready to talk to explore further or talk to a PLU representative? Request more information or schedule an appointment with an admissions counselor today.
Don't put your new career on hold — explore our educational guides to learn more about PLU programs and how you can get started today.