Office of Advancement
//
//
Theatre Sponsorship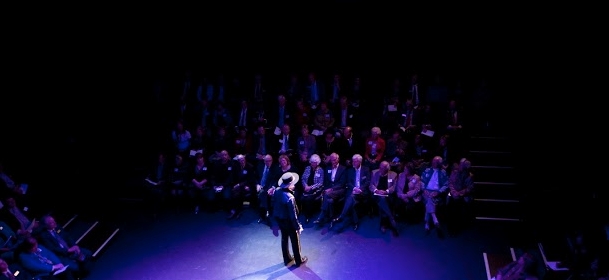 Pacific Lutheran University seeks sponsorships to help underwrite the cost of theatre productions. Sponsorships help PLU with the expenses involved in theatre performances such as performance rights, sets and costumes.
Sponsors are prominently featured in all programs used for theatre productions. This year's schedule includes Kiss Me, Kate, Night of Musical Theatre, Inspecting Carol, In the Garden of Live Flowers: A Fantasia on the Life and Work of Rachel Carson, and Macbeth.
What Your Sponsorship Will Do
Sponsorships help PLU drama students and performers by supporting:
Costumes – Often what actors wear will reveal much about the setting and character of a play. Every show has costume expenses.
Sets – Most current PLU performances have minimal sets but with more funding for set construction, there are more possibilities for scenery.
Rights, Scripts and Scores – PLU pays royalties to gain permission to produce plays, musicals and music, as well as to buy the scripts and scores used in their performances.
Technical and Lighting Needs – Small, but costly items are often what make a performance so magical. These are items such as fog machines, color light filters or wireless microphones.
Promotional Benefits
A theatre sponsorship can benefit your company through significant exposure to PLU students, alumni, friends and their families in the following ways:
Space in programs used at all performances
Website promotion on PLU's homepage
Print promotion through two PLU publications reaching more than 60,000 people

To make your donation, please click here.
Sponsors may be individuals or companies, and there are several levels of support with varying benefits available. To talk about sponsoring options, please contact Allison Roberts at 253-535-7418 or aroberts@plu.edu.