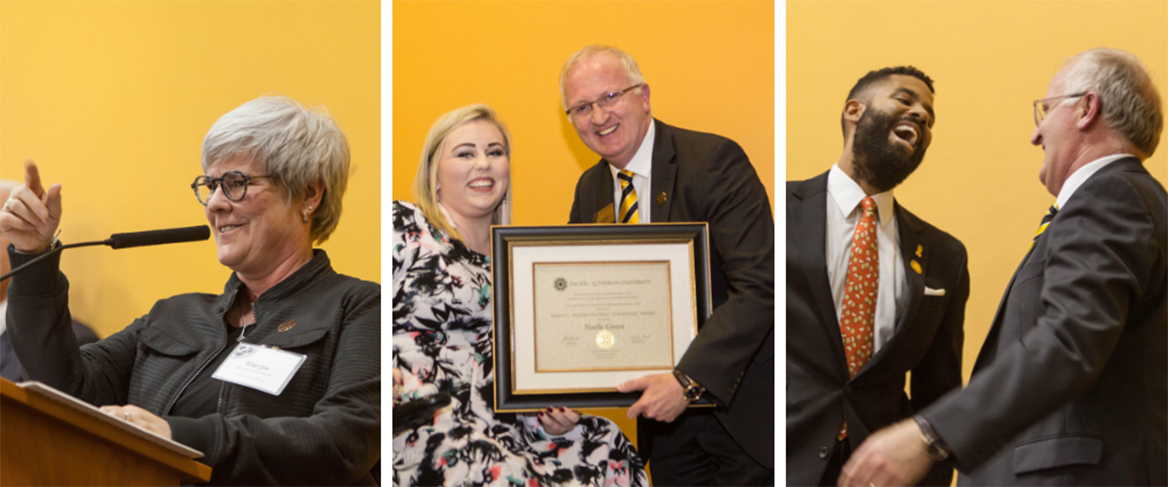 Each year the Alumni Association of Pacific Lutheran University presents several awards to deserving alumni and friends. These awards are given to alumni, friends, and students of the university each year in order to honor them for their outstanding achievement and/or years of service to the university. The Awards and Nominations Committee of the Alumni Board meets every spring to select the upcoming year's awardees, which are presented at homecoming in the fall.
Distinguished Alumnus Award: Through years of dedication and service, this alumnus has achieved professional or vocational distinction.
Distinguished Recent Alumnus Award: Award to an alumnus, within fifteen years of graduation, who has excelled in a special area of life.
The "PLU Mission" Award: Awarded to an alumnus or friend of the university who has embodied the PLU mission through service, leadership and care— for other people, for their communities and for the Earth.
The Brian C. Olson Student Leadership Award: Presented to a student who has demonstrated commitment to the university and the alumni association. By recognizing the importance of connecting students and alumni, this student has shown a potential for lifelong service to the university.
The deadline for 2020 nominations is
February 16, 2020.
The PLU Alumni Association invites alumni, faculty, staff, friends and students to submit the names of persons to be considered. In order for a person to be given full consideration, an official letter of nomination and supporting documentation is helpful. Please send an email with all relevant documents to alumni@plu.edu.