1890

In 1890 the church sends Bjug Harstad to the Pacific Coast to find a place for a new school. He visits Portland, Seattle and Tacoma and when he returns to Minnesota, it is decided that Parkland should be the important educational center of the Pacific  Northwest.
On 11 December. the Pacific Lutheran University Association is charted by the State of Washington and Bjug Harstad is elected its first president.
1891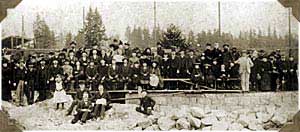 On 4 October the cornerstone is laid for Old Main, the first building at Pacific Lutheran University.
"The event started with an opening speech in English by pastor Boe from Helena, Montana.
Thereafter the hymn "Mand over Mander kom ned fra de høie" was sung.  Pastor Mohl from California couldn't come but had written a celebratory poem that Pastor Sperati read in a beautiful and telling way. Then the hymn "Allenest Gud I Himmerig" was sung. Pastor Grønsberg from San Francisco gave the actual commemorative speech. In it he quoted John 15:5, important for those who work in the school: "He that abideth in me, and I in him, the same bringeth forth much fruit; for without me ye can do nothing."
The writings that were placed in the foundation stone were Vogts Bibelhistorie, Kirketidende, Bud og Hilsen, Amerika, Børneblad, Lutheran University Herald, a brochure about the school, and the Articles of Incorporation.
With three hammer blows, the stone was placed in the triune God's name and a touching prayer was given asking a blessing over the school and its work followed by singing the three first verses of Luther's hymn, "Vor Gud han er saa fast en Borg".
Pastor Haseroth from Tacoma read from Davids' 111th psalm and the motto for the school was determined: "Fear of God is the Beginning of Wisdom". After this talk held in English, the hymn "Nu takker alle Gud" was sung and then Pastor Baade from Seattle spoke in German. After the hymn "Lover den Herre den mœgtige Konge med Ære," Pastor Harstad prayed and asked for God's blessing. The event ended with singing of the last verse of "Vor Gud han er saa fast en Borg".
(Published in Norwegian in the Lutheran University Herald October 1, 1891. Translated to English by Kerstin Ringdahl)
1894
2000 people attend the dedication of Pacific Lutheran University on 14 October. The band plays, and the choir sings Mozart's Gloria in Excelsis. The Rt. Rev. Bjug Harstad gives the prayer and opening address in English. The Rev. J. Tingelstad presents an English oration and the Rt. Rev. V. Koren delivers an oration and the dedication address in Norwegian. Everyone sings "A Mighty Fortress is our God" in Norwegian and English, then the Rev. T. Larsen offers the final prayer and benediction.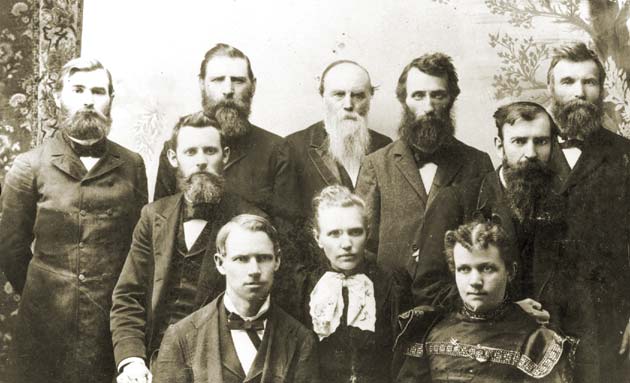 The first faculty consists of Meyer Brandvig, Sophie Peterson, W. Shahan, and Rev. Carlo Sperati. Also pictured: Mrs. Sperati, Rev. Ballestad, T.C. Satra, Rev. T. Larson, Rev. N. Christiansen, President Harstad.
The school opens for classes on 25 October with 30 students. Courses offered are Normal, Literary, Scientific, Classical, Religion and Music. Shorthand and Typewriting are extra. Bjug Harstad becomes the first president.
Tuition costs, $1 per week.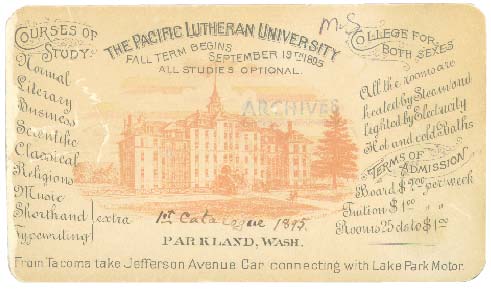 1895

The Rev. Ole Grönsberg becomes president of PLU after President Harstad resigns to devote himself to church activities. Harstad returns as president for another year in 1897.
1896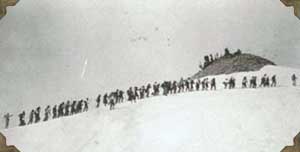 The Concert Band, led by music professor Carlo Sperati, climbs to Camp Muir at the 10,000 foot level of Mount Rainier and plays "A Mighty Fortress is Our God."
1898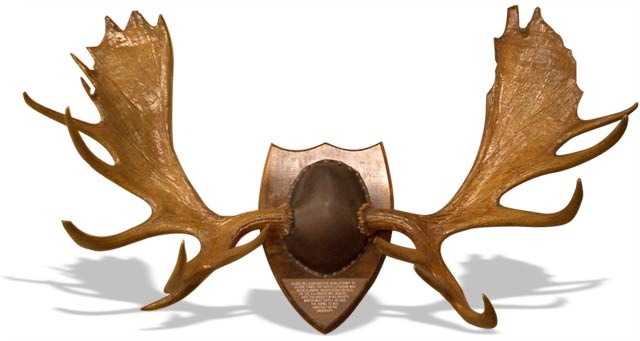 Attempting to eliminate the debt plaguing the university, Bjug Harstad and Otis Larson leave for Alaska to search for gold. They spend one and a half year living in tents in subzero weather, dragging 3,000 pounds of gear by sleigh, pack, and handmade boat through lakes and passes looking for gold. However, none is found. The only legacy of the Alaska trip is a rack of moose horns given to PLA by a Dr. Lee of La Crosse, Wisconsin, who shot the moose by the Klondike River. The moose horns have a spread of over 5 feet with 14 points and are still housed at PLU.
Nils Joseph Hong becomes the school's third president when Harstad leaves for Alaska and serves from 1898 to 1918, after which he remains a professor until his retirement in 1938, teaching at least 12 subjects, primarily literature, languages, and grammar. The institutional name changes to Pacific Lutheran Academy and Business College to better reflect what type of school it is.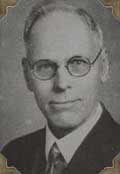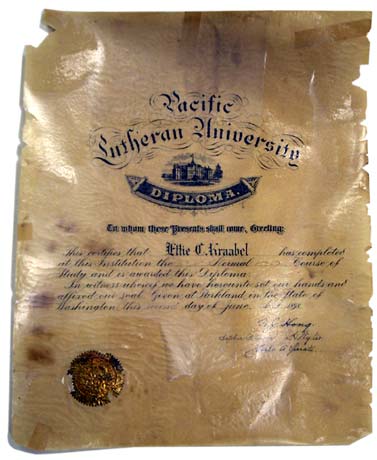 The first class graduates in June with two students: Ettie Kraabel and Amanda Swan. The graduation consists of music by the band, orchestra, and glee club, a piano duet, and orations by the two graduates.