Executive Elections 2018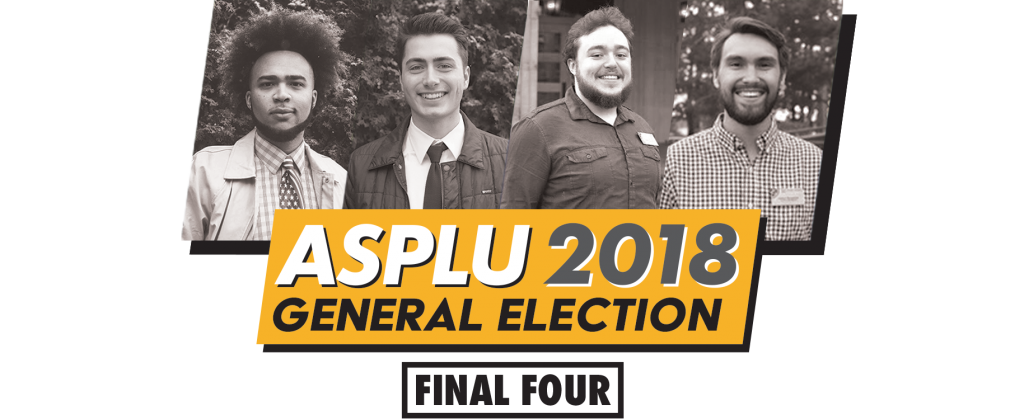 CONGRATULATIONS to Haedon and Carson!
Haedon Brunelle and Carson Bergstrom will be the ASPLU President and Vice President for the 2018-2019 term!
Of the 721 students that voted in the general election, 503 students voted for Haedon (70%) and 497 votes for Carson (69%).
Thank you to all the students that took the time to vote in this election. Please review Haedon and Carson's policy statements to see what plans lie ahead for you in the 2018-2019 school year!
In addition, the amendments to the ASPLU Constitution passed with 90% of students (629) that voted.
Lastly, the Student Resource and Activities Fee passed with a 58% vote in favor!
Presidential Candidates
President
Please scroll through and read the ASPLU Presidential candidate statements as well as view head shots.
*Candidates are listed in alphabetical order by last name*
Haedon Brunelle's Policy Statement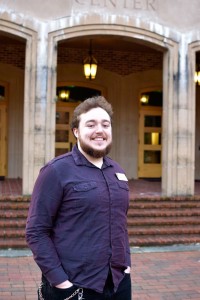 Name: Haedon Brunelle
Year: Junior
Majors: Political Science and Economics Double Major
Qualifications:
ASPLU Executive Senator (October 2017-Present), and the Class of 2019 Senator (September 2015-Present) Below are some of my projects since I've been in ASPLU:

Fundraised $15,395.16 Fall 2017 to build a wheelchair ramp in Stuen's first floor lounge. Project start estimate: Summer 2018. I was able to earn $7,000 from the DJS Fund, and wrote legislation in ASPLU to get the remaining funds from our contingency budget.

Wrote ASPLU legislation to transfer over $7,000 from our contingency budget Spring 2017 to re-pave part of the small path from Kreidler to Hong to make it more accessible for people with disabilities. This project was completed Summer 2017.

Currently the longest serving member of ASPLU that's still in the organization.

ASPLU Guiding Documents Chairperson (September 2017-Present).

ASPLU Ways & Means Chairperson (September 2015- May 2017).

Hosted Town Halls on Accessibility for the PLU community to gather to tell ASPLU and the PLU administration what accessibility problems do you see across campus (Spring 2016 & Fall 2017).

Currently working with current ASPLU President Hilary Vo on a Task Force to revise the ASPLU Constitution & Bylaws.

Career Connections Program Assistant & Data Analyst, I post jobs, analyze data, and more!
Goals for ASPLU:
Work with the University to bring back the carbon-neutral campaign through a 2030 campaign. ASPLU VP Oni Mayer & RHA Sustainability Director Daniel Hatchet has brought back this conversation to student organizations and I want to see the continuation of this work.

Encourage the University to put accessibility projects in the 2030 campaign, such as providing a more accessible route from upper to lower campus.

Have the University add non-binary as a gender option in University forms.

Encourage the University to have an upper & lower campus modern, easy-access lactation space.

Update the Sakai and 25Live site. Instead use the google calendar "add conferences" tab to reserve rooms. This idea was given to me by Brian Loughridge.

Convert 3 of the 5 ASPLU Senator-At-Large positions into the following positions: International Student Senator, Transfer Student Senator, and Graduate Student Senator.

In the future, PLU intends to spend $45 million to renovate the library and build a Student Success Center. I want to ensure that new library study spaces can also have the technology to give spaces for Disability Support Services students like myself to take exams in there.

Ensure that PLU offices and classrooms have room and space for students with wheelchairs.

Encourage the University to fund more accessible buttons across campus to open doors. This point and the one prior was an idea by Ayanna Cole.

Support Facilities Management to get funds needed to renovate the Library and Harstad's elevators within the next 2 academic years.

Update students on the status of renovating the Tingelstad elevator renovation.

Please also read the goals of my running mate, Carson Bergstrom.
Josh Wallace's Candidate Statement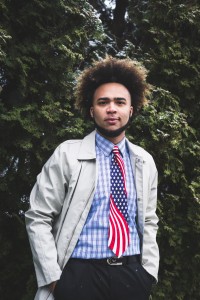 Name: Josh Wallace
Year in School: Junior
Majors: Theatre Arts Major/ Intended Political Science Minor
Qualifications:
• Former BSU President and BSU Officer
• RA of ESJ
• Theatre Program Leader
• Director of Fences at PLU
• Actor in Multiple PLU productions
including; Rumors, Romeo & Juliet, APO One
Acts, Shatter'd, Powerless, The Foreigner, Out
of Silence.
• Recent ASPLU Senator
• Former IMLeagues Referee
• Multiple campus wide productions and
events
• My own artistic profile/portfolio
• Work with various students and staff around
campus on smaller more individual projects
• Award winning Actor/Orator in high school
Theatre and Speech & Debate
Goals for ASPLU:
As President of ASPLU, I want to first and foremost be a voice for the students. I want to make
sure that students see ASPLU and the executive positions as resources for them to go to and voice their
comments and concerns about PLU.Through the multiple connections I've made through my experiences
here at PLU, I want to voice the concerns I've heard from students to the PLU staff, faculty, and board of
regents. I want to make sure that ASPLU as a whole is a organization built by the students PLU, for the
students of PLU and accurately represents and reflects our community. I plan to do this through the
assembly of a senate and board of directors that is clearly diverse, equitable, and representative of the
various identities we find at PLU. I'd also like to work with ASPLU to do some refinement work on the
GenEd program. I want to work with SSC and other educational services to see what students are
enjoying about the educational program here and the things they'd like to see change. We'd like to bring
PLU one step closer to providing a GenEd program that is through and through, more educational,
informational, and actively engaging. I'd like to bring more cross campus collaboration on engaging
programing here at PLU. By encouraging and working with various clubs and organizations that apply to
both lower campus students and upper campus students, I'd like to create bigger cross campus events that
bring students together through similar interest. Not only would I push for more cross campus
collaboration, I'd also like to address issues that students face campus wide in relation to financial aid. I
think that it is important that students should trust our financial aid services and shouldn't feel as though
they are constantly one step away from not being to afford to go to PLU. Lastly Colton and I would also
like work with promotional services here at PLU to create advertisements that accurately reflect the PLU
community and avoid tokenization. Advertising that reaches out to the greater Seattle/Tacoma community,
and not only brings more students to PLU, but also small and local business in an effort to go beyond the
"Lute Bubble". If I were to become ASPLU's next President, overall, I'd like to bring a greater sense of
community, unity, and an environment that encourages working together for a better tomorrow.
Vice Presidential Candidates
Vice President
Please scroll through and read the ASPLU Vice presidential candidates statements as well as view head shots.
*Candidates are listed in alphabetical order by last name*
Carson Bergstrom's Candidate Statement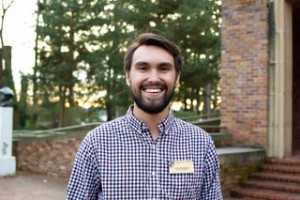 Name: Carson Bergstrom
Year in School: Junior
Major: Double Major; B.S. in Chemistry with an emphasis in Biochemistry & B.A. in Nordic Studies. Minor in Biology.
Qualifications:
ASPLU Class of 2020 Senator (2016 – Current)

Pasco School District No. 1 Board Member (2015 – 2016)

Pacific Lutheran University Long Range Planning Faculty Committee Student Representative (2016 – Current)

ASPLU Ways & Means Committee Chairperson
Agenda:
Uphold ASPLU's core values relating to maintaining real diversity in the university along with practicing sustainability and upholding the mission statement of the university.

Address student retention issues by rejuvenating the student body with new projects and ideas.

Increase transparency and communication of organizations across campus.

Remain an active advocate for underrepresented groups on campus including, but not limited to; LGBQA+, undocumented students, people of color, first-generation and non-traditional college students.
To accomplish our platform, the following projects have been identified:
Begin a push for a Student Representative on the Board of Regents.

Continue work on a Student Leadership board to begin coordination and communication on campus.

As a member of ASPLU for the past two years, it is crucial we push the university to properly fund the Diversity Center and the Center for Gender Equity.

Conduct an audit and survey regarding Sakai.

A structured, well planned, collaborative year on the Student Activities Fee.

Renovation of the area next to Pfleuger Hall.

A partnership with the Outdoor Recreation group to get a rock climbing wall on campus.

Begin conversations about potential partnerships with local FBO's on flight training for students.

Communication between the Natural Sciences and Career Connections to centralize job opportunities for students.

Continue the work to begin an on-campus news source.

Begin better advertisement of resources on campus.
[Please reference my running partner, Haedon Brunelle, for further information about our campaign together.] Thank you for taking the time to read my campaign information! Win or lose, it has been my honor to serve you all in ASPLU for the past two years, thank you!
Colton Walter's Candidate Statement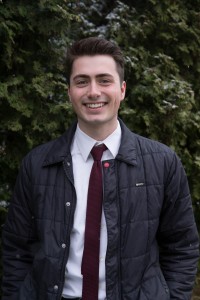 Name: Colton Walter
Year: Junior
Major / Minor: Strategic Communication / Business Marketing
Qualifications:
Leadership and Management Experience
Art Director and PR Manager for Maxx Distribution, LLC.

Graphic Editor for

The Mast

newspaper

Digital Media Director for PLU Impact
Effective Communication
Networking and self-promotion to grow my business as a freelance designer

Building successful campaigns, branding, and social media marketing

Public speaking and presenting

Experience gathering market research and analyzing results to make conclusions
Understanding the interests of students and inner workings of PLU organizations
Promoting orgs such as Recreation, Outdoor Rec, Theatre Dept., ASPLU, Late Knight, Impact, CGE, the International Student Center, and Mast Media

PLU International Honors program

Using my skills in graphic design to support my fellow students
Goals for ASPLU:
As Vice President of ASPLU, I will stand by the students of our university.  Through transparency and involvement, Josh and I strive to give a voice to the overlooked students who feels their own valid opinions cannot be heard over other conversations.  Our student government should represent all of the faces that make Pacific Lutheran University so special.
In my campaign, I want to spearhead issues that I have seen impacting the students of our school during my involvement within several PLU organizations.  First, I've seen student dissatisfaction over Gen Eds.  I believe that going to a college like PLU is a wonderful privilege. First-year students deserve classes that serve as more than just Gen Eds.  Second, I want to free our school from the idea of the "Lute Bubble" that surrounds us.  We are surrounded by a thriving community that many students too rarely cross into.  I believe there are a lot of things that PLU can bring to our Parkland neighborhood, as well as values that it can share with us.  Third, I think that there is much unification to be achieved through club collaboration.  I'm tired of hearing about differences between "upper campus" and "lower campus" when we share so much as a student community.  
It's important to recognize that most of the directors and senators in ASPLU will be graduating this year.  Josh and I really want to revitalize our student government by making sure that it's filled with the best representatives next year.  To me it's crucial that we bring in the best and brightest students that PLU has to offer.  I will stand for you – the students – and commit myself to developing a more interactive student government, representative of all student perspectives.  A campus that functions as a community is a campus that wins.  Let's give PLU the dub.
Questions/Concerns
Any questions or comments regarding election, please email: asplupres@plu.edu and asplu@plu.edu.