Special Senate Election 2018-2019
Due to an unfortunate error in the past Senate Election, we are having a special election for the Off-Campus Senator seat! It is now between two candidates, and you can vote for one. See their candidate statements here!
Elections will take place on May 11th from 8:00am  to 5:00pm.
A Message from ASPLU President Brunelle
Dear Students of PLU,
I wanted to write to you all a thank you note as well as an apology in regards to the Senate Election that occurred last Wednesday and Thursday.
It's been an honor to serve as your President for the Associated Students of Pacific Lutheran University so far.  This letter is driven to thank you all for voting in last week's election. Your civic engagement within ASPLU increased voter turnout by .4%, compared to last year, with 450 students voting in total, 15.5% of the student body (I know that seems small, but it's an improvement and it's really good compared to other colleges & universities!)
The apology that I wanted to give you all today is because I am sorry that under my term there was an error within the system specifically with the election for the Off-Campus Senator position, that has put us in a position to call for a special election to occur this Friday, May 11 starting at 8am, until 5pm.  The election will be between candidates Jessica Alley, and Hannah Park, and they have been very understanding of this process and I am thankful for that. An explanation as to why the ASPLU Executive Council will be calling for a Special Election is below:
During the first hour of the election, there was an error within voting, which allowed students to click two of the three original Off-Campus Senate Candidates.  With that, 47 additional votes were cast between the three candidates, and the top two candidates had a difference in the quantity of votes by 10 votes, meaning the 47 additional votes could have determined the election for the Off-Campus Senate election, hence why we do not feel comfortable moving forward with determining a winner for the election.  The reason the third candidate will not be moving forward in the election is because the quantity of votes that candidate received compared to the other two candidates was less than the margin of error of 47 votes. Some conversation within ASPLU has been asking why not accept both candidates into ASPLU as Off-Campus Senators, the reason why we cannot move forward with that is the current structure of ASPLU's Bylaws do not allow us to have more than one Off-Campus Senator.  We hope to change that next year or in future elections, but given the current timing we are not in a place to create an additional Off-Campus Senate Seat.
If you have any additional questions, please feel free to email me at asplupres@plu.edu, or stop by the ASPLU Office in AUC 135, right across from Lute Locker.  I hope that everyone reading this will vote in Friday's Special Election at www.plu.edu/aspluvote
I also want to take this time to thank ASPLU Civic Engagement Director Riley Dolan, ASPLU Public Relations Director Miranda Martens, ASPLU Vice President Carson Bergstrom, our Graduate Intern for Student Life Maileny Guillen, and Vice President of Student Life Dr. Joanna Royce-Davis for putting in so much hard work on our elections and this process.
Good luck with Dead Week and Finals and I hope you all have a wonderful Summer,
Haedon Brunelle
President of ASPLU
Off-Campus Senator Candidates
Off-Campus Senators
Please scroll through and read the ASPLU candidates statements as well as view head shots.
*Candidates are listed in alphabetical order by last name*
Jessica Alley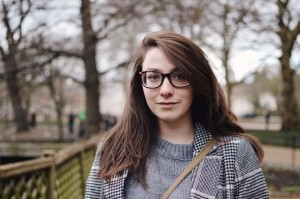 Name: Jessica Alley
Year: Sophomore
Major: German & Intended Individualized Major in Holocaust and Genocide Studies
Minor: Peace Corps Prep Program
Goals for ASPLU:
As ASPLU senator, I want to spark conversations about global atrocities as well as be an advocate for commuter students at PLU. ASPLU could partner up with Cave to provide commuter students with more opportunities to participate with events on campus throughout the day, rather than in the evening. I also want to uplift student involvement in the world as a whole, showing a way of living outside the PLU boundaries. Just because it's not happening here, doesn't mean it's not happening somewhere else. I want to show students that they can make an international impact, having their voices heard on an international scale. We need to be the generation that speaks up and takes action. As a ASPLU senator, I would enable and provide students with different opportunities for action and vocal influence throughout the world, as well as within PLU. I would also be able to work alongside a passionate staff, enhancing the capabilities' of discussion and events through collaborating and enlightening each other on a variety of topics.
Qualifications:
Student Manager Barista- Campus Restaurants
Conferences and Event Staff- Campus Hospitalities Service
J-Term 2018 Rwanda, Kigali: Looking at Genocide Memorialization and The Future of Rwanda
Currently proposing an Individualized Major for Holocaust and Genocide Studies
Vice President, Treasurer, and Public Relations Manager for Auburn High School Drama Club
Policy Proposals
Pledge To End Genocide Campaign (Created by the United States Holocaust)
Discussing past and present genocides, having students pledge to take action against genocide by staying aware and not
Promote more civic space opportunities for dialogue on campus

Discussing matters such as #WhiteGenoicde and Multiracial identity

Invite professors to speak at events and on panels
Promote involvement among commuter students

Promote more ASPLU and Cave partnerships
Creating social events for both commuter and on campus students during chapel break

Expanding on the Political Power Hour at PLU

Focusing on topics that include helping create human rights and genocide prevention as core values in U.S. foreign policy
Hannah Park
Name: Hannah Park
Year: Sophomore
Major: English Literature
Minors: Children Literature & Women's and Gender Studies
Qualifications:
Residential Assistant for Hinderlie
Lead America Reads Tutor with Center for Community Engagement Services
ASPLU Representative for the ARTS Committee
iGroup Dialogue Facilitator on Gender
iGroup Dialogue Participant on Race
Rieke Scholar
Sounds of Solidarity Performer to place a voice for model-minority students
Policy Proposals:
A tote bag design contest to sell on campus or give out during the NOS move-in instead of
water bottles that break easily and have a student discount at OMM for using the tote
bags rather than using the paper bags. (Working with RLIF and RHA for the design
contest)
Finding food taxed items (baking soda, apple cider vinegar, etc.) to buy with dining dollars
to make their own hygiene products.
Find a local contractor to work with PLU and getting produce instead of PLU buying from
grocery stores such as Safeway (which brings in a lot of plastic bags).
Selling mason jars to serve cold drinks and to have a cup discount for it.
Have a box outside of OMM to collect the Noosa yogurt containers that can be used as
Tupperware.
Work with SurPLUs to do a monthly red square event for people who need to donate or
need things on campus to know that that resource is available. (working with RHA)
Make QR codes for DIY hygiene products that people can make with supplies sold at
OMM.
Sell reusable pads and diva cups on campus to see the cost benefit/loss on campus.
(working with the Center for Gender Equity and the Diversity Center)
Questions/Concerns
Any questions or comments regarding election, please email: asplupres@plu.edu and asplu@plu.edu.