Welcome to our Spring 2019 edition of the Pacific Lutheran University School of Business newsletter, AbsoLUTEly Business.
Our interactive online publication represents a current look into the many new and exciting opportunities, events and people associated with the PLU School of Business.
Message from the Dean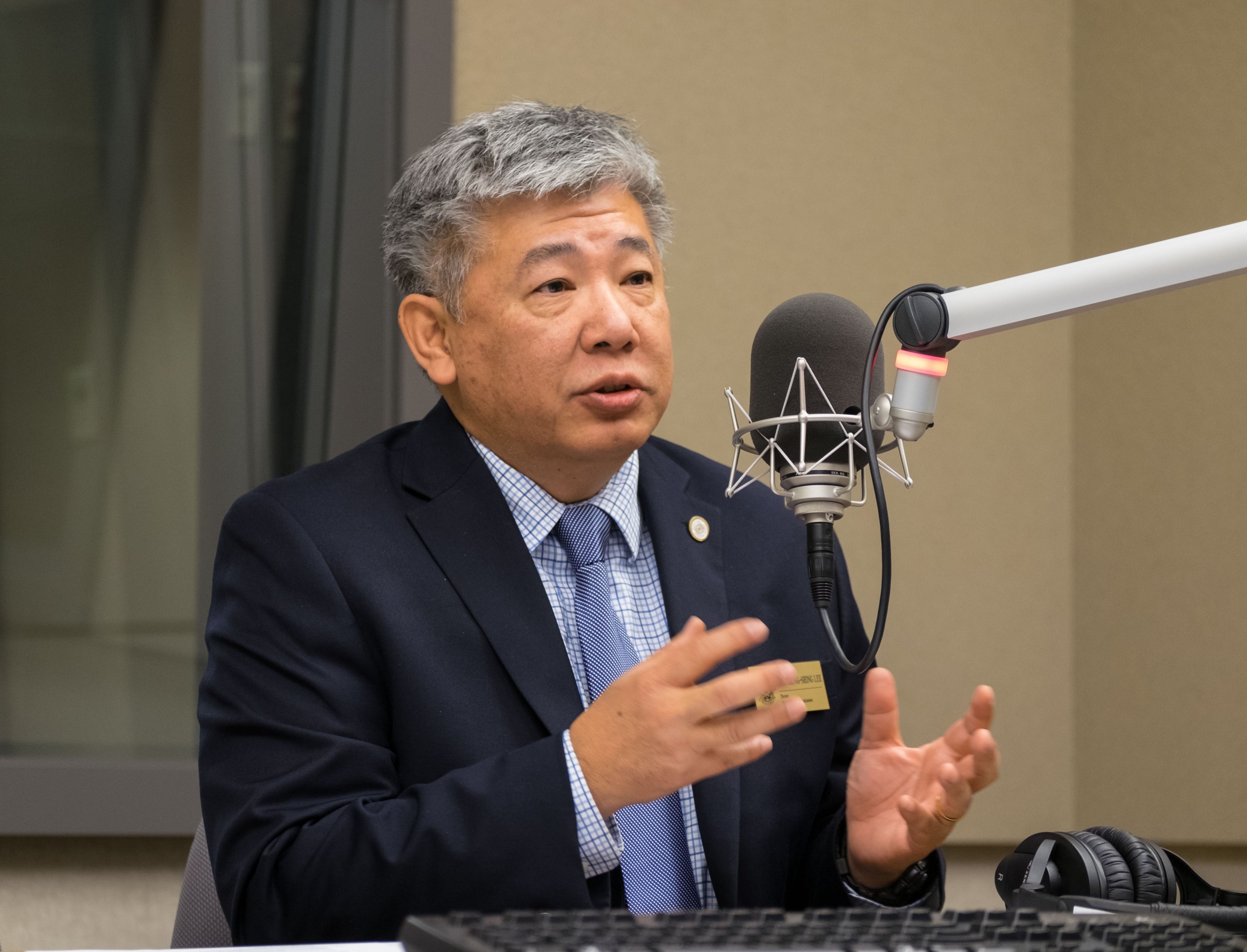 We are excited to continue our accreditation with AACSB International. It is a testament to the excellence that we strive for and the demonstration of our commitment to provide high-quality education to our students.
As you know, the success of our students is due to their own significant efforts, as well as owing much to the support of our dedicated faculty, staff, alumni and members of our Executive Advisory Board. We put a strong emphasis on innovation, ethical leadership, global perspectives, and service and engagement to create a positive impact on our community and stakeholders as well as making a difference in the world. Please join us to celebrate our success, and thank you for your constant support and encouragement!
Dr. Chung-Shing Lee
Dean and Professor
Graduate Programs seek to be more inclusive
Pacific Lutheran University's School of Business has announced a change to one of the foundational cornerstones of their graduate programs: going forward, the Master of Science in Marketing Research program will be renamed the Master of Science in Marketing Analytics.
"The change is to reflect the actual content of the program and make it more relevant to business applications, rather than focusing more on theoretical research and less on practices," said Dr. Chung-Shing Lee, Dean of PLU's School of Business. "'Analytics' is a more specific term for data analytical activities for business applications than the term 'research,' which is much stricter in science."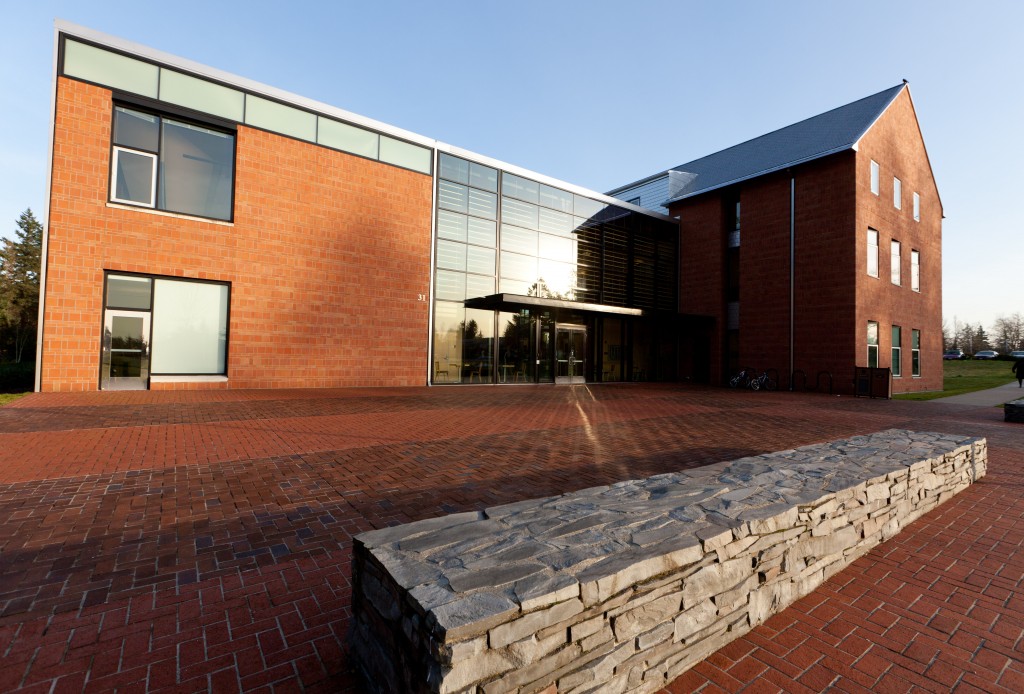 Student feedback was the driving force behind the name change, citing the importance of continuing growth in the program's relationships with industry partners.
Additionally, U.S. Bureau of Labor Statistics indicate that the job outlook for market research analysts is growing fast, with a projected percent change in employment from 2016 to 2026 of 23 percent.
"The change will (make us) better able to serve students by making the program more relevant to industry practices and more effective for them to market their knowledge and skills to potential employers," Dr. Chung-Shing said. "Our alumni are doing successfully in their marketing analytics careers and making significant contributions to our industry partners, such as REI, Microsoft, Hershey and Starbucks."
Adjusting to the job market so as to offer students a more appealing resume and the skills to compete in a demanding industry was the goal, Professor Mark Mulder said. Providing the credentials on paper paired with the program's built-in practical experience sets PLU's MSMA apart — and sets students on the right track for a transition to the professional world.
"The Master of Science in Marketing Analytics program provides an opportunity to network with professional and industry organizations," Mulder said. "The ability to grow in knowledge about industry aids our students in identifying careers that match interests."
If you are interested in learning more about the Master of Science in Marketing Analytics, please contact the program director, Mari Peterson, at mpeterson@plu.edu or 253-535-7445.
Our Business is Local
This Fall, the School of Business has taken initiative to get involved in the local community. Student, staff and faculty are engaging with their local surroundings in a variety of different ways.
Visiting Instructor of Business Cosette Pfaff challenged her students to engage with local businesses in their community by creating a marketing campaign for the business and presenting it as their final project. The project required students to meet with the owners of the local business to do research on them and their marketing histories. Businesses included Rush Team Apparel, Bowler Coffee, and the PLU School of Business.
Senior Business Major Christian Riddall worked with his group to create a marketing campaign for Bowler Coffee Company, a coffee stand off of Pacific Avenue close to campus. "I think as a whole the coffee market is oversaturated. It seems like there is a coffee stand or coffee hangout spot on every corner. Specific problems that Bowler Coffee faces are location and market share of the surrounding area. If you have seen the entrance to the shop, it is very hard to get into unless it is an immediate right turn when driving," Christian Riddall noted.
"Going local is easy. Around PLU, there are countless small businesses that need aid."
-Riddall
The group researched successful business models and marketing campaigns and presented their findings to the owner of Bowler Coffee Company and their class in December. "I find great value in actively using our business skills to help a company in the area," Riddall commented.  "It is one thing to sit in classes for four years and say I have a Marketing BA. It is another thing to use what I've learned in a classroom setting and apply it to the active business world. I believe that we find out a lot about ourselves when we are given an opportunity to see the cause and effect of our decisions."
This project and many others are examples of the many ways in which PLU faculty are encouraging students to go out into the community to build connections and to practically apply classroom concepts to real-life problems.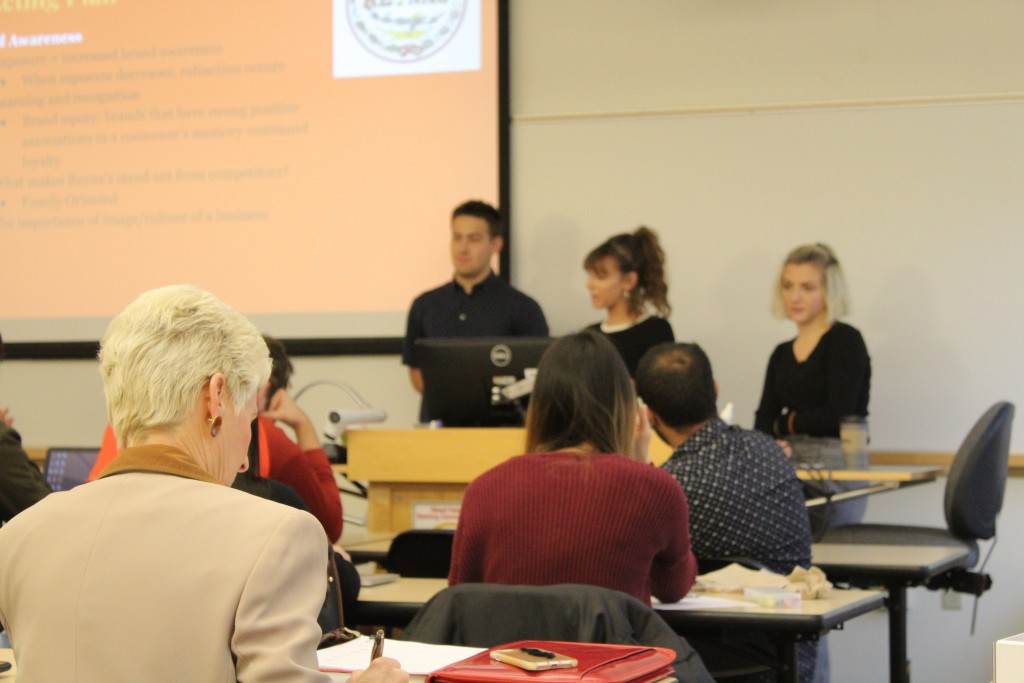 MBA Students spend time abroad in Chile
Each year we conduct 2-3 faculty-led experiences to countries all over the world. These experiences include visits to local small business, large corporations, public utilities and political organizations. In addition, our students participate in cultural activities as well as meet and exchange ideas with their MBA colleagues from local universities.
This experience is part of our BMBA 509 "Global Business Perspective" course and participation costs are covered by PLU. Travel dates take place in January, March and June. Students apply for their top choice destination as long as space is available.  Upcoming destinations include Chile (January 2019) and Germany (April 2019).
While undergraduate students braved the snow on campus during the month of January, graduate students in the MBA program enjoyed the warm weather and a 10-day global experience class
Below is an excerpt from an interview with the Dean of the School of Business Dr. Lee,
What was the most educational part of the trip?
Every part of the MBA international experience trip was well planned, educational and enjoyable. For the MBA international experience to Chile, we visited the University of Chile and attended an international business lecture on "How to Do Business in Chile" by Professor Erich Spencer. We also visited INNOVACHILE – CORFO, a business incubator for global-oriented start-ups, and participated in a panel discussion with four successful Chilean entrepreneurs who shared their innovation experience with us. We also learned the strategies and operations of a private hospital (Clinica Universidad de Los Andes) and a power generation company (Generadoras Chile). One of the highlights of our trip was the service learning project – Huerta x Huerta, where we built a community garden for a low-income community in Ñuñoa Municipality near Santiago. The trip to the port city Valparaiso and the tour and wine tasting at Veramonte Vineyard were also educational. 
How did this trip benefit the students in the MBA program?
Overall, the MBA 10-day international experience to Chile was an excellent education and learning opportunity for all students. It helped develop and broaden MBA student's global business perspectives, which is an essential leadership competence. Students were able to build networking relationships with global entrepreneurs and create potential overseas career development opportunities. The trip was also a life experience and a personal development opportunity to discover themselves while gaining an understanding of a different culture. In addition, the experience also deepened the mutual understanding and friendship as well as promoting future business cooperation between the two countries.
Why is the global experience class an integral part of the MBA program?
One of the learning goals of the MBA program is to develop and apply a global perspective in making business decisions. The core themes of our MBA program are strategy, innovation, leadership and globalization. We educate global business leaders who have interdisciplinary knowledge and a global mindset that allows them to connect across boundaries. They are capable of defining problems and creating innovative solutions to seize opportunities. In addition, our MBA students are global citizens who are inspired to create value and contribute back to the communities. Therefore, the global business perspective class is an integral part of our distinctive MBA program.
Below is an excerpt from an interview with MBA student Kristi Kaneta
What was the most educational part of your global experience?
I would say being able to listen to several companies present about their companies. Learning about business in the real world, rather than reading about it in a textbook. I enjoyed listening to their career paths and seeing how they got to where they are now. Each person we heard from had valuable advice to give us all as we start our own career path.
How did this trip relate to what you're studying in the MBA program at PLU?
I think that our trip to Chile really resembles PLU's mission statement. PLU seeks to educate students for lives of thoughtful inquiry, service, leadership and care – for other people, for their communities, and for the earth. During our stay, we not only had the opportunity of visiting several successful companies, but we also immersed ourselves into the Chilean culture. We were able to help out with a volunteer opportunity and build several gardens in a local community. That was probably the most rewarding part of the trip.
What was the most educational part of your global experience?
I would say being able to listen to several companies present about their companies. Learning about business in the real world, rather than reading about it in a textbook. I enjoyed listening to their career paths and seeing how they got to where they are now. Each person we heard from had valuable advice to give us all as we start our own career path.
What was your most memorable moment from the trip?
I really enjoyed getting to know my classmates better and really cherish being in Chile together. Before going on our trip, I barely knew anyone from our class. I'm so thankful for such a great group of people. My favorite memory was at Lodge Andino. We spent the day at a beautiful lodge and had a traditional Chilean meal there. A bunch of us went horseback riding in the valley and the view was spectacular!
Executive Leadership Lecture given by Jen O'Hare, the founder of TIAMAT Leadership, at PLU, Wednesday, March 13, 2019. (Photo/John Froschauer)
This issue of AbsoLUTEly Business was created by Josie Courtney, School of Business Communications Intern on May 10th, 2018