The School of Business is located in the Morken Center for Learning and Technology, PLU's newest academic building. It is an environment where students benefit from personal interaction with faculty who combine a love for teaching with outstanding academic credentials and years of professional experience. A bachelor's or master's degree in business from PLU is an investment in your own future that will provide value throughout your career. The School of Business faculty and staff look forward to sharing with you our commitment to excellence in business education and practice and invite you to join us on campus to learn more.
Accreditation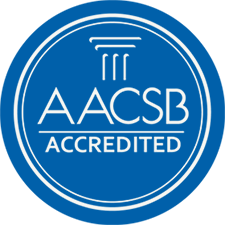 The PLU School of Business programs are accredited by AACSB International – The Association to Advance Collegiate Schools of Business. The school is privileged to have a student chapter of Beta Gamma Sigma, the national business honor society recognized by AACSB International.
Pacific Lutheran University has an outstanding Business School, according to the Princeton Review.
Pacific Lutheran University's School of Business is one of the nation's most outstanding business schools, according to The Princeton Review. The company features the school in the new 2014 edition of its book, The Best 295 Business Schools. "We recommend Pacific Lutheran University as one of the best institutions a student could attend to earn a business school degree," said Robert Frank, Princeton Review senior vice president of publications. "We chose the schools we profile in this book based on our high regard for their academic programs and our reviews of institutional data we collect from the schools."
Executive Leadership Series
The School of Business is pleased to announce the PLU Executive Leadership Series.  This series supports our business programs at PLU by bring executives to campus to share their expertise and insight. We are excited to bring preeminent industry and organizational leaders, students and selected guests together on the Pacific Lutheran University campus for these evenings.  Please join us for informal one-hour sessions offering insight into current issues facing decision makers. These leaders will also share aspects of their own career development.  Click here to see upcoming presenters and dates.