Professor Linda K. Gibson joined the Pacific Lutheran University School of Business in 1989 after earning her Ph.D. in Management from the University of Missouri-Columbia. She has left an indelible mark of dedicated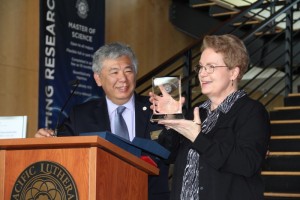 teaching, robust scholarship, and stellar service. Her passion for human resource management, organizational behavior, and career management has been shared with multiple generations of students in an ever-widening circle of influence.
Dr. Gibson is the force behind the PLU Society for Human Resource Management (SHRM) connecting to the human resources practice community. Henrik Røe ('09) comments: She taught me to empower people, to assess situations and human behavior, and to set high standards for myself. Our collaboration through SHRM was meaningful… I have employed many of the key takeaways…in various leadership roles. Brian Riehs ('02) writes: Her guidance and mentoring helped to confirm my interest in human resources, as well as provide a solid foundation for my career. I truly appreciate her and consider myself blessed to know her. Blake Thiess ('07) shares: When I think of Linda, the first thing I think of is commitment to the small things, which is one of the cornerstones of a strong human resources professional. She has been a sounding board for me throughout my HR career. Darren Hamby ('87, '92) expresses: Even after working in the field of human resources for more than 30 years, I frequently find myself intrigued by her insight, grateful for her perspective, and occasionally stumped by her questions! She is the epitome of teaching both students and alumni about life-long learning. Her care for students is truly remarkable. Most recently, Prof. Gibson has integrated into her teaching emerging neuroscience aspects of leadership and management. She is the recipient of the Wells Fargo Award for Excellence in Teaching.
The core question of Dr. Gibson's research is how managerial actions create sustainable value. As a dedicated and productive scholar, she has made significant cross-disciplinary contributions to the advancement of knowledge and practices in creating sustainable value through organizational development, strategic human resource management, and environmental and other public policies. She has been recognized by the international academic community and received prestigious scholarly awards, including Highly Commended Award, Best Case in the Proceedings Award, Best Faculty Case Award, and the Emerald Literati Network Award for Excellence.
Dr. Gibson's commitment to service cannot truly be expressed. She has served multiple times as elected faculty chair of the School of Business, on university committees, and as long-term faculty mentor to new faculty. As 2016-17 Business faculty chair, Dr. Gibson had great impact in maintaining AACSB International accreditation as she directed the work of the faculty committees on assessment, scholarship expectations, and policy-making. She has been a key resource for stability and support to untenured faculty. She has a big heart and always is willing to help students or faculty colleagues. In honor of her commitment to teaching, research, and service, the PLU SHRM Student Association is creating the Linda K. Gibson scholarship, funded by the South Puget Sound SHRM Professional Chapter, for students who are interested in taking the SHRM certification exam in their senior year.
Professor Linda K. Gibson is an honored colleague and friend who leaves a lasting legacy.