Information Regarding the 1098-T Tuition Statement
Pacific Lutheran University has chosen to partner with Heartland/ECSI for the delivery and management of your 1098-T statement.  Heartland ECSI's portal offers 24 hours a day, 7 days a week access to your 1098-T statement as well as a customer support center for questions you may have regarding your 1098-T statement. Heartland ECSI's customer service and support team can be reached at 866-428-1098.
Please note, if you have chosen to receive your 1098-T via mail your statement will be mailed out by January 31, 2019.  However, you will also have access to the Heartland ECSI portal and customer service team as well.
Students may go to the Heartland ECSI website (https://heartland.ecsi.net/) for any questions related to their 1098-T statement and to access an electronic copy of their 1098-T statement. To access their 1098-T statement online, students will need their:
First and Last Name
Social Security Number
Zip Code that appears on their 1098-T form
Once at https://heartland.ecsi.net/
Click on "To access your 1098-T tax form, click here"
Type "Pacific Lutheran University" in the school name box, click on our name and then submit
Enter in the required information above (please note, your zip code should be your permanent address) and click continue
Under "Your Tax Statement" 1098-T Statement should be listed as an option
Click on the Status: Delivered "+" sign to the right of "1098-T Statement" to open your 1098-T
Transaction details related to the amounts reported on your 1098-T statement can be found on Banner Self-Service.
Log in to Banner Self-Service
Select Student Services
Select Student Account
Under Tax Information Select "Transactions by Tax Year" and choose 2018
INFORMATION BEING REPORTED IN EACH BOX ON YOUR 1098-T
Box 1 – Contains all payments (cash, check, loans, 3rd party payments, outside scholarships, university scholarships and grants, etc.) received by the university and applied to your student account up to the amount of qualified tuition and related expenses charged less any refunds received during the calendar year. Qualified tuition and related expenses include tuition and all mandatory fees less any tuition remission and exemptions. Qualified tuition and related expenses do not include charges such as rooms, meals, fines, parking passes, and other miscellaneous fees assessed to your student account.
Box 2 – Will be left blank as the IRS and Congress have eliminated the ability for colleges and Universities to report qualified tuition and related expenses.
Box 4 – Will be left blank as there will not be any adjustments made for a prior year due to the change in reporting.
Box 5 – Contains all scholarships and grants received including 3rd party payments from outside sources.
Box 6 – Will contain adjustments made to previously reported scholarships and grants during the calendar year for a previous year.
Please note, the 1098-T statement is for informational purposes only to assist you in deciding whether you qualify for educational tax credits. Should you have any questions regarding these credits please speak with a tax advisor as the university is not allowed to provide tax advice.
For any questions that Heartland ECSI may be unable to answer please contact the university at our dedicated 1098-T line at 253-535-7712.
IMPORTANT CHANGES TO YOUR 1098-T TAX DOCUMENT FOR 2018
When you receive your tax document in 2019 for the 2018 tax year, it will look slightly different than it has in prior years. Congress and the IRS eliminated the option for colleges and universities to report the "amounts billed" on form 1098-T. Colleges and universities must now report the "amounts paid" for qualified tuition and expenses. This change went into effect for the 2018 tax year.
Why the change?
Based on a report compiled by the US Inspector General for Tax Administration, it was determined there were a large number of errors as it relates to educational tax credits. The majority of these errors were caused by confusion regarding Box 2 (amounts billed) reporting. This change eliminates this confusion and the potential for inaccuracies on 1098-T forms going forward.
So, what does that mean for you?
This means that you will no longer see any amounts in Box 2 (Amounts billed for qualified tuition and related expenses) on your 1098-T form. You will, however, see an amount in Box 1 (Payments received for qualified tuition and related expenses). A sample 1098-T form has been provided below.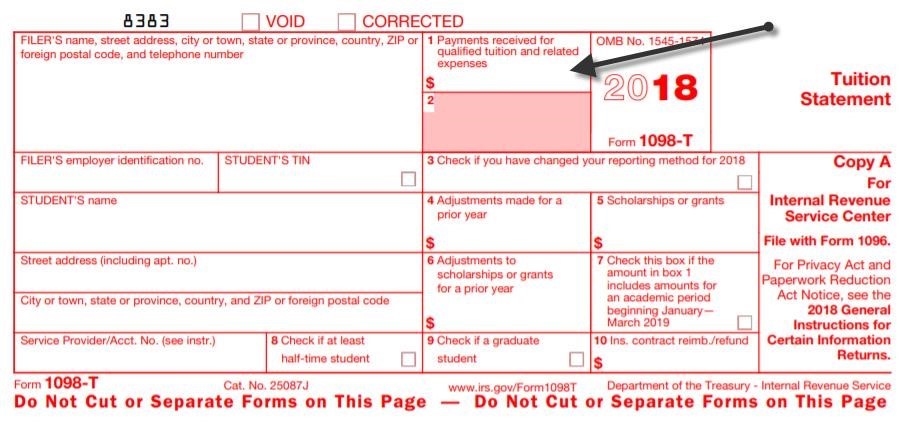 If you have further questions about these changes or other specific tax-related questions, please contact your tax professional.