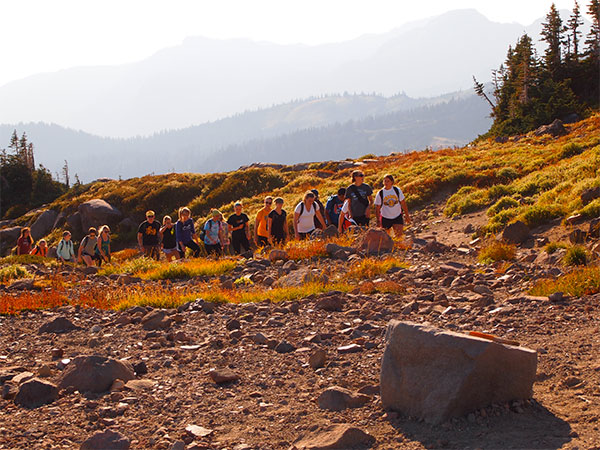 Living In A Multi-Faith Community
All faith-based clubs and organizations on campus are approved annually by the Campus Ministry Council, a group of student leaders, the University Pastor, the Vice President of Student Life, and several faculty members. Multiple expressions of Christianity and expressions of other religious backgrounds are present at PLU, and all have an opportunity to coexist, work together and share our faith with one another in a positive environment.
Current Faith-Based Student Clubs & Organizations at PLU
Current faith-based student clubs are listed below. For information about starting a new faith-based club, please contact Clubs & Organizations.
C.H.A.O.S. (Christians Hyped About Our Savior)
C.H.A.O.S. is a student run group that isn't afraid to ask the big/important questions about faith and God. All are welcome.
Thursdays 7pm, Ness Family Chapel
Fellowship of Christian Athletes
Thursdays 9:15-9:45pm, back room Columbia Center
Ignite!
Thursdays 8-9:30 pm, The Cave
InterVarsity Christian Fellowship
Wednesdays 7pm, Ingram 100
Latter Day Saints Student Association
Mondays and Wednesdays 10:30-11:05, Morken 138
Muslim Student Association
Young Life
Tuesdays 9pm, The Cave
Small Groups
These groups meet occasionally as there is interest.
Theology on Tap
Theology on Tap is a casual gathering of people of all backgrounds who come together to share a beverage of choice and meaningful discussion about Jesus, the bible, the church, and the world, in a non-judgmental environment.
Faith Formation
A partnership with Trinity Lutheran Church, Faith Formation meets different times of the year for a series of studies and discussions on what baptism, communion, confirmation, and being a member of Christ's church is all about.
Contact: Rev. Dr. Jeffery Gaustad, Lead Pastor