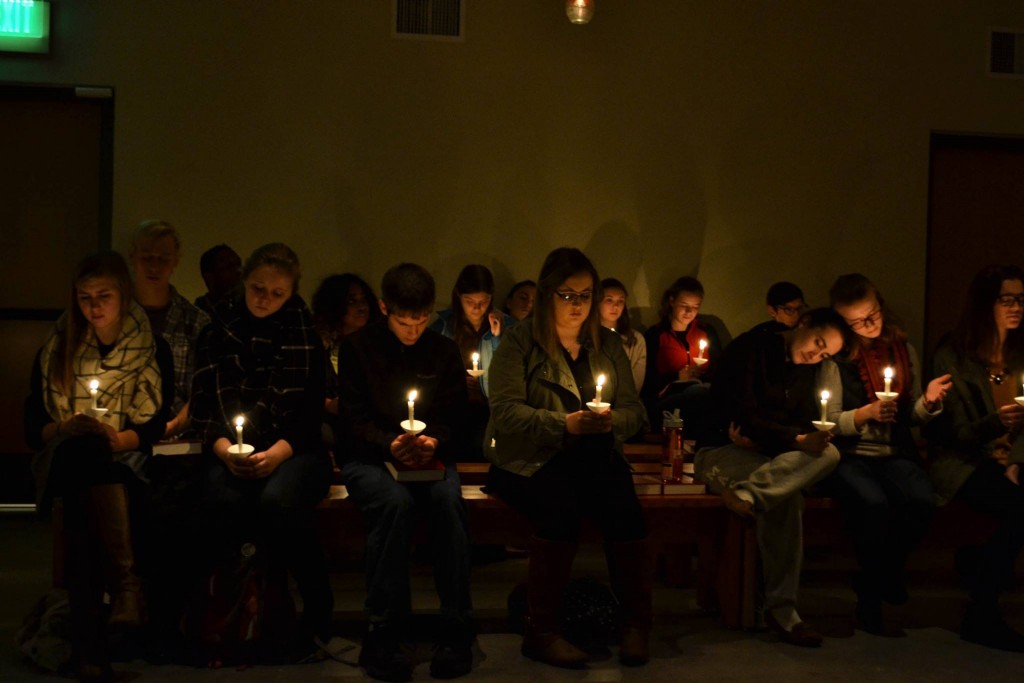 Living In A Multi-Faith Community
All faith-based clubs and organizations on campus are approved annually by the Campus Ministry Council, a group of student leaders, the University Pastor, the Vice President of Student Life, and several faculty members. Multiple expressions of Christianity and expressions of other religious backgrounds are present at PLU, and all have an opportunity to coexist, work together and share our faith with one another in a positive environment.
Current Faith-Based Student Clubs at PLU
Current faith-based student clubs are listed below. For information about starting a new faith-based club, please contact Clubs & Organizations.
AbsoLUTE: Christian Fellowship
Tuesdays from 4 to 5pm in Xavier 250
The purpose of AbsoLUTE: Christian Fellowship is to glorify God and serve the PLU community through the study of God's Word.  We offer a place for fellowship and an encouraging environment to learn about the Bible.  Everyone is welcome!
Student leader: Abbie Welch
Advisor: Sarah Daggett, Registrar's Office
CathoLUTES
Mass held 2nd Sunday of the month, Ness Family Chapel, 5-6pm.
Club gathering every other Thursday in the Stuen First Floor Lounge from 6 pm to 7 pm.
Student leaders: Raven Lirio, Marie Rodrigues
Advisors: Julian Franco, Brandon Bruan, Admission
Fellowship of Christian Athletes
Thursdays 9:00-9:45pm, back room Columbia Center
The purpose of FCA is to provide a deeper understanding of Christ and the relationship Christ plays in athletics.
Student leaders: Hailey Marsh, Tim Gauthier, Mackenzie Cooper, Kasey Johnson, Lauren Wilson and Jordan Sherfey
Advisor: Spencer Crace, Athletics
Ignite!
Thursdays 6-7 pm, 2nd floor Ordal lounge
Ignite is dedicated to the spiritual well-being and enrichment of students by offering knowledge of the Holy Bible, fellowship, prayer, and worship. Our goal is to become a club where students can learn about spirituality and what kind of spirituality Christianity offers.
Club Leaders: Darek Solomon, Isabella Decker
Advisor: Sarah Daggett
InterVarsity Christian Fellowship
Wednesdays 7pm, Ingram 100
Latter Day Saints Student Association
Mondays and Wednesdays 10:30-11:05, Morken 138
Mission:
To help students have a balanced secular and spiritual educational experience.
Muslim Student Association
Meeting time: Every other Wednesday, 12-1pm
The Muslim Student Association is a student run group for both Muslim and non-Muslims with the purpose of uniting and supporting the Muslim community of PLU, educating the greater PLU community about the Islamic faith and engaging in interfaith dialogue to enable tolerance.
Contact: muslimsa@plu.edu
Advisors: Alaa Alshaibani (alshaiam@plu.edu), Katherine Wiley (

wileyka@plu.edu

)

https://www.facebook.com/MSAPLU/
YoungLife  College
Tuesdays 9pm, The Cave
College Young Life is a place to build meaningful friendships and to find fun, genuine community with other students. If you do not know God intimately, Young Life College offers you an opportunity to come and ask questions. And if you do know God, it is a good way to come and deepen your faith. All are welcome!
Student leader: Alli Abraham
Advisor: Lynn Tucker
Email:

younglifecollege@plu.edu