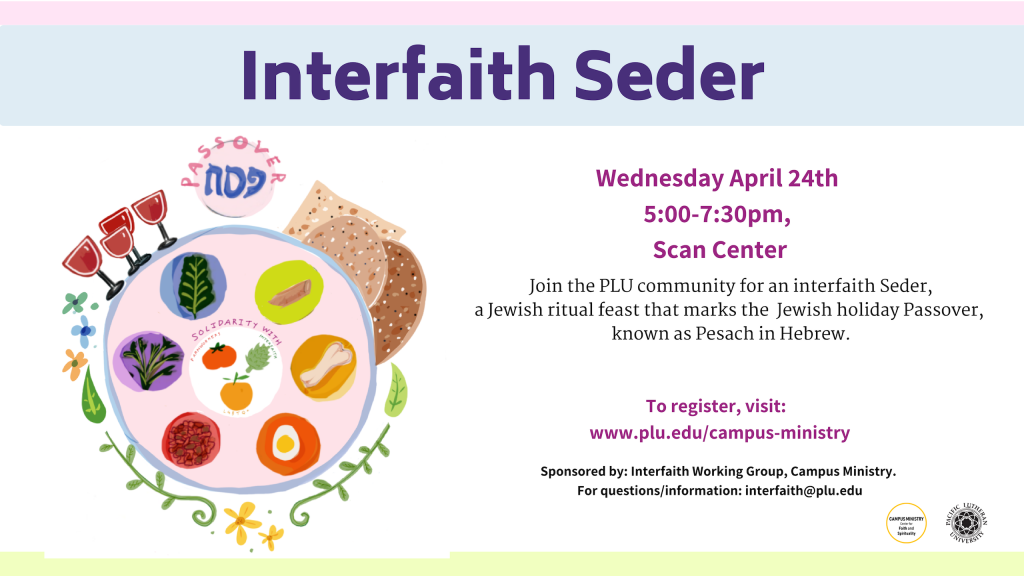 The Passover Seder Meal is an interfaith-accessible feast celebrating the Jewish tradition and stories of the liberation from slavery.
The feast will take place from 5 to 7:30 p.m. Wednesday, April 24th  in the Scandinavian Cultural Center. Those from all faiths are welcome.
Rabbi Bruce Kadden, PLU lecturer and local Rabbi, will be leading the event.
"In our multicultural and pluralistic world, learning together across difference is critical for strong communities," said
Jen Rude, PLU University Pastor. "This Passover Seder will provide learning through food, ritual and conversation as we engage the Jewish tradition."
Those interested in taking part in the Passover Seder can get a Free ticket through Eventbrite, use access code PLUSeder19. This event is for PLU students, faculty, staff and their partners.
There is a limit of 75 people for this ritual dinner, please carefully consider if you can attend and/if for any reason you need to cancel – contact campus ministry so we can offer the space to another.
Sponsored by the Interfaith Working Group.
Thank you to the DJS Fund for a grant to make this event possible!
Event Details
Time: 5-7:30 p.m.
Date: Wednesday, April 24, 2019
Place: Scandinavian Cultural Center
Price: Free for faculty, staff and family members
Ticket Code: PLUSeder19 – copy this code to access ticketing