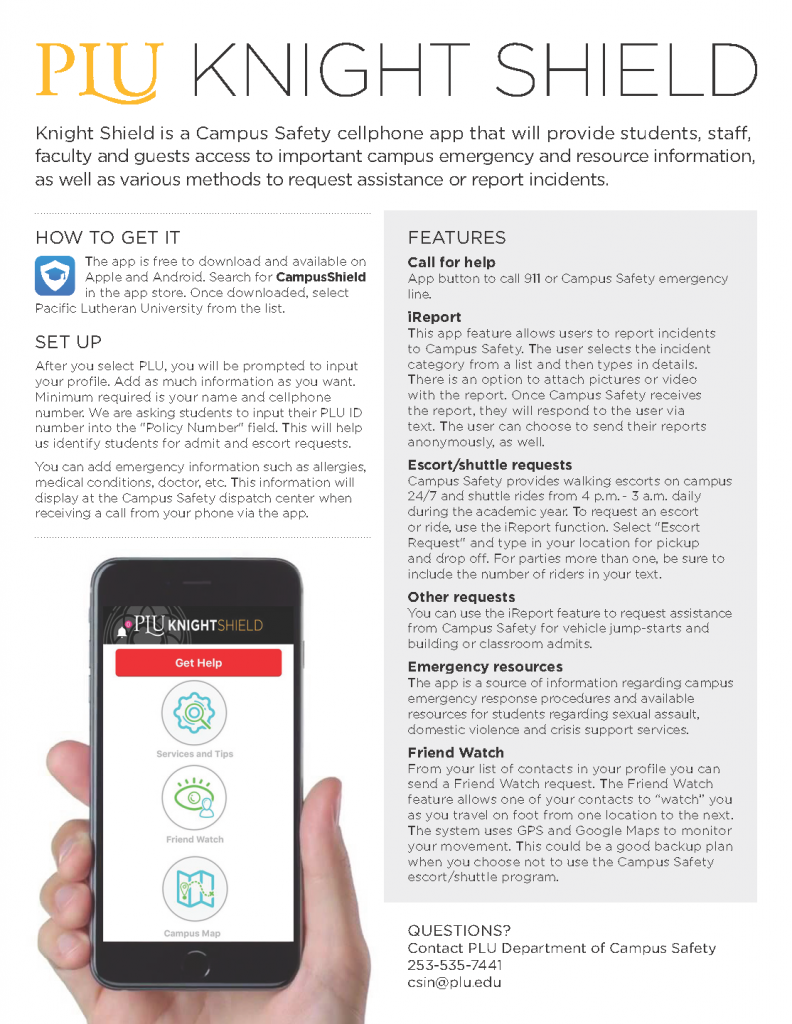 How to Use the App
Get Help
This button is used to request emergency services. Once you hit this button you will have the option of requesting help from 911 or Campus Safety. The app utilizes a geo-fence system. Our geo-fence perimeter extends just outside of the campus property. If you are outside of the designated geo-fence and try to call Campus Safety the phone will automatically re-direct you to 911. Remember, we recommend that you call 911 even when on campus for life-threatening emergencies.
Services and Tips
This area is the heart of the app and it holds several tools.
Non-Emergency – Tap this button to call the Campus Safety routine line.
iReport/Escort – iReport is a tool used to report incidents to Campus Safety or request service. We are asking that this method be used to request Escorts/Shuttle rides.
Select the type of report or request from the dropdown menu.
Type in the text box any information related to the report or request.

For Escorts, please indicate your pick up location, number in party and drop off location. Your PLU ID# should be in your profile so there is no need to add that piece.

You can add a pic or video to your report. For example, if you happen to see a suspicious person or damage to a particular area you can take a pic and include that in the report.
You can send reports anonymously if you choose. Otherwise your profile will indicate who is making the report.
Campus Safety will text back a confirmation that the report was received.
Emergency Resources – This area contains several information sheets on campus emergency procedures and support resources.
Profile – When you first download the app you will need to fill out your profile. This area is where you make any updates. If you have any special needs you may consider including those under the conditions section. Please add your PLU ID# to the Policy Number field. That way Campus Safety has it to reference whenever you make a report or request an escort.
Friend Watch
Click on this button to send a notice to your contacts that you would like them to "watch" as you travel from one place to the next. The contacts are pulled from the list you provided in your app profile (not from your list of contacts in your phone). You will describe your activity (walking to hall from library, going for a jog, etc.) and then enter the time you think you can complete your trip.  A message will be sent to your contacts with the information you provide. If you do not deactivate the Friend Watch (by entering your pin and stopping the timer) before the timer expires then a message is sent to your friends asking them to try and contact you.
Campus Map
This is a link to the online PLU campus map. This map includes detailed information on buildings and locations around campus.
Accept Push Notifications
On the Emergency Resources page you will see a topic titled Current Alerts. The Current Alert page will contain non-emergency alerts from Campus Safety. These may include information regarding a string of thefts on or near campus,  or information on a police or fire incident in the Parkland area. This page will not include emergency notifications. Those notifications will continue to come via PLU Alert (texting, cell phone and email). When an update is made to the Resources page a push notification is sent by the app.