End of Life Series
A spotlighted series presented by the Center of Continued Nursing Learning at PLU.

The WA Death with Dignity Law, a Primer for Health Care Providers
A primer of the Death with Dignity Law in WA state:
This course will describe what providers need to know to help respect their patient's final wishes.
The course will also discuss what to do if the provider works in a health care system that does not support the law and common misconceptions about the law.
Wed. 11/3 7p-8:30p
1.5 contact hrs
Instructors:  Rachel Haxtema, MDiv, MA, Carla Jolley, MN, ARNP, ANP-BC, AOCH, ACHPN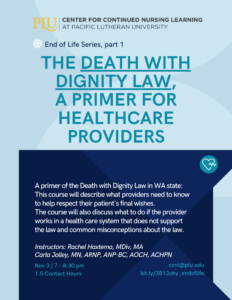 Advanced Care Planning & End of Life Care, a Review for Healthcare Professionals
How can providers integrate Palliative Care into active treatment? Discuss how nurses and providers start the conversation about end-of-life care, and how to assess if your patient (and their families) understand the difference between palliative care and hospice. This workshop will be led by a Palliative Care nurse practitioner who will give updates on new legislation regarding end-of-life care in WA state.
Wed. 11/10 7p-8:30p
1.5 Contact hours
Instructor: Francesca Stracke, DNP, ARNP, FNP-C, ACHPN