Your Residence Hall (你/妳的宿舍)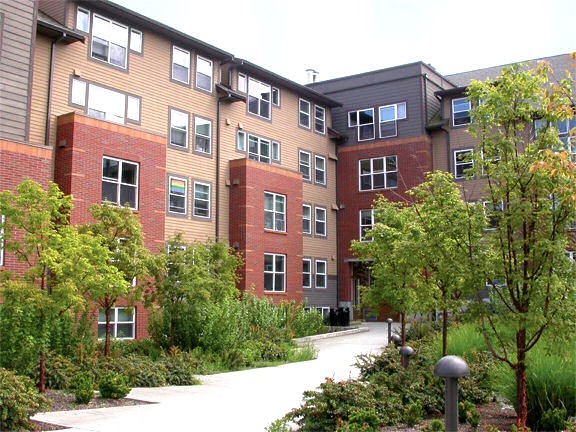 South Hall
You will be living in South Hall, an apartment-style complex on the south edge of campus. It has many amenities, such as a laundry room (with free washer and dryers), a fitness room, lounges and study rooms, and a beautiful front lawn. You'll share these with PLU students in undergraduate degree programs.
Each apartment has a common kitchen and living room space, 2 bathrooms, and 4 individual bedrooms. You will have 1-3 roommates in your apartment. You are responsible for keeping your apartment clean and following all university policies.
South Hall Contacts (联系方式)
All ABC students agreed to PLU's Terms and Conditions for Housing, as well as the information in the South Hall Housing Guide. You are expected to obey those regulations just like any other student at PLU. The documents can be found at:
Residence Hall Association
The Residence Hall Association (RHA) is a student organization that encourages student development through educational and social programming, and establishes and effective and representative body for residence hall-related issues. RHA puts on many events throughout the year, including hall competitions, celebrations, and opportunities for personal growth.
Residence Hall Councils
Residence Hall Councils (RHC) represents their hall to other halls, RHA, and the greater PLU community. They encourage, promote, and help to create community within their hall and make it a wonderful place to live for all residents. South Hall has a joint RHC with Kriedler Hall, which sponsors the annual Fire & Ice event.
Information about the South and Kriedler RHC: https://www.plu.edu/rha/residence-hall-councils/kreidler-and-south/
Essential Rules and Policies (必要规则和政策)