Your Residence Hall (您的宿舍)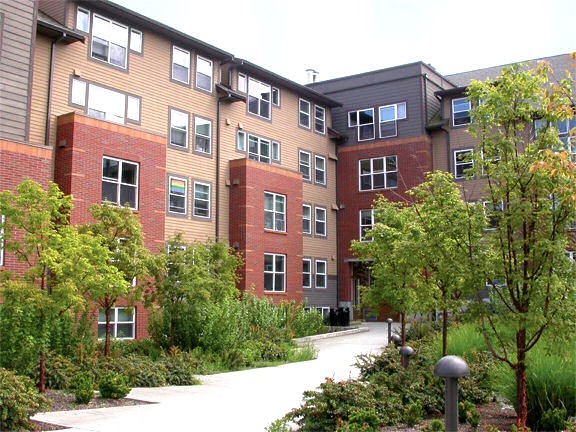 South Hall
You will be living in South Hall, an apartment-style complex on the south edge of campus. It has many amenities, such as a laundry room (with free washer and dryers), a fitness room, lounges and study rooms, and a beautiful front lawn. You'll share these with PLU students in undergraduate degree programs.
Each apartment has a common kitchen and living room space, 2 bathrooms, and 4 individual bedrooms. You will have 1-3 roommates in your apartment. You are responsible for keeping your apartment clean and following all university policies.
您将住在校园南端的公寓式综合大楼South Hall中。 它拥有许多便利设施,例如洗衣房(带免费洗衣机和干衣机),健身室,休息室和书房以及美丽的前草坪。 您将在本科学位课程中与PLU学生共享这些设施。
每间公寓均设有一个公用厨房和客厅,并设有2间浴室和4间独立卧室。 您的公寓中将有1-3个室友。 您有责任保持公寓清洁并遵守所有大学政策。
South Hall Contacts (联系方式)

Front Desk: 253-538-5400
2019-20 Resident Assistant (RA): Hannah Jeffries, jeffrihs@plu.edu
RA On Duty (6-8pm Sun – Thurs, 24hrs Fri – Sat): 253-241-8586
Resident Director: Dan Murray, 253-538-5599, murraydj@plu.edu
All ABC students agreed to PLU's Terms and Conditions for Housing, as well as the information in the South Hall Housing Guide. You are expected to obey those regulations just like any other student at PLU. The documents can be found at:
所有ABC学生都需同意《PLU的住房条款和条件》以及《南厅住房指南》中的信息。 您应该像参加PLU的任何其他学生一样遵守这些规定。 这些文件可以在以下位置找到:
Residence Hall Association
The Residence Hall Association (RHA) is a student organization that encourages student development through educational and social programming, and establishes and effective and representative body for residence hall-related issues. RHA puts on many events throughout the year, including hall competitions, celebrations, and opportunities for personal growth.
宿舍协会(RHA)是一个学生组织,它通过教育和社会计划来鼓励学生发展,并为与宿舍有关的问题建立有效的代表机构。 RHA全年举办许多活动,包括大厅比赛,庆祝活动和个人成长的机会。
Residence Hall Councils
Residence Hall Councils (RHC) represents their hall to other halls, RHA, and the greater PLU community. They encourage, promote, and help to create community within their hall and make it a wonderful place to live for all residents. South Hall has a joint RHC with Kriedler Hall, which sponsors the annual Fire & Ice event.
宿舍委员会(RHC)向RHA与更大的PLU社区展现了自我的风采。 他们鼓励,促进和帮助在其大厅内创建社区,并使之成为所有居民居住的绝佳场所。 South Hall与Kriedler Hall联合RHC,后者赞助了一年一度的Fire&Ice活动。
Information about the South and Kriedler RHC: https://www.plu.edu/rha/residence-hall-councils/kreidler-and-south/
Essential Rules and Policies (必要规则和政策)