SOLD OUT   —   SOLD OUT   —   SOLD OUT
Let's Talk About Race.....
Citizens are outraged as they observed law enforcement abuses of power. In particular, the fatal treatment of George Floyd, a black man, by a white police officer.  Closer to home, the Tacoma community is grappling with the death of Manuel Ellis, a Black man who died suspiciously in Tacoma Police custody.  As a result, the (often dreaded ) "R" conversation and all the emotions that go with it are now front and center in America's (and the world's) consciousness.
There is a sense of urgency for the need to talk, listen and learn about the design and impact that systemic racism has on everyone's life, especially Black lives.
The People's Gathering is a professional/personal development learning experience that provides a supportive space in which participants can engage in frank and open dialogue about race and racial disparities that are systemically present in work, school and everyday life.
Date:  July 9th, 2020
Time: 8:30 am -2:00 pm
Location: on-line, Zoom Conference
Cost:  $59.00
DIALOGUE GROUPS
Indigenous: American Indian or Alaska Native – Navajo Nation, Blackfeet Tribe, Mayan, Aztec, Native Village of Barrow Inupiat Traditional Government, Nome Eskimo Community, etc. or other.
Asian -Chinese, Filipino, Asian Indian, Vietnamese, Korean, Japanese, Other Asian.
Pacific Islander- Native Hawaiian, Samoan, Chamorro, Other Pacific Islander.
Black or African American – Jamaican, Haitian, Nigerian, Ethiopian, Somali, etc.
Hispanic, Latino, or Spanish Origin – Mexican, Mexican American, Chicano, Puerto Rican, Cuban, Salvadoran, Dominican, Colombian, Guatemalan, Spaniard, Ecuadorian, etc.
Two or more races
White – German, Irish, English, Italian, Lebanese, Egyptian, etc.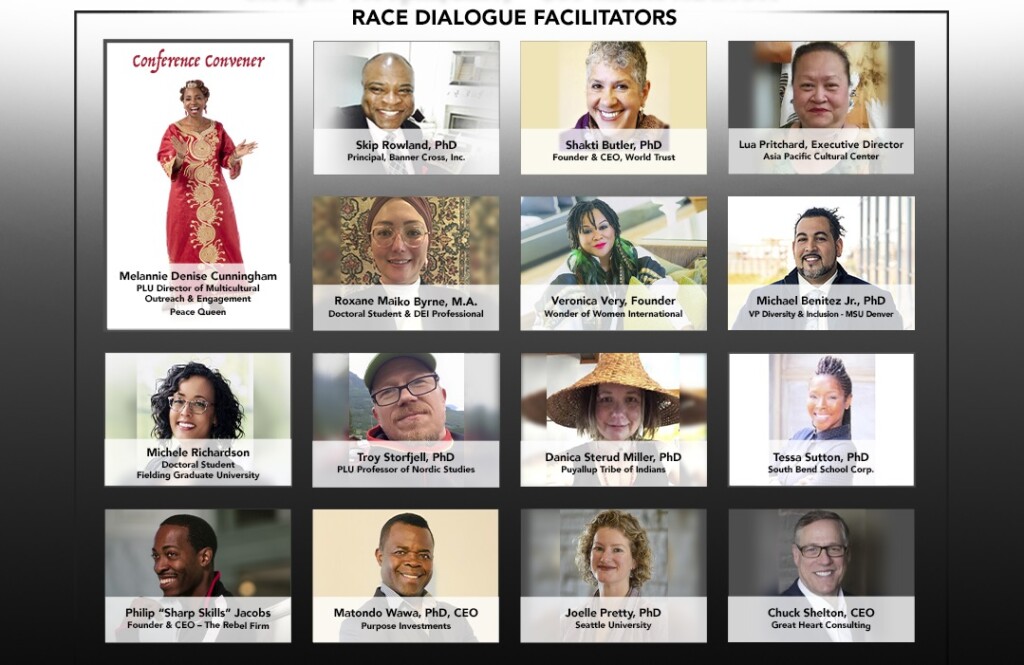 Program Schedule
8:30 – 9:00 am Welcome and Opening Remarks
9:00 – 10:30 Keynote Speakers
10:30 – 10:40 am Break
10:40 am – 12:40 pm Race Dialogues
12:40 – 12:50 pm  Break
12:50 – 1:50 pm Collective Dialogue and Report Outs
1:50 – 2:00 pm  Next Steps and Closing Remarks