Academic Pipeline Programs: Diversifying the Bachelors to the Professoriate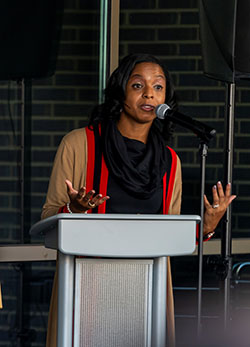 Presentation and Book Signing
by Dr. Rihana Mason
Date:  May 3, 2022
Time: 6:30 to 7:30 p.m., in person
Location: Pacific Lutheran University
Garfield Commons
No charge to attend and the first 75 attendees will receive the book for free!
The landscape of K-12 and higher education classrooms is changing to reflect learners with a diverse set of identities. Academic pathway programs can serve to support and enhance diversity efforts that are emerging as the result of the demographic shift of the workforce and the academy.  Innovations and collective efforts around attracting and training more diverse persons are needed.
The purpose of this talk is to:
Examine the ecological conditions of training spaces for underrepresented and minoritized students.
Discuss the best practices of academic pathway programs that incorporate aspects favorable to training a diverse workforce and academy.
Introduce the THRIVE index tool as a tool to assist students with finding programs that support their interests and various identities. You will be provided a primer for the THRIVE index tool which was created to assist with communicating the strengths and best practices of academic pathway programs highlighted in Academic Pipeline Programs: Diversifying the Bachelors to the Professoriate (Byrd & Mason, 2021).
We will end with a Q&A session
At the end of this talk you will:
Be familiar with workforce and college enrollment trends that impact students from diverse backgrounds.
Be able to define Academic Pathway Programs and their benefits for high school and early college students.
Have awareness of Academic Pathway Programs that assist with college admission, academic enrichment, and college transition.
Learn about the dimensions of the THRIVE Index tool and how they support students when searching through the APEX database.
Gain an understanding of the APEX database which contains a national clearinghouse of programs that can be used locally.
Date: May 3, 2022
Time: 6:30 to 7:30 p.m., in-person
Location: Pacific Lutheran University
Garfield Commons
208 Garfield Street S, Room 200
Tacoma, WA.  98447
(parking lot in the rear, off of 122 St. S. Please use the south entrance from the parking lot.)
Schedule: 30 minute presentation, 10 minute Q/A, 20 minutes of book signing
Clock Hours:  1 CCDEI approved
Light refreshments will be provided (snacks, coffee, tea, water)
First 75 attending will receive a free book for Dr. Mason to sign.
Sponsored by Pacific Lutheran University's:
Department of Psychology, Division of Social Sciences, Division of Natural Sciences, Center for Graduate and Continuing Education and Partnerships and Professional Development