The People's Gathering: A Revolution of Consciousness conference is a professional and personal development learning experience that provides a supportive space where participants can engage in frank and open dialogue about race and racial disparities systemically present in work, school, and everyday life.  A host of local and national social justice scholars and leaders from Indigenous, Asian, Black, Latino, Multiracial, Pacific Islander and, white communities will lead small group discussions.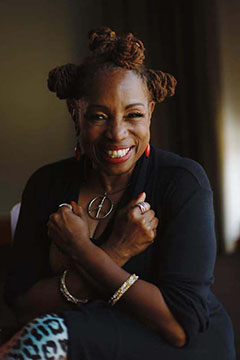 Melannie Denise Cunningham is the Director of Multicultural Outreach and Engagement at PLU. She is also creator, executive producer and host of The People's Gathering: A Revolution of Consciousness Conference.
Melannie is known locally, nationally, and internationally for her unapologetic talk and activism around anti-racist community building, social and economic justice, education, and advocacy for Black women and girls. In 2018 she was awarded the Greater Tacoma Peace Prize for her lifetime achievement working towards racial reconciliation. The "prize" she received was an all-expense-paid trip to Oslo, Norway, to represent her South Sound Washington community at the Nobel Peace Prize Ceremony.
Melannie holds a Bachelor of Arts degree from Washington State University, an MBA from Pacific Lutheran University, a Master of Arts in Organizational Leadership and Change from Fielding Graduate University, and is currently a doctoral student at Fielding pursuing a Ph.D. in Organizational Development and Change.
A Message From Melannie:
Dear Fabulous People!
Thank you so much for attending The People's Gathering (TPG): A Revolution of Consciousness Conference on March 24th!  I've heard from many of you that the experience was impactful and appreciated – specifically for the opportunity to engage in a structured dialogue about the emotional topic of racism.
Big shout out of gratitude to the Center for Healing Racism (CFHR) (https://www.centerhealingracism.org/)  for guiding TPG attendees towards a deeper understanding of racism and how to heal from the harm it causes in our lives. Thank you, Cherry Steinwender, Christie Harrison, and all the CFHR people behind the scenes for transferring expert knowledge and wisdom to help us be and do better.
THANK YOU to the 52 folks who volunteered and served as "Conversation Facilitators" all day or one session! You helped us successfully elevate TPG's impact. Because of your involvement, we launched 40+ rooms in the morning session with mixed-race participants (a new experience) for applied learning in small groups. The strategy worked well! A certificate of appreciation will be coming your way soon!
Outstanding job to the "Race Dialogue Presenters."  Reports back from every room so far are excellent! You each brought your own "flavor" to the space that was culturally relevant and soothing to the participants. We are so grateful for your contribution to creating sacred spaces for healing racism!
Many of you have asked for the recordings of the day and the slide deck. Below is the link to The People's Gathering "Padlet."  Here you will find the recorded sessions and other resources from current and past convenings:
TPG Resources
https://padlet.com/smithsm7/TPGKnowledge
Please mark your calendar for our next planned convenings!
The People's Golf Gathering: Out of Bounds Conversations About Race
July 29, 2022  8:30 am – 3:30 pm,    The Home Course – Dupont, WA
The People's Gathering: A Revolution of Consciousness Conference
Fall Convening – Save The Date    November 10, 2022
Until next time my friends, stay the course.  Keep working on your anti-racist journey, one day at a time.  If you have any questions or need more information regarding the work we do with this platform, please do not hesitate to contact me directly at cunningham@plu.edu or 253-535-7467.