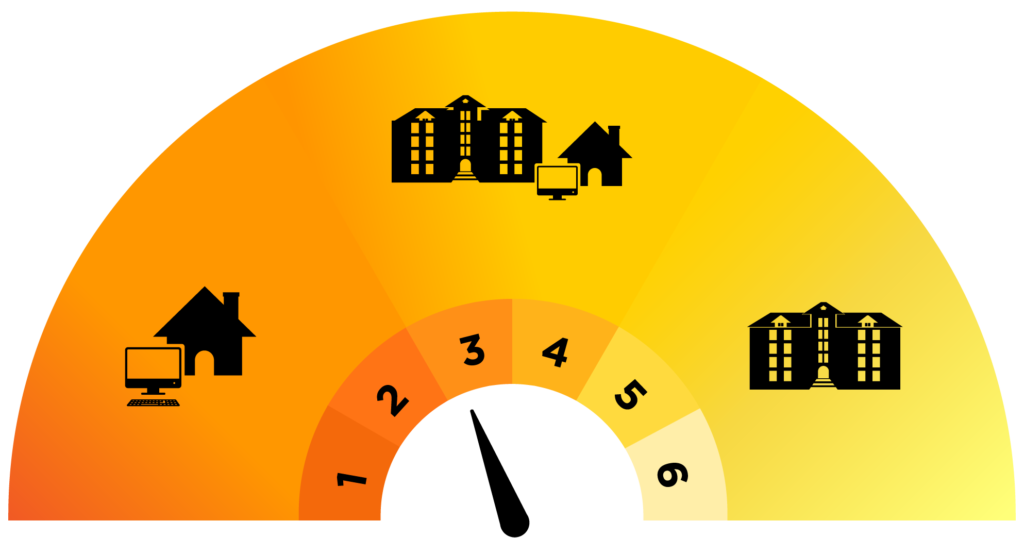 Pacific Lutheran University will begin the 2020-21 school year with a staged approach to reopening. We've created a visual representation—a status dial—to ensure that our community members can quickly and easily see which stage we're currently in, from fully remote learning and working to full capacity with in-person operations. As public-health conditions continue to evolve over the next several months, the PLU dial will be a regular part of our guidance for learning, living, and working on campus.
The dial represents data gleaned from campus, county, and state health reporting (see below) which, in combination with directives from public-health officials, will inform our decision-making related to campus operations. The dial will be updated weekly on Wednesdays by 12 p.m. with any new information (including indications that the status remains unchanged); should public-health circumstances warrant an immediate shift (e.g., restricting campus activity or operations) within a time frame that does not align with the Wednesday updates, a campus email will notify PLU community members of the change.
PLU remains in Stage 3 
While we will remain at Stage 3, we have moved the dial back slightly to acknowledge the rise in the community spread of COVID-19 in Pierce County. Infections per 100,000 have surged in Pierce County. However, all other metrics in our model, including the testing positivity rate, PLU and regional healthcare system capacity, our on-campus capacity for managing quarantine and isolation, and current case percentages in the county continue to meet or exceed our Stage 3 requirements.
We will continue to evaluate campus and regional data, including hospitalization rates.
We are hosting proactive community testing from 10:00 a.m. to 3:00 p.m. on Wednesday, December 9, near the Columbia Center—all Lutes are welcome to test for free!
(Campus Status Dial updated: Wednesday, Dec. 2 at 11:50 a.m.) Please note: If the timing does not align with our updates on Wednesdays at 12 p.m., a campus email will notify PLU community members of any changes to the dial status.
Data-driven Decision Making
The PLU Campus Status Dial is based on key metrics that the university is tracking daily. These factors, when considered holistically and in the context of trend and impact, will inform how to best serve and care for our community of nearly 3,500 students, faculty, and staff.
PLU factors in the model include:
Active COVID-19 positive cases 

Isolation and quarantine capacity

Number and/or size of any clusters on campus

Availability of PPE supplies

Ability to sustain campus operations and provide student care
Regional infection rate and health-system factors in the model include:
Fourteen-day rate of new cases per 100,000 people, with consideration of trends

Regional COVID-19 virus reproduction (R0) rate

Seven-day percentage of COVID-19 tests with positive results

Licensed hospital bed capacity

COVID-19 positive hospitalization rate
These factors are evaluated in the aggregate to help determine the appropriate stage for the university. No single factor will determine whether the university needs to move left or right through the stages.
PLU Community COVID-19 Data
As a supplement to the Campus Status Dial, the numbers listed below are intended to keep our community informed about the number of known COVID-19 cases on campus, as well as the number of known COVID-19 cases that were positive but are no longer considered active cases. This information will be updated every Wednesday (at minimum), in tandem with the dial, and will reflect the data from the previous week. (Data collection for the information on this page began March 23.)
PLU community COVID-19 data last updated: Dec. 2, 2020 at 10:50 a.m.
Next scheduled update: Dec. 9, 2020 at 12:00 p.m.
Please note: PLU community numbers update Monday through Friday by 12 p.m. if needed.
Total:
0
| | |
| --- | --- |
| On-campus Students | 0 |
| Off-campus Students | 0 |
| Employees | 0 |
| Total | 0 |
Known Active Cases are confirmed positives that have been identified through testing provided by the PLU Health Center, the Tacoma–Pierce County Health Department, and on-campus events sponsored by Pierce County Emergency Services. Additionally, these numbers include cases reported to the Health Center from off-campus testing.
Total:
19
Known Cases Resolved are cases that were positive, but are no longer considered active cases (i.e., they meet public-health criteria for discontinuing isolation). Data collection began March 23, 2020.
PLU Pre-Arrival and Proactive Community Testing
Total:
2
| | |
| --- | --- |
| Total to Date | 3187 |
| Total Positives to Date** | 2 |
Throughout the fall semester, PLU will employ a proactive community testing strategy—sometimes referred to as surveillance testing, pooled testing, or batch testing—for both on- and off-campus undergraduate students. This program allows us to identify cases where someone may have mild or no symptoms, to help prevent the spread of the virus within our campus community. Those chosen to test will continue to be part of a purposeful random sample that identifies and selects individuals from a pool of Lutes who have a known reason to be on campus in person, but if we have an area on campus that is seeing a high volume of cases, we may ask more individuals in that area to take part in testing. Click here for more information about PLU's proactive community testing and testing dates.
*The data above includes employees and students who were confirmed as positive for COVID-19 though PLU testing, Tacoma Pierce-County Health Department or self-reporting, and who came to campus or were in close contact with anyone affiliated with campus.
** Please note: This number differs from total known cases because some positive cases are identified by testing symptomatic students directly through the PLU Health Center or by testing not provided by PLU.