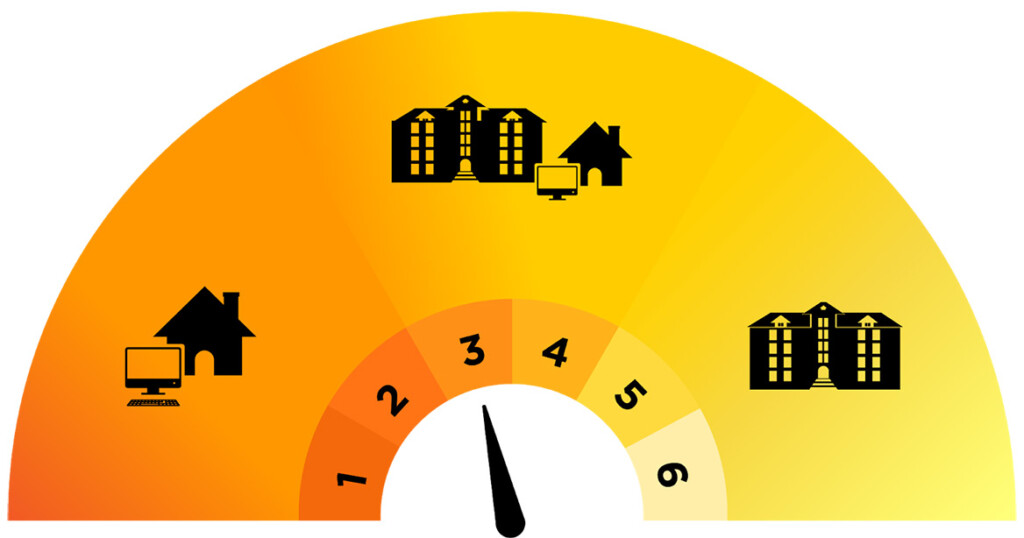 Pacific Lutheran University will begin the 2020-21 school year with a staged approach to reopening. We've created a visual representation—a status dial—to ensure that our community members can quickly and easily see which stage we're currently in, from fully remote learning and working to full capacity with in-person operations. As public-health conditions continue to evolve over the next several months, the PLU dial will be a regular part of our guidance for learning, living, and working on campus.
The dial represents data gleaned from campus, county, and state health reporting (see below) which, in combination with directives from public-health officials, will inform our decision-making related to campus operations. The dial will be updated weekly on Wednesdays by 12 p.m. with any new information (including indications that the status remains unchanged); should public-health circumstances warrant an immediate shift (e.g., restricting campus activity or operations) within a time frame that does not align with the Wednesday updates, the campus text alert system will be utilized to notify PLU community members of the change.
PLU affirms Stage 3 status, removes "tentative" qualifier
The decision to affirm that we are solidly in Stage 3 is based on the data from four weeks of campus testing and continuing significant improvements in local metrics. Following our fourth week of testing—including large scale testing last week—we have had one positive case out of more than 1400 tests administered for returning students and some frontline faculty and staff.
There has been continued significant improvements in local metrics, particularly the fourteen-day rate of new cases per 100,000 people in Pierce County, which improved by 50% over the last month. Additionally, each of the other metrics in our model (including the current R factor [a key measure of how fast the virus is growing], PLU and regional healthcare system capacity, and test positivity rate) continue to meet or exceed our Stage 3 requirements.
We will continue to evaluate campus and regional data, with particular attention in the days ahead to trends reflecting Labor Day weekend, PLU residence hall move-in activity, and our continuing capacity for response.
(Updated: Wednesday, Sept. 16 at 11:45 a.m.)
Data-driven Decision Making
The PLU Campus Status Dial is based on key metrics that the university is tracking daily. These factors, when considered holistically and in the context of trend and impact, will inform how to best serve and care for our community of nearly 3,500 students, faculty, and staff.
PLU factors in the model include:
Active COVID-19 positive cases 

Isolation and quarantine capacity

Number and/or size of any clusters on campus

Availability of PPE supplies

Ability to sustain campus operations and provide student care
Regional infection rate and health-system factors in the model include:
Fourteen-day rate of new cases per 100,000 people, with consideration of trends

Regional COVID-19 virus reproduction (R0) rate

Seven-day percentage of COVID-19 tests with positive results

Licensed hospital bed capacity

COVID-19 positive hospitalization rate
These factors are evaluated in the aggregate to help determine the appropriate stage for the university. No single factor will determine whether the university needs to move left or right through the stages.