New statewide restrictions in Washington
November 17, 2020
To: PLU Community
From: Student Life from the Recovery Planning Team
Dear PLU community,
We'd like to start by thanking all of you for being a part of PLU's collective effort to keep us all safe and healthy. Over the last five days, Washington Governor Jay Inslee has been taking steps to slow the spread of the coronavirus in Washington State. We would like to highlight two of his recent press conferences and discuss what they mean for the Lute community.
On Friday, Governor Inslee urged families to plan for "virtual Thanksgivings"—holiday celebrations that are restricted only to family members who have self-quarantined successfully for fourteen (14) days in advance. The governor also announced a new interstate travel advisory, which is a reminder that everyone needs to be paying attention to the CDC's current travel guidance. See below for PLU's Thanksgiving travel reminders.
On Sunday, the governor issued another statewide order restricting indoor gatherings, dining in restaurants, and exercising indoors at gyms and fitness centers as COVID-19 cases surge in Washington State. While K–12 and higher education are exempt from most of these restrictions, we are following public-health guidance and making the following changes effective immediately. These measures will be in place until the governor's order expires, currently scheduled for December 14:
Names Fitness Center will shift to even more limited capacity during open hours.
We will switch to virtual tours only for Admission and Athletics.
On-campus residents will no longer be permitted to have guests or visitors in their residence hall rooms or apartments. Card access will be restricted to residents of each residence hall.
All employees who have been working from home should continue to do so. Vice presidents will be working within divisions to evaluate current on-campus staffing and necessary adjustments.
Additionally, we will update the PLU Wellness Check-In in the coming days to include new questions reflecting the governor's executive orders.
What does this mean for the Campus Status Dial?
We will remain at Stage 3. The decision to maintain Stage 3 is based on the data from our proactive community testing, our on-campus capacity for managing quarantine and isolation, and local metrics. While COVID-19 infections per 100,000 have surged in Pierce County, all other metrics in our model, including the testing positivity rate, PLU and regional healthcare system capacity, and current case percentages in the county continue to meet or exceed our Stage 3 requirements. We will continue to evaluate campus and regional data.
Reminders for Thanksgiving
Thanksgiving Break begins Wednesday, November 25, at 1:35 p.m. and extends through Sunday, November 29. PLU offices will be closed Thursday and Friday, November 26 and 27. The residence halls will remain open; OMM, the Commons and 208 Garfield will be open throughout the weekend with limited hours and menus. The Commons will be open to pick up a festive Thanksgiving dinner on Thanksgiving Day. (Thank you, Campus Restaurants staff!)
With the exception of a small number of Nursing courses, all classes held after Thanksgiving Break will be held online. Final exams will also be held remotely.
After Thanksgiving Break, campus will remain open, with COVID-19 mitigation measures fully in place. Lutes will have continued access to campus facilities and services, including campus restaurants, some limited recreation opportunities, and the library.
We join the CDC in strongly encouraging Lutes to:
Get a COVID-19 test prior to your travels (Pierce County testing sites are listed here)
Plan on wearing a mask for all indoor activities other than meals
Add more spacing than usual around participants during meals
Even returning to your own home should be undertaken with care. Remember, even if it's only been a few weeks since you've been there, during that time your family has likely been taking all the necessary precautions to stay safe and healthy, and it's important to respect that.
Gathering in groups—even with people we know—can easily spread the virus. The more people we interact with at a gathering, and the longer that interaction lasts, the higher our risk of becoming infected. The safest action, therefore—especially if you're in a high-risk category—is to avoid gatherings and find different ways to celebrate with those you love. This site includes ideas for how to gather virtually, for example; and if that's not an option, here's a checklist to help you plan a safer gathering.
Community testing post-Thanksgiving
On-campus residents who remain on campus—and any other students who visit campus for any reason—after Thanksgiving will be required to either test or engage in a combination of quarantine-test-quarantine (QTQ) practices, depending on their behavior and travel over the break. Click here for more information for on-campus residents.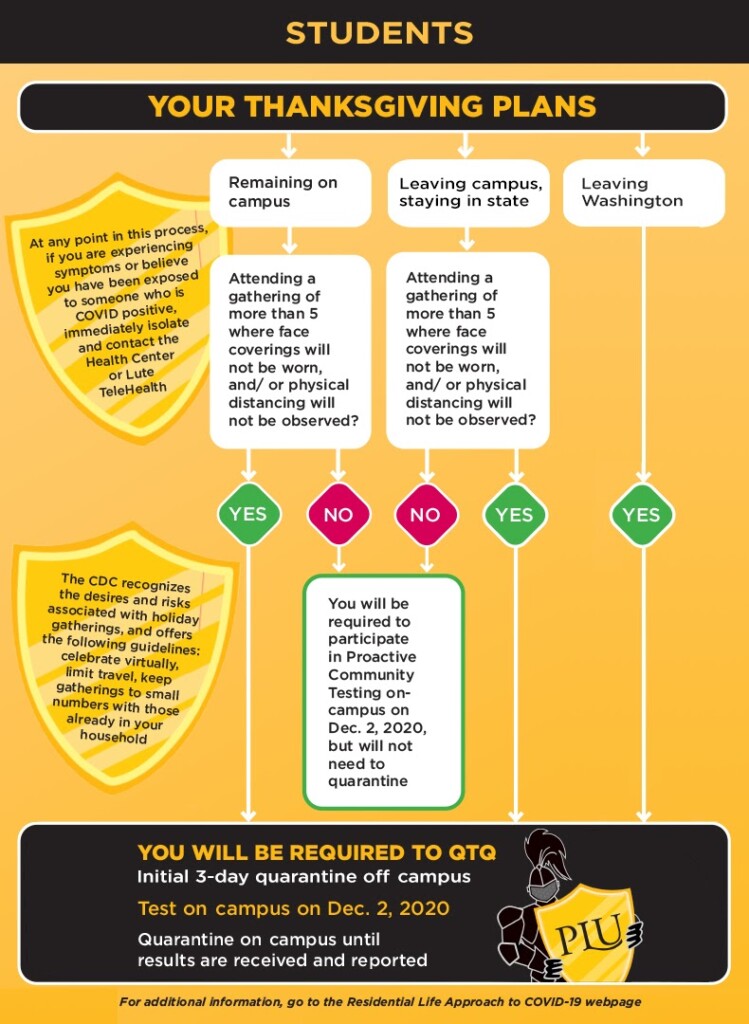 Note to residential students: If you are a current on-campus resident and would like to change your housing plans for Thanksgiving, post-Thanksgiving, J-Term or Spring 2021, please submit a new Housing Survey. Refer to the Residential Life Approach to COVID-19 webpage for additional information.
In community,
Allan Belton
President
Joanna Gregson
Provost and Senior Vice President for Academic Affairs
Joanna Royce-Davis
Vice President for Student Life
Teri Phillips
Chief Operating Officer
COVID-19 Site Supervisor
Lace M. Smith
Associate Vice President of Marketing & Communications
Elizabeth Hopper
Director of the Health Center
Shawn Thompson
Assistant Director of Emergency Programs