Campus Status Dial moves from Stage 3 to Stage 4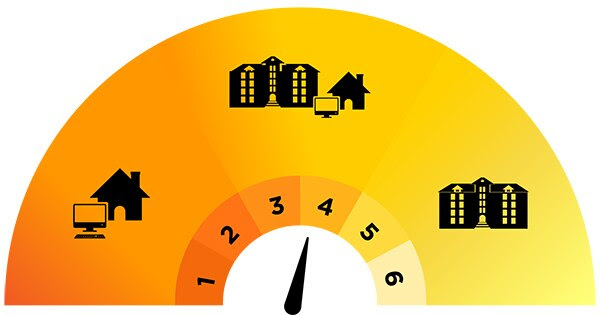 February 24, 2021
To: PLU Community
From: President's Office
Campus Status Dial moves from Stage 3 to Stage 4
For new Lutes and their families who just joined us this semester: we created the Campus Status Dial this year to ensure that our community members can quickly and easily see which stage we're currently in—from fully remote learning and working to full capacity with in-person operations. As public-health conditions continue to evolve, the PLU dial continues to be a regular part of our guidance for learning, living, and working on campus.
Our recent decision to move the dial forward is based on steady and sustained improvements in local and regional metrics, particularly in current case rates and case rates overall, as reflected in the six-day lag reports from the Tacoma–Pierce County Health Department. We will continue to evaluate through campus and regional data—including case rates, PLU and regional healthcare-system capacity, our on-campus capacity for managing quarantine and isolation, current case percentages in the county, the county's testing-positivity rate, and results from our back-to-campus and on-going proactive testing—as well as a new metric assessing the percentage of the population that's vaccinated.
What does moving to Stage 4 mean?
With the dial having been moved today (February 24), those faculty slated to teach in a blended-course format could do so as early as March 3.
Moving to Stage 4 allows for significantly more in-person instruction.
If your course is designated blended (or "BL"), this pertains to you. Check your course modality on the interactive course schedule.
If a course you signed up for is totally online (or "ON"), this will not affect your class.
Decisions about adding in-person elements to BL courses are made at each faculty member's discretion, allowing them to schedule such pivots with their pedagogy.
Faculty will provide students with a minimum of one week's notice before making any pivots to in-person instruction.
If you haven't already asked for accommodations to learn remotely, it's not too late! As we prepare for our return to campus for spring, we recognize that some students' health circumstances may make remote learning a more appropriate option for them. If you need to participate in classes through a completely remote modality, please fill out this form for the Office of Accessibility and Accommodation to arrange accommodations. Questions? Please email oaa@plu.edu.
More campus life and co-curricular activities
Dining—The Hospitality Services and Campus Restaurants team is excited to announce plans for a return to indoor dining. The Commons and the Anderson University Center's upper level are scheduled to open on Monday, March 1. Congruent with public-health guidance, capacity will be capped at 25%, group size will be limited to four, and extensive cleaning protocols will be in place.
School of the Arts—In response to Governor Inslee's release in mid-January of the COVID-19 Performing Arts & Theatre Sector Guidance, PLU will be adjusting some safety precautions for the performing arts for the Spring 2021 semester. At this time, PLU will be moving forward with Phase 1 guidance. (Please note the difference between PLU's stages in the Campus Status Dial and Washington State's phases in the governor's recovery plan.) We will continue to monitor and will determine at a later date, pending local health department decisions, whether further easing of restrictions may be feasible as part of Phase 2.While no formal concerts or performances with audiences will yet occur, Phase 1 will enable enhanced usage of the Eastvold Stage for Theatre and Dance, indoor rehearsals for instrumental ensembles (distanced, masked, and with bell covers for wind instruments) and choral ensembles (distanced and masked), and the live streaming of individual student-degree recitals in Lagerquist Concert Hall, with six or fewer (distanced and masked) family members from a single household allowed to be in attendance.Visit the PLU calendar for SOAC events this spring, including DUST, presented by Alpha Psi Omega from March 11 through March 13. Stay tuned for more information as SOAC works toward presenting some outdoor performances for music, theatre, and dance in May.
Athletics—In late fall, Northwest Conference announced that competition could resume as long as federal, state, local, and NCAA health directives permitted. Since then, PLU Athletics has returned to completion, having initiated a COVID-19 testing strategy designed to ensure the health and safety of athletes , coaches, and athletics staff. Learn more here.
What's it going to take to stay in Stage 4? 
While the progress we're seeing comes as welcome news, it is critical that we all do our part to ensure that we aren't required to revert to Stage 3. Actions that demonstrate care for community and one another will determine our ability to maintain this momentum—just as their absence will cause us to move backward.
With that in mind:
Wear a face mask—pick up a free mask at the Student Testing Clinic in the AUC.
Stay at least six feet apart from others (even when outside).
Wash your hands frequently.
Socialize in groups of no more than five.
Refrain from holding or attending parties.
Complete the daily Wellness Check-In.
Be kind, and hold each other accountable.
We are asking all PLU students to be especially conscientious about wearing masks—and the new recommendation from the CDC to double-mask—in any indoor area outside of your own room or bubble. We also encourage you to explicitly "Name Your Bubble." Choose the five people with whom you are currently or planning on spending most of your time, and ask these friends to make a commitment to you and each other to remain in the bubble that you have identified together, keeping that bubble intact until public-health guidance recommends otherwise.
We need all members of the PLU community to join us in the effort to protect each other from COVID-19. It's going to take you, and it's going to take me—it's going to take all of us, together, doing the right things. We continue to hold those expectations for all campus community members, and we will continue to enforce these standards because they matter to the health and well-being of all Lutes.
Self-care is community care. Community care is self-care.
Shields up, Lutes!
Allan Belton
President
Reminder: The dial will be updated weekly on Wednesdays by noon with any new information (including indications that the status remains unchanged). Should public-health circumstances warrant an immediate shift, we will utilize the campus text alert system to notify PLU community members of the change.