Shifting mindset — pandemic and endemic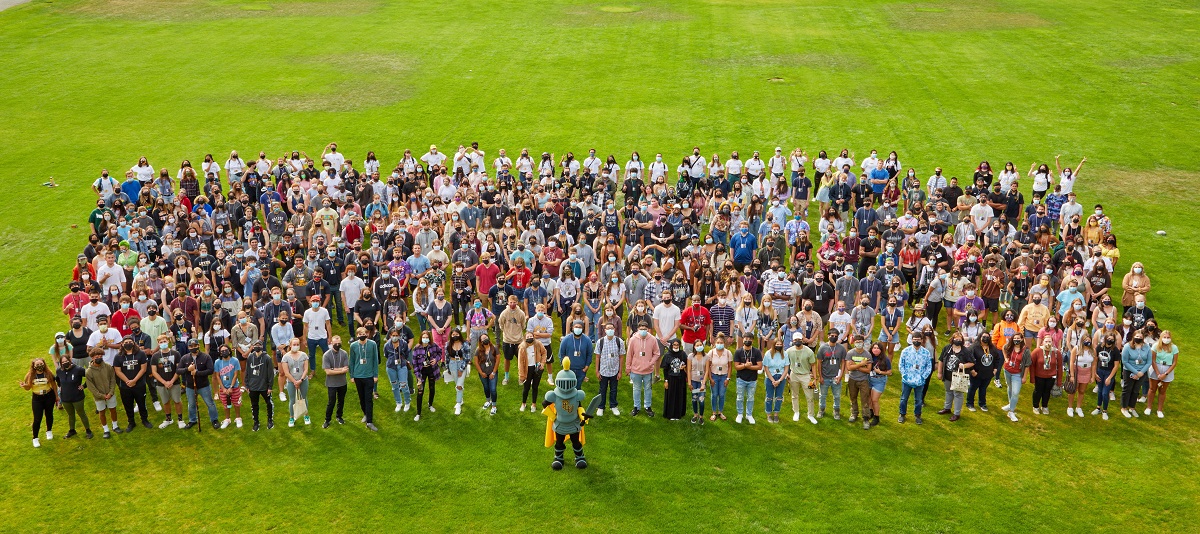 September 17, 2021
Dear PLU Community:
Welcome home, Lutes! You've probably heard this countless times over the last two weeks, but it is so good to have everyone back on campus! It's been truly wonderful to be able to return to the in-person community experience that makes PLU so special.
One of our biggest challenges in confronting the continual threat of COVID-19 has been adapting our daily work and activities to mitigate risk. You've probably heard and read about what it takes to move from a pandemic to an endemic state, where the virus is circulating at a low level and is under control. This state shift can't be achieved with shortcuts or wishful thinking—it has to be earned through our collective action.
Here are the top six ways to stop the spread of COVID-19 at PLU and in our greater community:
1.) Our most effective tool against the virus: vaccination.
Currently, 96% of our entire community of students, faculty, and staff are vaccinated against COVID-19. As we continue to invite others to join us—whether by hiring or transferring in—we will continue to expect Lutes to safeguard themselves and others through vaccination.
2.) We are continuing to follow masking requirements.
Masking up works! We will continue to require the use of masks in all indoor locations, as currently required by local and state mandates. This applies to all indoor spaces when other people are present and in all public and common areas, including classrooms, dining areas (except when you're actively eating or drinking), meeting rooms, elevators, and shared vehicles.
Masking is not required in private, non-shared spaces and situations, such as a residence-hall room or your office, or when you're alone in a laboratory. Students who live in shared residence-hall rooms may remove their masks while in their room with their roommates if none of those present have COVID-19 symptoms.
In outdoor locations where physical distancing is not possible, masks are strongly recommended for all–and they're required for all unvaccinated community members. 
We are exploring ways to create more versatile outdoor seating for small groups. Look for additional picnic tables and benches soon!
3.) Increasing safety measures at some community events.
You will begin to notice that some community events, such as SOAC performances and PLU Homecoming & Family Weekend, will now require proof of COVID-19 vaccination (or proof of negative COVID-19 PCR test taken within 72 hours of the start time) prior to entry.
PLU community members — those with a PLU ID — are exempt from showing additional proof of vaccination status since these have already been submitted and reviewed.
4.) Refraining from holding or attending off-campus parties.
If you're thinking of hosting or attending a large off-campus gathering, we strongly urge you to reconsider and choose to safely gather in small groups instead.
5.) Staying home if you're not feeling well.
While this is top of mind due to COVID-19, it's something we should model no matter the illness; please don't risk getting your fellow community members ill. If you are sick, please connect with your professors, supervisors, and coaches to plan out the steps for covering what you will miss. Being back in person on campus is exciting for all of us and it's hard to consider missing even 2-3 days of class, work or practice, but a short time away to recover will allow you to get back to these activities in full health.
Please note: Students, if you are symptomatic and have a pending test from an off-campus provider, please call the Health Center to let them know.
6.) Getting a free flu shot!
A flu shot clinic will be offered Thursday, October 7, 2021, from 8:30 a.m. to 5:00 p.m. in Red Square, under the big tent. Brought to you by the PLU School of Nursing, Health Center, and Human Resources, a FREE flu shot will be provided to all PLU faculty, staff, and students.
This fall and winter, reducing the spread of respiratory illnesses, like flu, is more critical than ever. A flu vaccine this season not only offers protection to you, but it can also help reduce the burden on our healthcare systems responding to the COVID-19 pandemic, saving medical resources for the care of COVID-19 patients.
We want to live in a world where the pandemic is over, or at least COVID-19 is an endemic state—it just requires hard work and cooperation on the part of everyone. Together, we can get there.
In community,
Allan Belton
President
Dr. Joanna Gregson
Provost and Senior Vice President for Academic Affairs
Dr. Joanna Royce-Davis
Vice President for Student Life
Teri Phillips
Vice President and Chief Operating Officer
COVID-19 Site Supervisor
Elizabeth Hopper
Director of the Health Center