Guidance for when you are feeling sick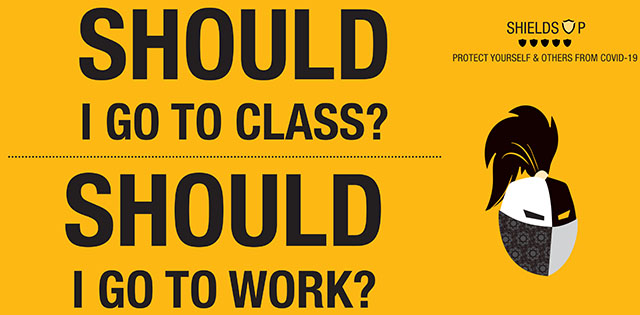 October 27, 2021
Dear PLU Community,
Thank you for your continued diligence in our efforts to keep our community protected against COVID-19. In order to best keep our community healthy, we have developed a flowchart that provides information about COVID Symptoms and Guidelines for what you should do when you are not feeling well or if you believe you have been exposed to COVID-19, regardless of vaccination status. This self-assessment gives direction for students, faculty and staff and provides detailed information about what steps to take. It has been developed based on advice from the Health Department.
Please see the flowchart if you need recommendations for recognizing symptoms, self-quarantine, testing, connecting with the Health Center or primary care provider, and communicating with your faculty member and/or supervisor.
This flowchart is available on the COVID-19 website and can also be accessed through a QR code on posters and flyers throughout campus.
Reminder: Wear your mask and consider smaller gatherings for Halloween
Halloween weekend is coming up. We know that Halloween is known to many as "the best party weekend of the year at PLU."  Remember that wearing a mask and maintaining a distance of 6ft or more are still of the utmost importance in our continued fight against COVID-19.  Social gatherings are still susceptible to creating spread of the virus, regardless of vaccination status. If you are thinking of hosting or attending a Halloween gathering, we strongly urge you to wear masks and consider whether you have adequate space and ventilation for the number of people present to be safe. Larger groups are simply riskier. You may want to reconsider and choose to safely gather in a small group instead.
For the health of the community, continue wearing a mask, practice social distancing when possible and actively assess if you should go to class or work if you are feeling unwell. Stay home and recover if you are sick.
Shields Up, Lutes!
Self-Care is Community Care.
Community Care is Self-Care.
In Community,
Teri Phillips
VP & Chief Operating Officer
COVID-19 Site Supervisor
Shawn Thompson
Associate Director of Emergency Programs
COVID-19 Task Force Coordinator
Mike Snyder
Director of Athletics and Recreation
Michelle Ceynar
Dean of Social Sciences
Professor of Psychology
Chris Albert
Director of Web Development & Design