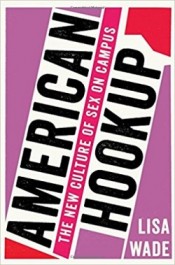 Lisa Wade
April 10, 7 p.m. in the Scandinavian Cultural Center
Join us for a keynote on Lisa Wade's research on Hookup Culture. Lisa Wade, PhD, is a professor of sociology at Occidental College in Los Angeles.  She holds an M.A. in human sexuality from New York University and an M.S. and Ph.D. in sociology from the University of Wisconsin, Madison.  Dr. Wade has published academic research on culture and sexuality, gender dynamics, media representations and marketing, and intersection of society and biology.
In Wade's newest book, American Hookup: The New Culture of Sex on Campus, is the definitive account of the sexual culture that dominates higher education. She's spoken about hookup culture at dozens of colleges and universities of all kinds. Rising above misinformation and moralizing, she situates hookup culture within the history of sexuality, the evolution of higher education, and the unfinished feminist revolution. Attending to the wide diversity of student experiences, Lisa explains where we are and how we got here, asking "How do we go back?; Where do we go from here?"
This event is hosted by Sex+, a collaborative program of The Diversity Center and the Center for Gender Equity and funded by the DJSFund.
Event Details
WHAT: A keynote lecture by Lisa Wade
WHEN: Tuesday, April. 10 at 7pm
WHERE: Scandinavian Cultural Center (SCC) in the Anderson University Center