The Diversity Center
The Diversity Center enhances Pacific Lutheran University's learning community while create active leaders by providing a supportive and inclusive space for dialogue.  Our open-door policy and team of dedicated advocates spark passions for advocacy, social justice, and building lasting and meaningful relationships.
9|8: The Chocolate Trail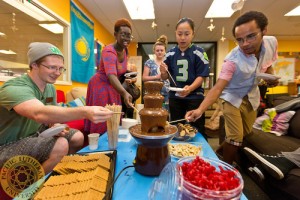 1pm – 3pm
The Diversity Center
Follow the Chocolate Trail to visit The Diversity Center, Center for Gender Equity, Scandinavian Center, Center for Community Engagement and Service, Wild Hope Center for Vocation, Campus Ministry, and Wang Center and learn about ways to connect with these centers resources, programs, and their communities.
9|15-16 Students of Color Retreat
9|22: Topics on Tap - Volunteerism + Savior Complex
5:30pm – 7:00pm
208 Garfield
Volunteerism + Savior Complex" How not to Service
This topic will address the savior complex that can exist when people, particularly those with privilege, volunteer to serve folks with marginalized identity. Specifically, we'll address the do's and don'ts of service and helping vs. serving. What does it mean to authentically engage in your community?
Co-hosted by the dCenter and the Center for Community Engagement and Service
9|29 - 9|30: Queer Student Retreat (QSR)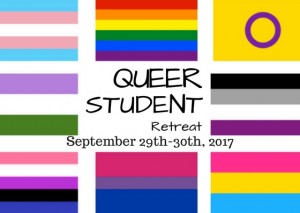 Location shared at registration
The QSR is a valuable space created for students who identify as LGBTQ to connect and have time to consider their own understandings of their sex, gender identity, gender presentation, and attraction, as well as forming community early in the academic year
For more information, contact advocacy@plu.edu.
Co-hosted by the dCenter and Center for Gender Equity
9|30 - 11|18: iGroup: Exploring Race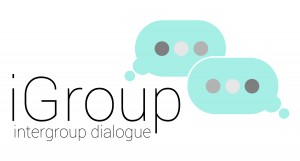 Fridays 4pm – 5:30pm
PLU iGroup is an intergroup dialogue program inviting students to explore topics of identity formation, social systems, equity, and collaboration for positive change.  In Fall iGroup will be exploring race through dialogue.  To learn more about and to sign up visit the iGroup website.
10|14: Diversity Center's Family Appreciation
Scandinavian Cultural Center, AUC
In The Diversity Center, "Family" includes individuals in our familial unit (parents/partners/children, aunts/uncles/grandparents) and extends to those key support people core to our success  (coaches/mentors/teachers/best friends/colleagues/etc.).  In recognition of the family member's who contribute greatly to our student's success, The Diversity Center is hosting a special event of gratitude and celebration of these members of our extended community.
Is there a family member who has contributed to your success at PLU?  All Diversity Center Alumni and students are invited to join The Diversity Center in thanking those faculty who have supported their growth and success.  RSVP information to follow.
11|7: Dia de los Muertos
Co-hosted with Latinx Unidos, this event is focused on celebrating those who have passed. Participants are invited to bring a photo or write a note to place on the altar. Students will be speaking about their experiences with Dia De Los Muertos. We also will be decorating sugar skulls to place upon the altar.
Additional Hispanic Herritage Month programs hosted by LU include:
Nov 5 : 11am – 5pm Excursion to TAM with Latinx Unidos
Nov 10: 6 – 9pm Celebration in the CAVE
For more information email amigosu@plu.edu