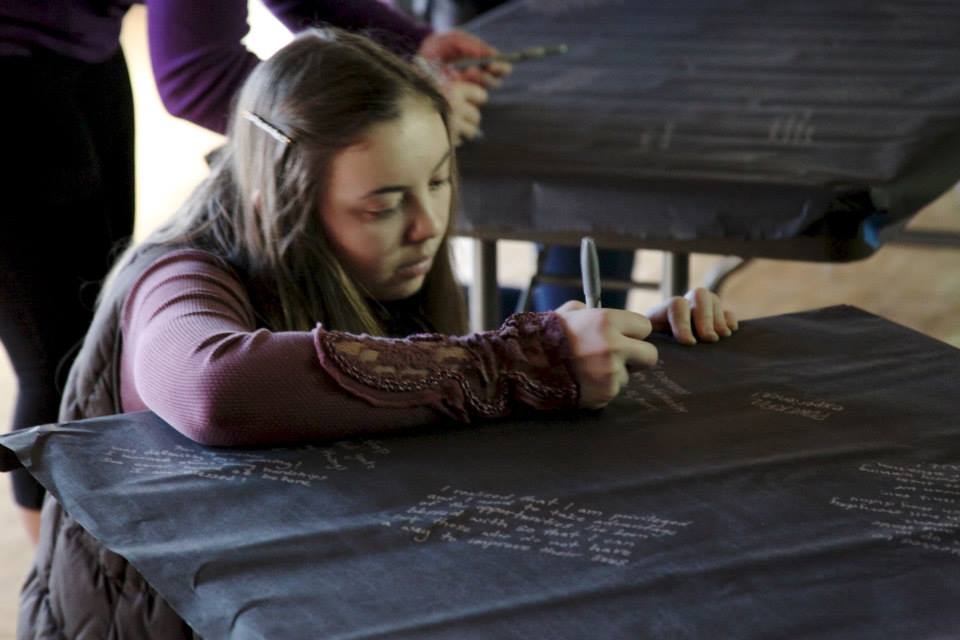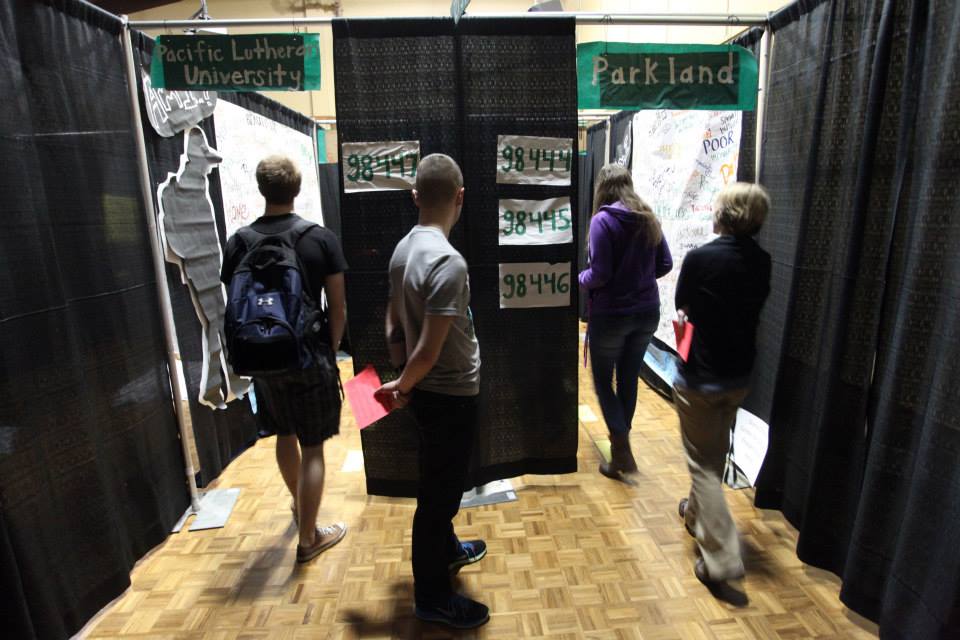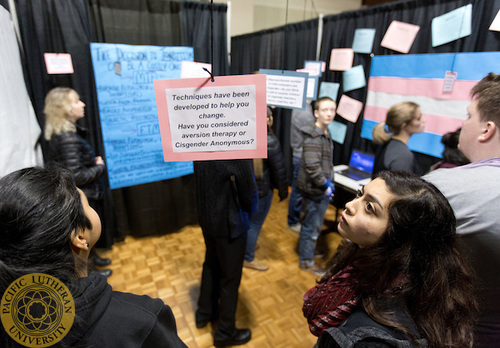 Friday March 10, 2017
9:00am – 7:00pm
Chris Kuntzen Hall, Anderson University Center
Tunnel of Oppression is an interactive experiences that aims to raise awareness of issues of privilege and oppression by presenting scenes grounded in real-world, lived experiences and to provide space for dialogue and reflection on social justice issues.  Scenes within the Tunnel are designed by students and provide a creative outlet for the community to learn, reflect, and dialogue together.
Tunnel Planning Team
On behalf of the Center for Community Engagement and Service, Center for Gender Equity and The Diversity Center, we invite you to the 2017 PLU Tunnel of Oppression on Friday, March 10 in the Anderson University Center's CK Hall.
Tunnel is an interactive, multimedia exhibit designed by and for students to promote awareness of privilege and oppression in society. In past years, students have developed scenes dealing with a variety of issues including being an undocumented student on campus, sex trafficking, exploration of the environment, and the dynamic between PLU and the Parkland Community. The topics and scenes included in the program are all student-run, each year we look forward to learning what issues of injustice and oppression stand out in the minds of our students.
The Tunnel of Oppression is a valuable learning experience for students through the awareness of campus, communal and societal social justice issues, and all of the scenes will discuss issues of oppression, privilege and social justice. The goal of this event is to heighten awareness around a variety of issues while helping students to reflect on the topics that are most salient to them.
Sincerely,
The Tunnel Planning Committee Members
Angie Hambrick, The Diversity Center
Nicole Juliano, The Diversity Center
Saiyare Refaei, The Diversity Center
Jennifer Smith, Women's Center
Lace Smith, Marketing & Communications
Joel Zylstra, Center for Community Engagement and Service
Thursday, March 9
3:00pm – 6:30pm | Tunnel Setup
This is the time available to construct your scene in your specific tunnel space. All scenes must be completed by 6:30pm.
7:00pm | Docent Training and Rehearsal
At least ONE member of your team must be present for the rehearsal run through and training of the docents.
Friday, March 9
9:00am – 7:00pm | Tunnel of Oppression
The PLU community is invited to experience the tunnel at this time. Estimated time to participate in Tunnel of Oppression is about 1 hour (30-45 min in the tunnel, and 15 min with a faculty/staff lead debrief) – this time does not include time in que. The last group will be let in at 7:00pm.
7:30 pm | Tunnel Tear Down
When the last group is done walking through the tunnel, we will all work together to break down the space.
2014
Male rape in prison (Women's Center)
The 'Poor' college student (Emerging Leaders)
Sexual orientation outside of the United States (Queer Ally Student Union)
'Dreamers' (Latino Unidos)
The Lute Dome (Community Engagement & Service)
Sweatshops (Asian Pacific Islander Club)
The 'R' Word (Student Athletic Advisory Committee)
Indigenous Boarding Schools (First Peoples Club)
2013
Systematic Poverty on Native American Reservation (Emerging Leaders)
Deportation and its effects (Latinos Unidos & 1079+ Club)
Physical ability around PLU's Campus (Social Action & Leadership)
Stigmatization of women, children, and infants who are on WIC (Women's Center, Voices Against Violence, and Men's Project)
Beauty across cultures & Western influences on global concepts of beauty (IHON 253: Gender, Sexuality, and Culture)
Wester discrimination against people who wear religious head coverings (IHON 253: Gender, Sexuality, and Culture)
Sex Trafficking industry within the United States, specifically focusing on the PNW (IHON 253: Gender, Sexuality, and Culture)
Sexual assault in the military (IHON 253: Gender, Sexuality, and Culture)
The freedom movement/travel (Wang Center)
Road blocks, or sometimes speed bumps, faced by "non conventional" families and partnerships (Queer Ally Student Union)
"PLU and Parkland": The PLU community's interactions with the greater Parkland area (Rieke Scholars)
Healthcare reform/uninsured Americans (Progress)
Environmental and social justice impacts of the proposed coal trains that will travel through Montana, Idaho, and PNW and export terminals proposed along the Washington and Oregon coasts (Residence Hall Association/Council Social Justice and Sustainability directors)
The hardships that LGBTQ students can face in traditional housing selection processes and living arrangements, which support gender binaries and exclude queer identities (Associated Students of PLU)
2012
Rieke Scholars – Inequity in the US educational system
Latinos Unidos – Desaparecidos en Latin America
Queer Ally Student Union – Queer teen suicide
Social Action and Leadership Wing – Mental Illness
Mycal Ford – The Rape of Nan Jing
Residence Hall  Association – The Social Justice of Sustainability
Black Student Union – Name Discrimination
Progress – Unmet needs in child healthcare
Rae-Ann Barras – Do you know the truth about the African Continent?
Amnesty International – Media Censorship
ASPLU, Sustainability, GREAN – Rainforest Deforestation
2011
GREAN – Just Sustainability
Rieke Scholars – Human Trafficking
Social Action & Leadership Wing – Homelessness in WA
Harmony – Transgender Awareness & Cisgender Privilege
Latinos Unidos – Drug Wars/Impact on Mexican School Children
Interfaith Council – Muslim Oppression in the United States
Emerging Leader – Graffiti Wall of Stereotypes
Women's Center – Societal Pressure re: Marriage
Trini Posse – Blood Donation Restrictions
Students of Color Union – Life of a Student of Color at PLU
Voices Against Violence – Cyberstalking
Matrix – Media censorship of oppressed groups
BSU – American/Black American Ideals of Beauty
ASPLU – Political representation
2010
Social Action and Leadership Wing – Sustainability/ food privilege
Rieke Scholars – Sweatshops
Men as Partners Promoting Equality – Masculinity as a restrictive gender role
Latinos Unidos – Immigration
Emerging Leaders – Graffiti wall
Voices Against Violence – Same-Sex Intimate Partner Violence
Amnesty International – Death Penalty
Students for Peace – Fighting wars at home vs. abroad
Harmony – Marriage Equity
Sojourner Advocates – Airport Security and Racial Profiling
Women's Center – Inside the Mind of a Person with an Eating Disorder
Black Student Union – Hair
2009
Rieke Scholars – Menstruation and Consumerism
Amnesty International – Torture
Emerging Leaders – HIV/AIDS
Black Student Union – Inequities in the Educational System
Social Action & Leadership Wing – "Black" Christmas
Women's Center – Gender Pay Inequities
Residence Hall Association – Human Trafficking
Hong International Hall/The Diversity Center – Language Privilege
Voices Against Violence – Intimate Partner Violence
Harmony – Queer Aversion Therapy