Care is a central component of the PLU mission "to educate students for lives of thoughtful inquiry, service, leadership and care–for other people, for their communities, and for the earth." This vow to care, rooted deeply in our Lutheran heritage, requires action and an unequivocal commitment to fight for social justice. This page is just one aspect of PLU's ongoing commitment to advocate with and for undocumented students at PLU. We recognize and value your presence here and hope that this site serves to connect you to community members and support, resources on and off campus, and opportunities for engagement and advocacy.
Public Statements of Commitment to Undocumented Students
Urgent Support & Resources
If you are a student that needs emergency housing because of the threat of deportation, please reach out to Campus Ministry at cmin@plu.edu (received by Pastor Jen Rude).  Campus Ministry is working with local faith communities to identify emergency sanctuary housing and can work with you to explore options.  Our University Pastor is also available if you just need a place to talk confidentially (rudejl@plu.edu).
Financial Aid
Although undocumented students are unable to qualify for federal student aid using the FAFSA, there are a number of scholarships at PLU and beyond to make attending a private college possible.
Undocumented students attending PLU are considered for the university's academic and artistic achievement scholarships. Additionally, undocumented students who are also Washington residents may also be eligible for financial aid funding through the state of Washington, including the Washington State Need Grant, the Washington State College Bound Scholarship, and the Washington State Work Study program.  Please visit the Financial Aid Undocumented Student resource page for more information about PLU scholarships and completing the WAFSA.
Beyond HB1079 is a student leadership project founded at the University of Washington in 2012. In addition to an annual leadership conference, they prepare and annual scholarship list with Washington State scholarships, Nationwide scholarships, and Washington State Higher Education Institution Scholarships.  Visit the Beyond HB-1079 website under  Scholarships to view their full list for this year.
WACC VISTA Scholarship Resources: DREAMER Support Navigator Vista at Seattle Central Community College curated a 2017-2018 list of scholarships, organized by due date, available to students in Washington State.  Visit their website here for more information.
Educators for Fair Consideration's mission is to empower undocumented young people to achieve educational and career goals. They released a 2016-2017 list of scholarships that do not require proof of US citizenship or legal residency. Check out this online document HERE.
Mental Health & Wellness
PLU is investing in training and engaging in shared learning to ensure our capacity to provide responsive mental health and health resources to all of our students, including undocumented students.
Drop-in Conversation Hour
With Dr. Joanne Ito
Free and confidential support, information, and referrals
Please email Dr. Joanne Ito to learn about specific date and location itojr@plu.edu
Counseling Center:
AUC 3rd Floor
Mon – Fri:8:00am-5:00pm
The Counseling Center offers free counseling to all PLU students. To schedule an appointment, please call 253-535-7206 or come to our office.
Health Center
121st St. & Park Ave.
Tacoma, WA 98447-0003
Mon – Fri:8:00am-5:00pm
The Health Center Offers primary healthcare services to all PLU students. If this is your first time using the Health Center they recommend calling in to schedule your first visit. Call us at 253-535-7337 to schedule your first visit with us. If you have previously visited the Health Center you can easily request an appointment by logging into your MyChart account and going to the Visits tab. From there you can schedule, cancel, and view upcoming appointments with the Health Center 24/7.
Puentes mobilizes mental health resources to help undocumented migrants and their families cope and flourish despite our broken immigration system. They create innovating therapeutic spaces to promote social healing, the recovery of social agency, and engage community members to work towards immigration justice in the US.  For more information about their resources visit the Puentes website.
Leadership & Advocacy
Opportunities for leadership and advocacy for undocumented students.
Faculty and Staff in Support of Undocumented Students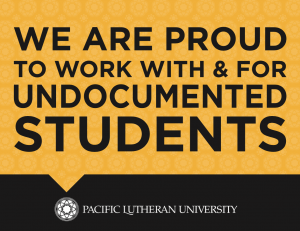 The following list is a directory of faculty, Staff, and Students who stand in solidarity with undocumented students.  All of the people listed in this document have attended a workshop led by Leadership Without Borders or Puentes and would like to be identified as people in support for undocumented students.
Those who have attended a training have also been invited to post the image on the left to their office doors and spaces.
21 Progress provides programs that empower leaders among the hard working people of Washington and advances bold ideas for economic and social justice
Study Away
The Wang Center offers students opportunity to study away both domestically and internationally experiences.  Currently, The Wang Center is advising students with DACA status not pursue study abroad opportunities until the future of the program is known.  For more questions please connect with Dr. Tamara Williams at williatr@plu.edu
NAFSA (the Association for International Educators) has provided up to date information about advising undocumented students interested in 
studying
 and traveling 
abroad
.  The following links provide support and reference to advising students to not pursue 
study
abroad
 opportunities until the future of DACA is known.
Career Connections
Student with DACA are eligible to work on and off campus with work authorization documents. Most students choose to provide an I-766 (the card issued to undocumented individuals who are authorized to work temporarily in the U.S.) or I-551 (the Permanent Resident Card). A full list of documents can be found on Page 3 of the I-9 Form. Additionally, a Social Security number is required to fill out the W-4 form.
Career Connections is the office that supports students interested in exploring on and off campus employment.  On and off campus jobs can be found on the Career Connections Opportunities Board. If any student wants assistance looking for a job or wants assistance developing a resume and cover letter, please schedule an appointment with Career Connections.  Students who are offered and accept an on campus job will come to Ramstad 112 (M-F, 8a-5p, closed noon-1p for lunch) to fill out the I-9 and W-4 documents.
Legal Resources and Information
PLU is engaging our network of alumni and friends who hold expertise in immigration law to connect students to legal clinics, resources, and consultation opportunities that may be of assistance to them as they navigate questions related to immigration status and implications.
Northwest Immigrants Rights Project defends and advocates for the rights of immigrants through programing and direct services.
Seattle located OneAmerica® was formed directly after September 11, 2001 in response to the hate crimes and discrimination targeting Arabs, Muslims and South Asians. Called Hate Free Zone at the time, the organization expanded to organize and advocate with many diverse communities of color. OneAmerica has now grown into a leading force for immigrant, civil and human rights and offers a directory of resources including legal support.  Learn more on the OneAmerica resource website.
Seattle United for Immigrant and Refugee Families, The City of Seattle will offer FREE legal services and information for immigrant and refugee families. More information on the Office of Immigrant and Refugee Affairs website.
The National Immigration Law Center (NILC) can help find a lawyer in your area.  Visit their website here.  
Rights and Recommendations
The following resources provide basic information about knowing your rights in the U.S. and recommendations for increasing safety.
Blog article: If You Are An Immigrant (even a US Citizen), Here Are 9 Things You Should Know by Kuck Immigration Partners.
Family Preparedness Plan – Developed by the Immigrant Legal Resource Center, this document allows families to devise a plan regardless of immigration status and provides recommendations for immigrants and families with mixed status.  This document is available in English and Espanol.
Real ID Act – Beginning January 22, 2018 all individuals traveling by airplane using a drivers license or any ID issued from WA state (and a few other states), will need an alternative form of identification or an enhanced ID.  Learn more on at TSA Fact Sheet.