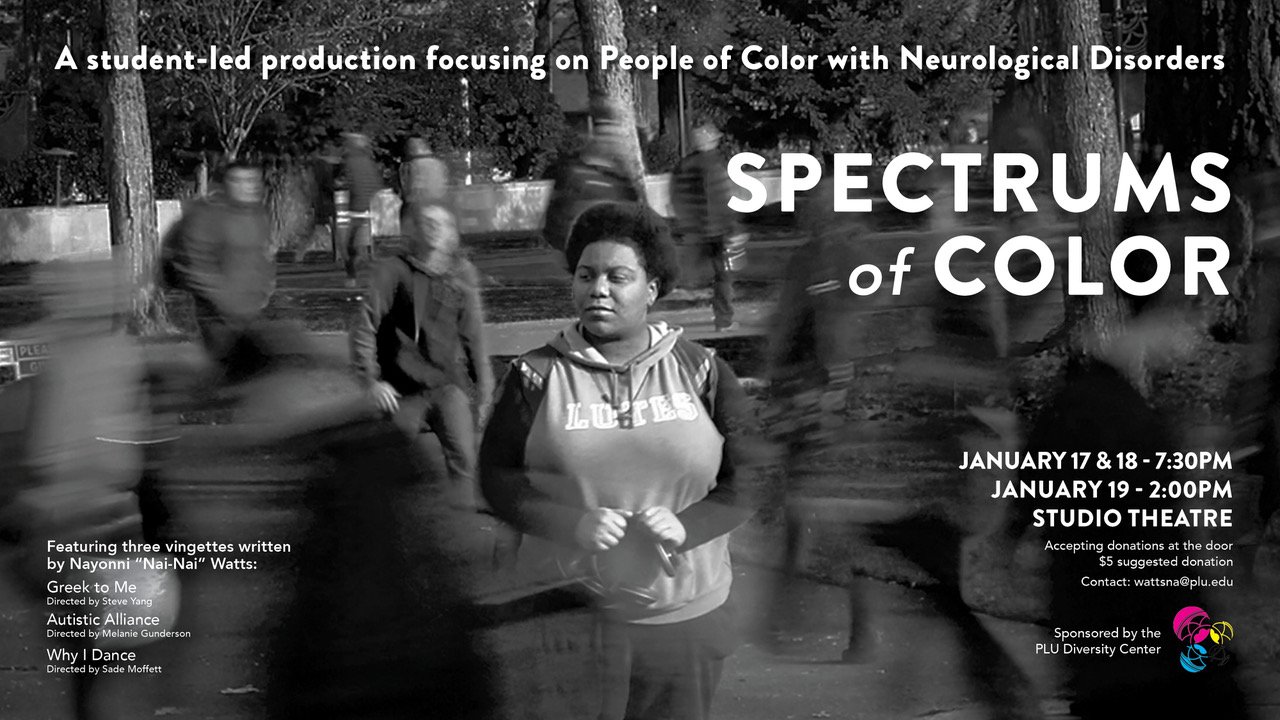 Spectrums of Color
January 17th and 18th @ 7:30pm and January 19th @ 2pm
Karen Hille Phillips Center – Studio Theater
About the play
"The stories presented in the show are based off of real life experiences that I, Nayonni "Nai-Nai" Watts, have been through: advocating for myself, gaining understanding of and from other people as well as learning to cope with myself and how I process the world around me. Each short play explores aspects of my struggles and successes as a person on the Autism Spectrum with Intersecting Identities, such as POC, Queer and Female. My goal from this production was to educate my peers on a condition that I and many others live with, but highlighting the strengths that comes with it. Another goal of mine was to provide more opportunities for students of color within and outside of PLU's Theater Department." – Nayonni Watts
Below is a list of our cast and crew members! For some of them, it's their first time being apart of a production and gain a new learning experience of both the Theater world and Autism.
The Cast
Greek To Me
Sahara Jones – Storyteller
Amelia Dodds – Agape
Dylan Ruggeri – Phila
Olivia Egejuru – Eros            
Autistic Alliance
Peanina (Nina) Moore – Roxanna
Dylan Ruggeri – Nova
Emilia Barrera – Sarah
Why I Dance
Sydney Johnson – Sally
Emilia Barrera – Lovely
Dylan Ruggeri – Jessie

The Crew
Nayonni "Nai-Nai" Watts – Playwright & Producer
Morgan Poirier – Production Manager
Sarah Murillo – Stage Manager
Nicole  Trantum – Assistant Stage Manager
Megan Longstaff – House Manager & Videographer
Jim Carey – Videographer
Andrew Riecke – Sound Designer
Alex Lu – Sound Board Operator
Skye Gibbs – Light Board Operator
Joshua Wallace – Marketing
Colton Walter – Graphic Designer
Elizabeth Kulus – Box Office
Funding
This production is funded through the Diversity Justice & Sustainability Funds and supported via our co-sponsor, The Diversity Center, along with the School of Arts & Communication for allowing us the space to perform. This production is entirely student run and produced with support from theatre faculty, as well as the department at large.