Addressing Mental Health in Healthcare
PLU's First DNP Cohort Graduate Jessica Wheeler

October 19, 2022
PLU's first doctoral program trains nurse practitioners for lives of leadership. We had the opportunity to speak with Jessica Wheeler from the first graduating class of the DNP program.
The Puget Sound region is facing a mental health crisis. A shortage of care facilities paired with an increase in demand is putting a strain on providers who aren't trained to provide routine treatment for patients dealing with mental illness and behavioral health issues.
Jessica Wheeler experienced the issue firsthand at Providence St. Peter Hospital in Olympia, and decided to focus her research on doing something about it.
She examined the benefits of hiring a mental health consultant to support nurses and hospital staff tasked with admitting and treating patients on medical units who require support for behavioral and mental health issues.
"There's a lot of stigma around patients with mental illness," she said. "They were asking for additional support."
Her research covered recommendations for how to approach this specialized care, including safety measures, risk assessment and a point of contact for asking questions. She found that medical facilities with mental health consultants showed a decrease in patient-related violence, as well as an increase in confidence when dealing with patients outside the traditional scope of treatment. "The point of the project was to provide integrated care on a medical unit," she said.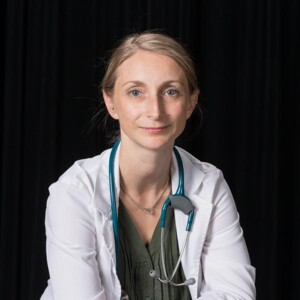 Wheeler tested her findings at St. Peter, where she served as the consultant (she has seven years of experience working in and teaching mental health nursing). She said staff members appreciated the additional emotional support and felt more confident caring for patients dealing with mental and behavioral health problems.
"I was able to be the link between leadership and frontline staff to translate what the staff is actually experiencing," she said.
Wheeler said PLU's faculty were instrumental in guiding her research process. Now, she can lead her colleagues in similar work moving forward.
"Now that I've been through the process, I can help guide colleagues through the process," she said. "I can show everybody the big scary paperwork and show them what it means."
Where she is now: Wheeler works as a family nurse practitioner at Valley View Health Center in Centralia.
Transform lives with Pacific Lutheran University's Doctor of Nursing Practice
Pacific Lutheran University's Doctor of Nursing Practice prepares students to develop and evaluate quality care within a health system, collaborate with interprofessional teams to improve health outcomes, and be leaders in the nursing profession.
 Our DNP program prepares nurses at the highest level of proficiency as they learn to translate science into clinical practice. Students develop the skills to lead collaboratively, integrate research into care, and design better healthcare delivery systems.
Interested in getting a DNP? Connect with PLU today!