Improving Healthcare Resources for Gender-Variant Populations
PLU's First DNP Cohort Graduate Allie Hamann

October 19, 2022
PLU's first doctoral program trains nurse practitioners for lives of leadership. We had the opportunity to speak with Allie Hamann from the first graduating class of the DNP program.
Allie Hamann's research goal was simple: "Help folks who really needed to be helped."
Upon partnering with Kaiser Permanente, Hamann said health care providers lacked simplified information for treating gender-variant populations. The resources available were a cumbersome set of guidelines amounting to about 40 pages.
She says transgender patients and others who identify outside the male-female gender binary face many challenges: fear of discrimination and harassment, providers' lack of understanding of their health care needs, from hormone management to appropriate screenings, and a general distrust of doctors that sometimes keeps them from being transparent.
So, Hamann wanted to help improve the resources available to providers to help curb some of those challenges. "People are unfamiliar with what to do," she said. "Nothing that's simple has been widely distributed yet."
Until now, that is. Hamann is working to broadly disseminate a one-page fact sheet she created to streamline Kaiser's resources for providers treating gender-variant patients.
"This is information you can just pull up," Hamann said. It's currently found in Kaiser's primary care clinics, she added, with plans to expand. "All the folks who have transgender patients have this tool in their hands."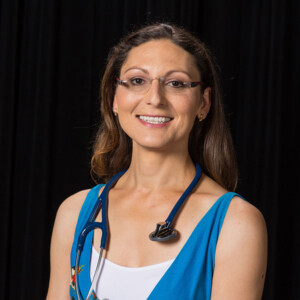 Hamann said the DNP program was worth the tremendous amount of work it required. "We are prepared as leaders," she said. "Not only for the community but also in our workplace."
She and the others are equipped to serve as agents for change in the industry, she added, as modeled by her scholarly project.
"It really hit me when I showed up with the final product," Hamann said. "They said 'This is perfect. This is it.' That's when it hit me that this was something big."
Hamann, who is employed with Kaiser now, said she will likely run workshops and train current providers on the tool she developed, though she's still adjusting to her new title.
"The doctor part hasn't sunk in yet," she quipped.
Where she is now: Hamann is working as a nurse practitioner at a Kaiser family practice clinic in Seattle.
Transform lives with Pacific Lutheran University's Doctor of Nursing Practice
Pacific Lutheran University's Doctor of Nursing Practice prepares students to develop and evaluate quality care within a health system, collaborate with interprofessional teams to improve health outcomes, and be leaders in the nursing profession.
 Our DNP program prepares nurses at the highest level of proficiency as they learn to translate science into clinical practice. Students develop the skills to lead collaboratively, integrate research into care, and design better healthcare delivery systems.
Interested in getting a DNP? Connect with PLU today!