These Three Words
7-8 p.m. | October 30, 2019 | Chris Knutzen Hall, Anderson University Center
Jason Reynolds will discuss the three words he keeps at the forefront of his mind when writing stories for young people. They serve as his compass to ensure the stories connect and feel like true representations of young life, leading to a more engaged reading.
About the speaker
Jason Reynolds is an American author who writes novels and poetry for young adult and middle-grade audiences, including Ghost, a National Book Award Finalist for Young People's Literature.
Born in Washington, DC and raised in neighboring Oxon Hill, Maryland, Reynolds found inspiration in rap to begin writing poetry at nine years old. He focused on poetry for approximately the next two decades, only reading a novel cover to cover for the first time at age 17.
His books have received numerous awards including but not limited to:  Coretta Scott King for Ghost (2016), Schneider Family Award (2017) for As Brave as You, Printz Honor and Newbery Honor (2017) for Long Way Down. His latest book, Look Both Ways, will be released October 2019.
Reynolds say, "Here's what I know: I know there are a lot — A LOT — of young people who hate reading. I know that many of these book haters are boys. I know that many of these book-hating boys, don't actually hate books, they hate boredom. If you are reading this, and you happen to be one of these boys, first of all, you're reading this so my master plan is already working (muahahahahahaha) and second of all, know that I feel you. I REALLY do. Because even though I'm a writer, I hate reading boring books too."
The lecture is free and open to the public. Registration is used for planning purposes.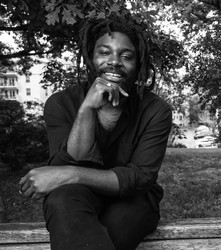 Event Details:
Speaker: Jason Reynolds
Time: 7-8 p.m.
Date: October 30, 2019
Free and open to the public
Jolita Hylland Benson Endowed Chair in Elementary Education
In 2009, a gift from the Benson Family Foundation of Portland, Ore., created the Jolita Hylland Benson Endowed Chair in Elementary Education at PLU. The chair position is in honor of Jolita Benson's tireless work as an educator.  Dale and Jolita Benson, both attended PLU in the early 1960s.
The Benson Chair in Elementary Education is funded through the Benson Family Foundation whose purpose is to involve the Benson children and their families in charitable activities on behalf of supported organizations.
Dr. Wendy Gardiner
Dr. Wendy Gardiner is the current Jolita Hylland Benson Endowed Chair in Elementary Education at PLU. Her scholarship focuses on literacy teacher education and new teacher mentoring. Dr. Gardiner's scholarship and service also addresses the need for high quality, diversity responsive children's and young adult literature. Dr. Gardiner publishes and presents nationally on these topics. She is on the International Literacy Association's Children's Book Award Committee, honoring high quality fiction and nonfiction published by emerging authors and illustrators.
Dr. Leon Reisberg
Dr. Leon Reisberg is the first recipient of the Jolita Hylland Benson Endowed Chair in Elementary Education at PLU. His current research includes the uses of technology with students with reading and other learning disabilities and the state of technology in regional school districts. Reisberg is involved in collaborative research projects with other faculty throughout the Department of Instructional Development and Leadership and serves on the board of several community educational organizations.