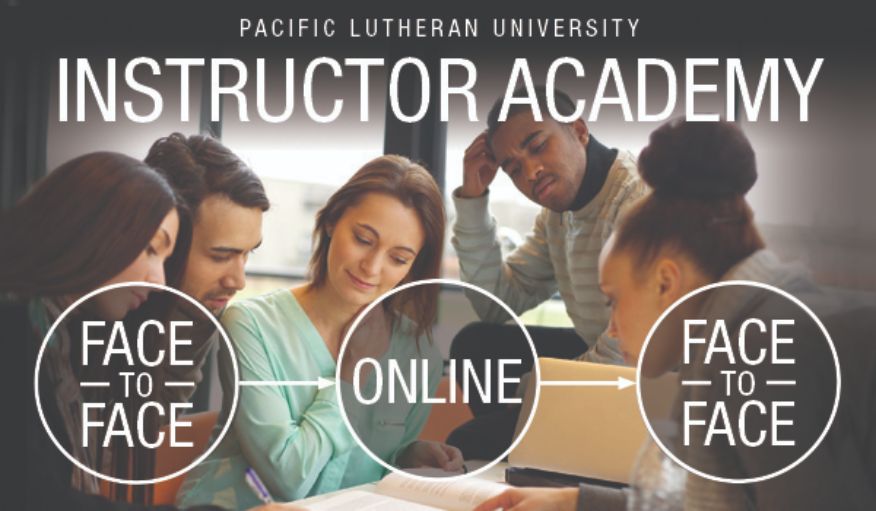 PLU Instructor Academy: Increase retention, encourage persistence and invite success
There is a common belief that teaching can be done by anyone and with little training but, to truly help students retain, persist, and succeed, teachers want to have the skills and knowledge to empower them. Teachers want to help students see and believe in their potential to achieve their academic success. Pacific Lutheran University Instructor Academy is a professional development opportunity for post-secondary educators and other trainers to:
understand learning theory to enhance instructional practices
improve instructional strategies
expand diversity and inclusion practices
The Instructor Academy is designed and formatted to assist educators by allowing time to implement new learning while having support from a facilitator and colleagues. Evaluate your classrooms to increase retention, persistence and success. Meet face-to-face with a facilitator and colleagues to learn and expand ideas. Apply your learning in the field with support from the facilitator and colleagues. After implementing new ideas, return to a face-to- face environment to review, strategize and enhance learning. This unique format allows for a deeper understanding of topics through practice and reflection than typically gained by attending a half- or one-day workshop alone.
Courses are offered through the following strands:
Instruction
Assessment
Diversity and Inclusion
Adult Learning
Special Education
Details:
Details (Per Course)
• Cost: $250.00
• Format: Face-to-face with online support (see "Course Format/Schedule" below)
• Contact Hours: approximately 15 hours, split between class sessions and outside practice with asynchronous online content
• Credits: Non-credit
Course Format/Schedule:
• Session 1: 4-hour, face-to-face workshop to immerse yourself in the course content and explore ideas with your facilitator and colleagues
• Practicum & Online Support: approximately 7 hours of asynchronous online study, discussion, and collaboration as you apply your learning in the field ◦There are no set meeting times for the asynchronous online work
• Session 2: a final 4-hour, face-to-face workshop to review, strategize, and further enhance your learning
Pacific Lutheran University Instructor Academy Certificate of Completion
At least 1 workshop from each of the 5 strands.