Alumna discovers the value of an English Major–in Thailand.
September 19, 2015
Melanie Hering ('14) explains how an English Major (Writing) led her to Thailand.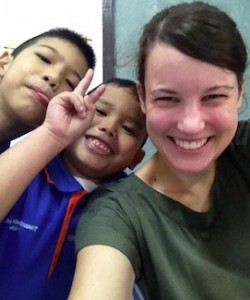 Before coming to PLU, I had no idea how diverse studies within the department of English could be. However, as my horizon was expanded, I found myself balancing interests I didn't know how to combine, and the idea of picking just one to pursue in graduate school made me nauseous. I certainly didn't want to find myself one year into a program and feeling like I'd chosen the wrong discipline. Since I didn't even really know what I wanted to study, finding a relevant job seemed futile, but I knew working a minimum wage job just to pay off my student loans wasn't going to make me happy. Then I paid a visit to the Wang Center and discovered a program called GeoVisions, and that's when I decided to teach English in Thailand.
My writing classes at PLU taught me that to experience life is the most important thing a writer can do.

Living in Thailand has allowed me to experience amazing, surprising, terrifying, troubling, and unique things every single day. Not only does this give me inspiration and content as a writer, it has helped me understand myself and how my own cultural context has shaped me. Teaching here, I've become more aware of the technicalities of language—how children learn, how they create context and meaning—while also watching the intersection of my culture and theirs. It's because of the humanities courses I took at PLU that I can better understand their experience and think critically about how my American identity affects how we interact with each other. The opportunity to live and teach in this country has provided me with a holistic experience that cannot be rivaled by any academic program or entry-level job in the states, and it truly has been life changing.

You can follow Melanie's adventures in Thailand here.